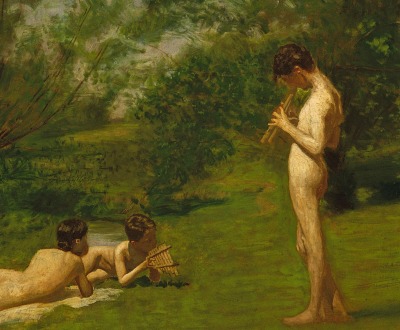 Arcadia, by Thomas Eakins, c. 1883. The Metropolitan Museum of Art, Bequest of Miss Adelaide Milton de Groot, (1876–1967), 1967.
Youth
Volume VII, Number 3 | summer 2014
Miscellany
"I went sailing up to Great Point, which is fourteen miles. It was fine and rough so we went out in the open ocean and shipped water grandly. I have bought a large swordfish sword for the agassiz of an old salt by the name of Judas," Ernest Hemingway wrote to his brother Marcelline in one of his earliest known letters, shortly after his eleventh birthday, in 1910.
Rejoice, young man, while you are young, and let your heart cheer you in the days of your youth. Follow the inclination of your heart and the desire of your eyes, but know that for all these things God will bring you into judgment.
—Book of Ecclesiastes,
c.
200
BC