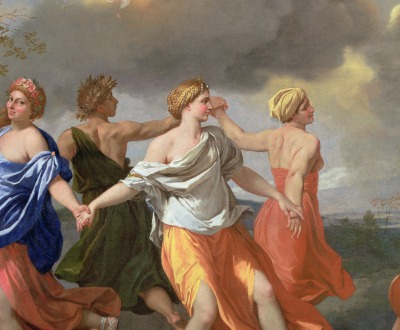 A Dance to the Music of Time, by Nicolas Poussin, c. 1635. Wallace Collection, London.
Time
Volume VII, Number 4 | fall 2014
Miscellany
Along with an elephant whose name in Arabic meant "the father of intelligence," Abbasid caliph Harun al-Rashid presented Holy Roman emperor Charlemagne with a mechanical clock powered by water in 807. At noon a weight dropped, bells sounded, and twelve brass horsemen emerged from twelve windows.
Do not lessen the time of following desire, for the wasting of time is an abomination to the spirit.
—Ptahhotep,
c.
2350
BC
Lapham'sDaily
Stay Updated Subscribe to the LQ Newsletter

Roundtable
A fight over all things visible and invisible, featuring practical magic, empire, and terrible men. More

DÉjÀ Vu
2018:
Woman announces she is divorcing her pirate ghost husband.
1926:
Man sues wife for adultery with a ghost.
More

The World in Time
Lewis H. Lapham talks with Alan Rusbridger, author of Breaking News: The Remaking of Journalism and Why It Matters Now. More