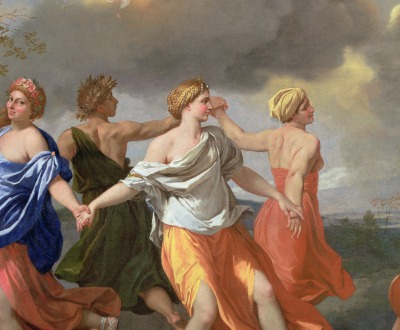 A Dance to the Music of Time, by Nicolas Poussin, c. 1635. Wallace Collection, London.
Time
Volume VII, Number 4 | fall 2014
Miscellany
During a total solar eclipse in 1919, astronomer and physicist Arthur Eddington observed from Príncipe Island that gravity bent the path of light to the degree predicted by Albert Einstein's general theory of relativity. Eddington went on to help popularize relativity and the idea that the universe was expanding. When asked how many people really understood his theories of universal expansion, he replied, "Perhaps seven."
Scars have the strange power to remind us that our past is real.
—Cormac McCarthy, 1992
Lapham'sDaily
Stay Updated Subscribe to the LQ Newsletter

Roundtable
Looking at 1968 through the eyes of photographer Ernest Withers. More

DÉjÀ Vu
2018:
Woman announces she is divorcing her pirate ghost husband.
1926:
Man sues wife for adultery with a ghost.
More

The World in Time
Lewis H. Lapham talks with Alan Rusbridger, author of Breaking News: The Remaking of Journalism and Why It Matters Now. More