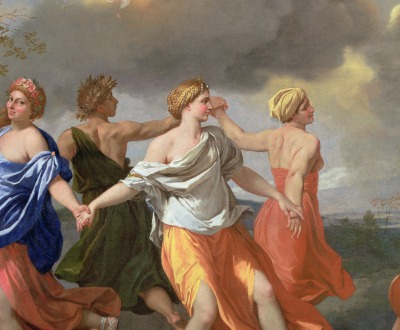 A Dance to the Music of Time, by Nicolas Poussin, c. 1635. Wallace Collection, London.
Time
Volume VII, Number 4 | fall 2014
Miscellany
In 2013 a picture taken by the Planck telescope of fluctuations in the cosmic microwave background—radiation generated by the Big Bang—resulted in the estimation that the universe is 13.82 billion years old.
If both what is before and what is after are in this same "now," things which happened ten thousand years ago would be simultaneous with what has happened today, and nothing would be before or after anything else.
—Aristotle,
c.
330
BC
Lapham'sDaily
Stay Updated Subscribe to the LQ Newsletter

Roundtable
Another news cycle, another media mogul stirring up electoral buzz. More

DÉjÀ Vu
2018:
Man auctions Dixie cup that could have touched the lips of Elvis.
1921:
Man auctions Lord Byron's cup made from a human skull.
More

The World in Time
Lewis H. Lapham talks with Holger Hoock, author of Scars of Independence: America's Violent Birth, at a New York Public Library event. More