The Spell, by William Fettes Douglas, 1864. © National Gallery of Scotland, Edinburgh, Scotland, The Bridgeman Art Library. 
Magic Shows
Volume V, Number 3 | summer 2012
Miscellany
In 1936 Sotheby's auctioned many of Isaac Newton's nonscientific papers, containing much writing about his alchemical interests. A large batch was bought by John Maynard Keynes, who wrote in a lecture published posthumously as "Newton, the Man," that the physicist and mathematician "was not the first of the age of reason. He was the last of the magicians."
The most beautiful emotion we can experience is the mysterious. It is the fundamental emotion that stands at the cradle of all true art and science.
—Albert Einstein, 1930
Lapham'sDaily
Stay Updated Subscribe to the LQ Newsletter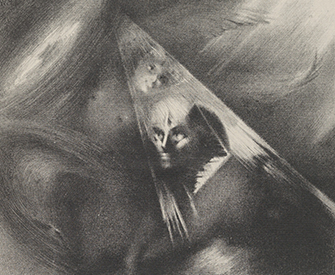 Roundtable
How Anna Kavan's fiction questioned reality, destroyed the earth, and brought art into the future. More

DÉjÀ Vu
2018:
Man auctions Dixie cup that could have touched the lips of Elvis.
1921:
Man auctions Lord Byron's cup made from a human skull.
More

The World in Time
Lewis H. Lapham talks with Holger Hoock, author of Scars of Independence: America's Violent Birth, at a New York Public Library event. More