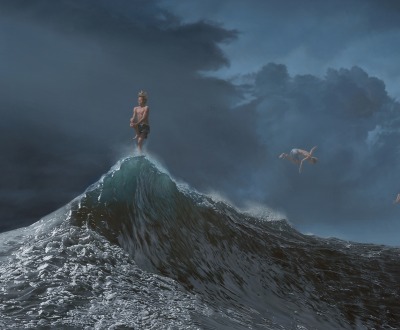 The Precision of Luck, by Joel Rea, 2015. Oil on canvas, 36 1/4 x 48 inches. © Joel Rea, courtesy the artist and Jonathan LeVine Gallery, New York City. 
Luck
Volume IX, Number 3 | summer 2016
Miscellany
When Booker T. Washington and Austrian ambassador Ladislaus Hengelmüller visited the White House on the same day in November 1905, Hengelmüller took Washington's overcoat by mistake. According to the Washington Post, he noticed the mix-up on finding in the pocket "the left hind foot of a graveyard rabbit, killed in the dark of the moon," which he "heroically relinquished."
It is weak and silly to say you cannot bear what it is your fate to be required to bear.
—Charlotte Brontë, 1847
Lapham'sDaily
Stay Updated Subscribe to the LQ Newsletter

Roundtable
Another news cycle, another media mogul stirring up electoral buzz. More

DÉjÀ Vu
2018:
Man auctions Dixie cup that could have touched the lips of Elvis.
1921:
Man auctions Lord Byron's cup made from a human skull.
More

The World in Time
Lewis H. Lapham talks with Holger Hoock, author of Scars of Independence: America's Violent Birth, at a New York Public Library event. More