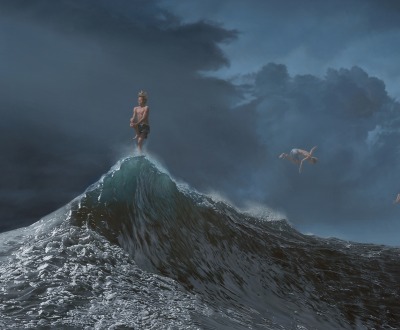 The Precision of Luck, by Joel Rea, 2015. Oil on canvas, 36 1/4 x 48 inches. © Joel Rea, courtesy the artist and Jonathan LeVine Gallery, New York City.
Luck
Volume IX, Number 3 | summer 2016
Miscellany
When Booker T. Washington and Austrian ambassador Ladislaus Hengelmüller visited the White House on the same day in November 1905, Hengelmüller took Washington's overcoat by mistake. According to the Washington Post, he noticed the mix-up on finding in the pocket "the left hind foot of a graveyard rabbit, killed in the dark of the moon," which he "heroically relinquished."
When the abbot throws the dice, the whole convent will play.
—Martin Luther,
c.
1540
Lapham'sDaily
Stay Updated Subscribe to the LQ Newsletter

DÉjÀ Vu
2018:
Woman announces she is divorcing her pirate ghost husband.
1926:
Man sues wife for adultery with a ghost.
More

The World in Time
Lewis H. Lapham talks with Joseph J. Ellis, author of American Dialogue: The Founders and Us. More