No Place Like Home
G.K. Chesterton on man's true kingdom.
Of all the modern notions generated by mere wealth, the worst is this: the notion that domesticity is dull and tame. Inside the home (they say) is dead decorum and routine; outside is adventure and variety. This is indeed a rich man's opinion. The rich man knows that his own house moves on vast and soundless wheels of wealth, is run by regiments of servants, by a swift and silent ritual.
On the other hand, every sort of vagabondage of romance is open to him in the streets outside. He has plenty of money and can afford to be a tramp. His wildest adventure will end in a restaurant, while the yokel's tamest adventure may end in a police court. If he smashes a window he can pay for it; if he smashes a man he can pension him. He can buy a hotel to get a glass of gin. And because he, the luxurious man, dictates the tone of nearly all "advanced" and "progressive" thought, we have almost forgotten what a home really means to the overwhelming millions of mankind.
For the truth is that to the moderately poor the home is the only place of liberty. Nay, it is the only place of anarchy. It is the only spot on the earth where a man can alter arrangements suddenly, make an experiment or indulge in a whim. Everywhere else he goes he must accept the strict rules of the shop, inn, club, or museum that he happens to enter. He can eat his meals on the floor in his own house if he likes. I often do it myself; it gives a curious, childish, poetic, picnic feeling. There would be considerable trouble if I tried to do it in an ABC tea shop. A man can wear a dressing gown and slippers in his house; while I am sure that this would not be permitted at the Savoy, though I never actually tested the point. If you go to a restaurant, you must drink some of the wines on the wine list, all of them if you insist, but certainly some of them. But if you have a house and garden, you can try to make hollyhock tea or convolvulus wine if you like. For a plain, hardworking man, the home is not the one tame place in the world of adventure. It is the one wild place in the world of rules and set tasks. The home is the one place where he can put the carpet on the ceiling or the slates on the floor if he wants to. When a man spends every night staggering from bar to bar or from music hall to music hall, we say that he is living an irregular life. But he is not; he is living a highly regular life, under the dull, and often oppressive, laws of such places. Sometimes he is not allowed even to sit down in the bars; and frequently he is not allowed to sing in the music halls. Hotels may be defined as places where you are forced to dress; and theaters may be defined as places where you are forbidden to smoke. A man can only picnic at home.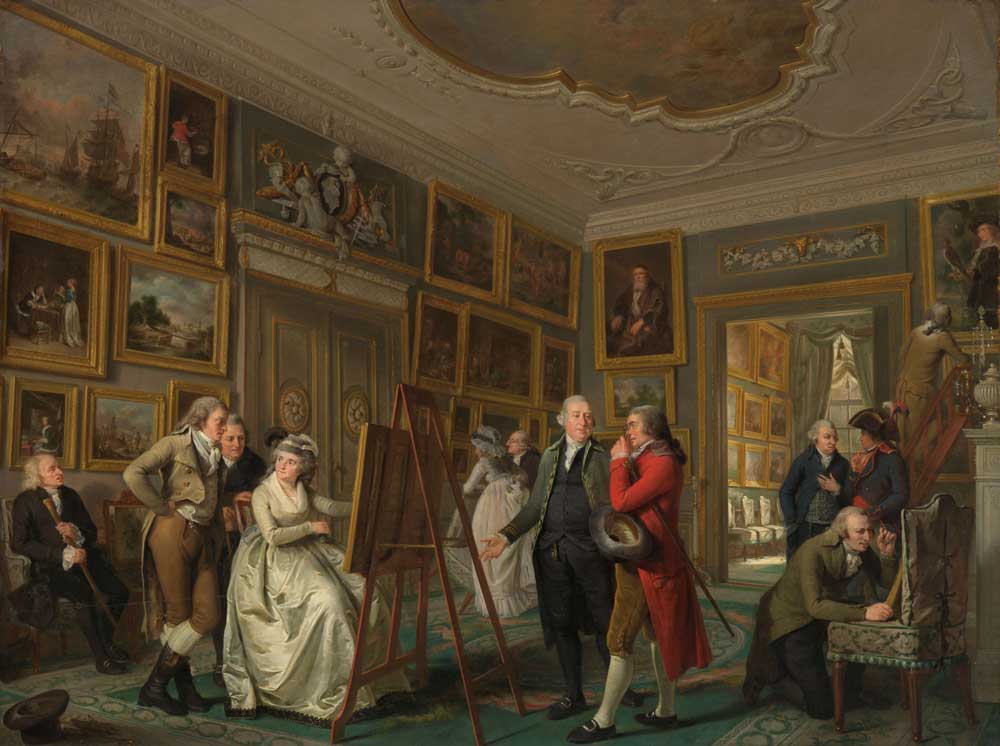 The Art Gallery of Jan Gildemeester Jansz, by Adriaan de Lelie, c. 1795. Rijksmuseum.
Whether we can give every Englishman a free home of his own or not, at least we should desire it; and he desires it. For the moment we speak of what he wants, not of what he expects to get. He wants, for instance, a separate house; he does not want a semidetached house. He may be forced in the commercial race to share one wall with another man. Similarly, he might be forced in a three-legged race to share one leg with another man; but it is not so that he pictures himself in his dreams of elegance and liberty. Again, he does not desire a flat. He can eat and sleep and praise God in a flat; he can eat and sleep and praise God in a railway train. But a railway train is not a house, because it is a house on wheels. And a flat is not a house, because it is a house on stilts. An idea of earthy contact and foundation, as well as an idea of separation and independence, is a part of this instructive human picture.
It's your business when your neighbor's wall is in flames.
—Horace, 19
BC
I take, then, this one institution as a test. As every normal man desires a woman, and children born of a woman, every normal man desires a house of his own to put them into. He does not merely want a roof above him and a chair below him; he wants an objective and visible kingdom, a fire at which he can cook what food he likes, a door he can open to what friends he chooses. This is the normal appetite of men; I do not say there are not exceptions. There may be saints above the need and philanthropists below it. But the normality of the thing is enormous. To give nearly everybody ordinary houses would please nearly everybody; that is what I assert without apology.
 

Audio brought to you by Curio, a Lapham's Quarterly partner
From What's Wrong with the World. Elsewhere in this chapter on domesticity, Chesterton writes that "in this primary matter of the ideal, the difficulty is not the problem of poverty but the problem of wealth." According to the critic Hugh Kenner, Chesterton "never fumbles in stating some truth drawn from contemplation of the nature of things, because his statements are so intimately bound up with his perceptions that the central clarity of the latter induces an authoritative finality in the former." Chesterton died in the UK in 1936.
Issue
Back to Issue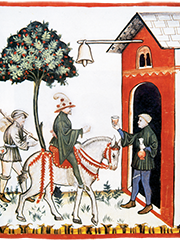 Home