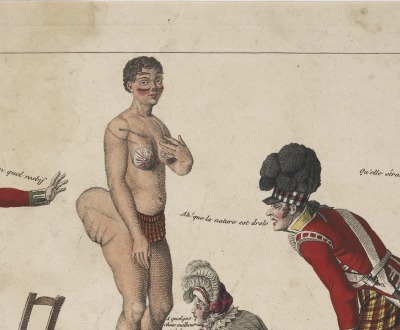 The Curious in Ecstasy or Shoelaces, by Louis François Charon, 1815. Satire of English fascination with South African–born Saartjie Baartman, who was exhibited under the name Hottentot Venus. The British Museum, London.
Foreigners
Volume VIII, Number 1 | winter 2015
Miscellany
In July 1947, a U.S. Army spokesman in Roswell, New Mexico, issued a press release to announce that the military had found a "flying disc" that had landed at a ranch near an air base. "It was inspected at the Roswell Army Air Field," according to the army, "and subsequently loaned to higher headquarters." There were no further public statements about the matter.
The conquest of the earth, which mostly means the taking it away from those who have a different complexion or slightly flatter noses than ourselves, is not a pretty thing when you look into it too much.
—Joseph Conrad, 1899
Lapham'sDaily
Stay Updated Subscribe to the LQ Newsletter

Roundtable
A fight over all things visible and invisible, featuring practical magic, empire, and terrible men. More

DÉjÀ Vu
2018:
Woman announces she is divorcing her pirate ghost husband.
1926:
Man sues wife for adultery with a ghost.
More

The World in Time
Lewis H. Lapham talks with Alan Rusbridger, author of Breaking News: The Remaking of Journalism and Why It Matters Now. More