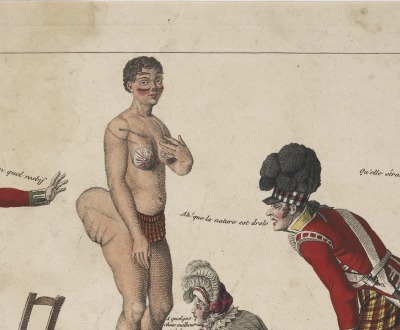 The Curious in Ecstasy or Shoelaces, by Louis François Charon, 1815. Satire of English fascination with South African–born Saartjie Baartman, who was exhibited under the name Hottentot Venus. The British Museum, London.
Foreigners
Volume VIII, Number 1 | winter 2015
Miscellany
Two years after being exiled from the Soviet Union in 1974, Nobel Prize–winning writer Aleksandr Solzhenitsyn settled in a small Vermont town, living there reclusively for some eighteen years. He did however attend a few town meetings and was once spotted marching in a parade to celebrate the bicentennial of Vermont statehood.
The past is a foreign country; they do things differently there.
—L. P. Hartley, 1953
Lapham'sDaily
Stay Updated Subscribe to the LQ Newsletter

Roundtable
A debate in Berkeley about the power of a name. More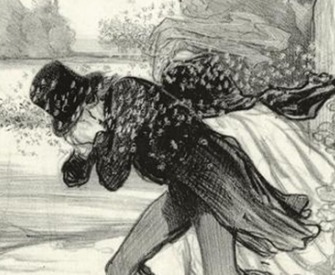 DÉjÀ Vu
2018:
The NYPD beekeeper vacuums up a swarm of bees on a hot dog stand in Times Square.
1906:
Bees take over a Los Angeles street as spectators watch.
More

The World in Time
Lewis H. Lapham talks with Jim Holt, author of When Einstein Walked with Gödel: Excursions to the Edge of Thought. More