Still Life with Ham, by Philippe Rousseau, c. 1870. The Metropolitan Museum of Art, Catharine Lorillard Wolfe Collection, Wolfe Fund, 1982.
Food
Volume IV, Number 3 | summer 2011
Miscellany
Between 1959 and 1962 in China, Mao Zedong's Great Leap Forward increased industrial growth at the expense of agricultural output. More than 45 million people perished from famine and disease, as well as from floods, droughts, and locusts.
Why is not a rat as good as a rabbit? Why should men eat shrimps and neglect cockroaches?
—Henry Ward Beecher, 1862
Lapham'sDaily
Stay Updated Subscribe to the LQ Newsletter

Roundtable
A debate in Berkeley about the power of a name. More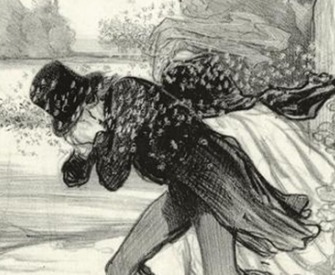 DÉjÀ Vu
2018:
The NYPD beekeeper vacuums up a swarm of bees on a hot dog stand in Times Square.
1906:
Bees take over a Los Angeles street as spectators watch.
More

The World in Time
Lewis H. Lapham talks with Jim Holt, author of When Einstein Walked with Gödel: Excursions to the Edge of Thought. More