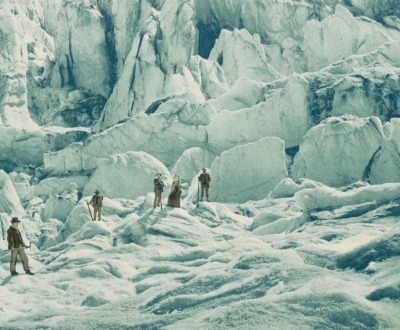 Photochrome of a glacier, Grindelwald, Switzerland, c. 1890. © Rijksmuseum. 
Discovery
Volume X, Number 2 | spring 2017
Miscellany
Students at the Federal Polytechnic Institute in Zurich wrote to Carl Jung in 1949 to ask what effect he thought technology had on the human psyche. "The danger lies not in technology," Jung responded, "but in the possibilities awaiting discovery." The question regarding new discoveries was "whether man is sufficiently equipped with reason to be able to resist the temptation to use them for destructive purposes." This, Jung concluded, "experience alone can answer."
Science is a cemetery of dead ideas.
- Miguel de Unamuno, 1913
Lapham'sDaily
Stay Updated Subscribe to the LQ Newsletter

Roundtable
The extraordinary life and forgotten work of Dixie Willson. More

DÉjÀ Vu
2017:
U.S. Department of Agriculture bans words related to climate change.
-350:
Aristotle denies that the climate is changing.
More

LQ Podcast
Lewis H. Lapham talks with John Strausbaugh, author of City of Sedition: The History of New York City During the Civil War. More