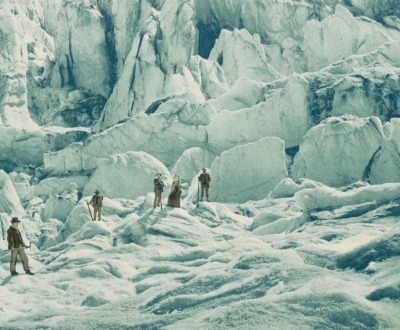 Photochrome of a glacier, Grindelwald, Switzerland, c. 1890. © Rijksmuseum. 
Discovery
Volume X, Number 2 | spring 2017
Miscellany
"Utter damned rot!" is what William Berryman Scott, a former president of the American Philosophical Society, said in response to Alfred Wegener's theory of continental drift, first proposed in 1912. "Wegener is not seeking the truth," said a doubtful geologist, "he is advocating a cause and is blind to every argument and fact that tells against it."
I am tormented with an everlasting itch for things remote. I love to sail forbidden seas and land on barbarous coasts.
- Herman Melville, 1853
Lapham'sDaily
Stay Updated Subscribe to the LQ Newsletter

Roundtable
The extraordinary life and forgotten work of Dixie Willson. More

DÉjÀ Vu
2017:
U.S. Department of Agriculture bans words related to climate change.
-350:
Aristotle denies that the climate is changing.
More

LQ Podcast
Lewis H. Lapham talks with John Strausbaugh, author of City of Sedition: The History of New York City During the Civil War. More