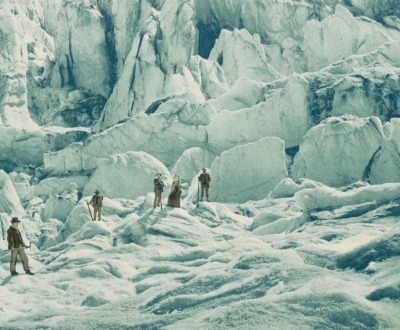 Photochrome of a glacier, Grindelwald, Switzerland, c. 1890. © Rijksmuseum. 
Discovery
Volume X, Number 2 | spring 2017
Miscellany
A 52-million-year-old fossilized tomatillo found in January 2017 revealed the fruit to be five times older than scientists had previously thought. "The initial discovery was a very big OMG moment," said paleobotanist Peter Wilf. "I was like, 'Wait a minute, wait a minute, wait a minute. Could it be? Could it be? Could it be? Really? Really? Really?' Then I just went nuts."
Did Shakespeare refer to scientific discoveries in his work?
View
Every man takes the limits of his own field of vision for the limits of the world.
- Arthur Schopenhauer, 1851
Lapham'sDaily
Stay Updated Subscribe to the LQ Newsletter

Roundtable
The extraordinary life and forgotten work of Dixie Willson. More

DÉjÀ Vu
2017:
U.S. Department of Agriculture bans words related to climate change.
-350:
Aristotle denies that the climate is changing.
More

LQ Podcast
Lewis Lapham talks with Simon Winchester, author of Pacific: Silicon Chips and Surfboards, Coral Reefs and Atom Bombs, Brutal Dictators, Fading Empires, and the Coming Collision of the World's Superpowers. More