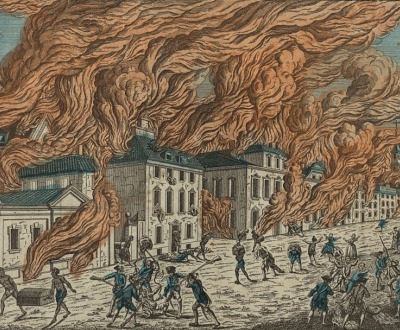 Illustration of the September 19, 1776, fire in New York, c. 1778. Library of Congress, Prints and Photographs Division.
"For over two centuries, this topic has been subject to whitewashing and selective remembering and forgetting," historian Holger Hoock writes. He is referring to the American Revolution, a war sanitized by sentimentality and historical distance but about as bloody as other moments in the past with a "Revolution" appended to its name. The facts Hoock cites are relentless: "More than ten times as many Americans died, per capita, in the Revolutionary War as in World War I, and nearly five times as many as in World War II. The death rate among Revolutionary-era prisoners of war was the highest in American history. In addition, at least 20,000 British and thousands more American Loyalist, Native American, German, and French lives were lost. The Revolution exacted further human sacrifice when at war's end approximately one in forty Americans went into permanent exile, the equivalent of some 7.5 million today." In May 2017, Hoock spoke with Lewis Lapham about his research on the Revolutionary War at an event at the New York Public Library. Listen to their conversation above.
Lewis H. Lapham talks with Holger Hoock, author of Scars of Independence: America's Violent Birth.
Thanks to our generous donors. Lead support for this podcast has been provided by Elizabeth "Lisette" Prince. Additional support was provided by James J. "Jimmy" Coleman Jr.
Discussed in this episode