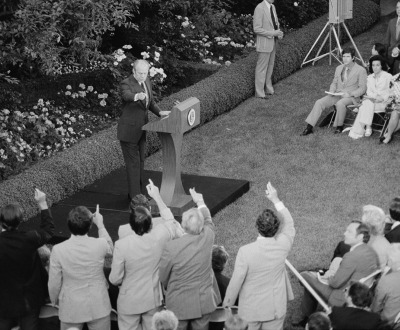 President Gerald Ford taking questions from reporters during a press conference at the White House, 1975. Photograph by Marion S. Trikosko. Library of Congress, Prints and Photographs Division.
"No American president has ever counted himself fully satisfied with his press coverage," the historian Harold Holzer writes in the introduction to The Presidents vs. the Press. "Their belief that they are better than their bad press, and that they bear a nearly sacred obligation to counter or control criticism, has remained fixed since the age of bewigged chief executives and hand-screwed printing presses."
On this episode of The World in Time, Lewis H. Lapham and Holzer travel through the presidencies of George Washington, Abraham Lincoln, Theodore Roosevelt, Franklin Delano Roosevelt, John F. Kennedy, Richard Nixon, and many other former chief executives to see what has changed, and what is eternal, about presidents and their seesawing relationship with the fourth estate.
Lewis H. Lapham speaks with Harold Holzer, author of The Presidents vs. the Press: The Endless Battle between the White House and the Media—from the Founding Fathers to Fake News.
Thanks to our generous donors. Lead support for this podcast has been provided by Elizabeth "Lisette" Prince. Additional support was provided by James J. "Jimmy" Coleman Jr.
Discussed in this episode