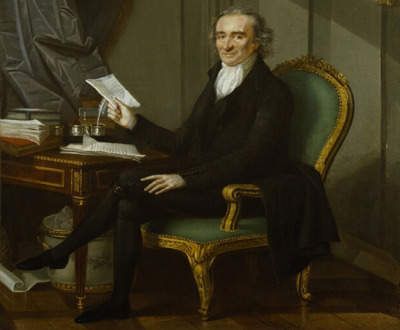 Mr. Thomas Paine, by Laurent Dabos, c. 1791. © National Portrait Gallery, London.
In the introduction to Thomas Paine and the Clarion Call for American Independence, historian Harlow Giles Unger writes that Paine, "the most widely read political writer of his generation," was "more than a century ahead of his time, conceiving and demanding unheard-of social reforms that became integral elements of modern republican societies: among them, government subsidies and public housing for the poor, free universal public education, pre- and postnatal care for women, and universal social security, with government payments to everyone fifty years or older. He outraged the rich with a call for an inheritance tax, property taxes on the lands of aristocrats, and a progressive income tax to reduce inequality between rich and poor. And he called for an end to slavery and to monarchy itself."
On this episode of The World in Time, Lewis H. Lapham and Unger discuss Paine's works, travels, legacy, and relatively understated reputation in America.
Lewis H. Lapham speaks with Harlow Giles Unger, author of Thomas Paine and the Clarion Call for American Independence.
Thanks to our generous donors. Lead support for this podcast has been provided by Elizabeth "Lisette" Prince. Additional support was provided by James J. "Jimmy" Coleman Jr.
Discussed in this episode