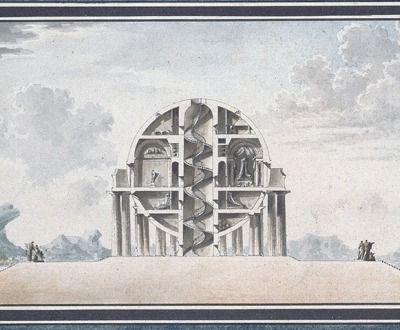 Design for a House for a Cosmopolite, by Antoine-Laurent-Thomas Vaudoyer, 1783. Private Collection / Archives Charmet / Bridgeman Images.
Home
Volume X, Number 1 | winter 2017
Miscellany
Thomas Jefferson tried to avoid using servants at dinner parties by placing a dumbwaiter near each seat. According to one society chronicler, he feared "much of the domestic and even public discord was produced by the mutilated and misconstructed repetition of free conversation by these mute but not inattentive listeners." 
A crust of bread and a corner to sleep in / A minute to smile and an hour to weep in.
—Paul Laurence Dunbar, 1895
Lapham'sDaily
Stay Updated Subscribe to the LQ Newsletter

Roundtable
A fight over all things visible and invisible, featuring practical magic, empire, and terrible men. More

DÉjÀ Vu
2018:
Woman announces she is divorcing her pirate ghost husband.
1926:
Man sues wife for adultery with a ghost.
More

The World in Time
Lewis H. Lapham talks with Alan Rusbridger, author of Breaking News: The Remaking of Journalism and Why It Matters Now. More