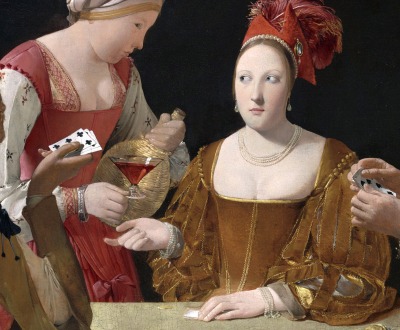 The Cheat with the Ace of Diamonds, by George de la Tour, c. 1635. Louvre Museum, Paris.
Swindle & Fraud
Volume VIII, Number 2 | spring 2015
Miscellany
In Either/Or: A Fragment of Life, published in 1843, Søren Kierkegaard wrote, "What philosophers say about actuality is often just as disappointing as it is when one reads on a sign in a secondhand shop: pressing done here. If a person were to bring his clothes to be pressed, he would be duped, for the sign is merely for sale."​
In most cases men willingly believe what they wish.
—Julius Caesar, 52
BC
Lapham'sDaily
Stay Updated Subscribe to the LQ Newsletter

Roundtable
Looking at 1968 through the eyes of photographer Ernest Withers. More

DÉjÀ Vu
2018:
Woman announces she is divorcing her pirate ghost husband.
1926:
Man sues wife for adultery with a ghost.
More

The World in Time
Lewis H. Lapham talks with Alan Rusbridger, author of Breaking News: The Remaking of Journalism and Why It Matters Now. More