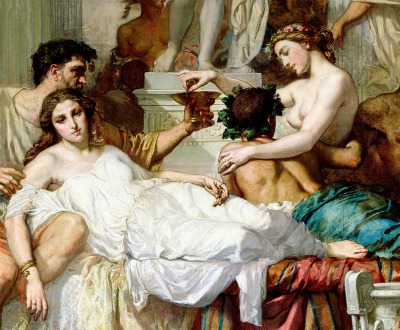 The Romans of the Decadence (detail), by Thomas Couture, 1847. Musée d'Orsay.
Intoxication
Volume VI, Number 1 | winter 2012
Miscellany
In 1387 the physicians to Charles II of Navarre, in order to treat his illness, soaked his sheets in aqua vitae, a distilled wine, and wrapped him in them to enhance the curative power that the liquid was supposed to possess. The sheets were then sewn shut by a maid, who, instead of cutting the final bit of string, set a candle to it. The alcohol-soaked king went up in a blaze and the maid ran away, leaving him to burn to death.
The pleasure we hold in esteem for the course of our lives ought to have a greater share of our time dedicated to it; we should refuse no occasion nor omit any opportunity of drinking, and always have it in our minds.
—Michel de Montaigne, 1580