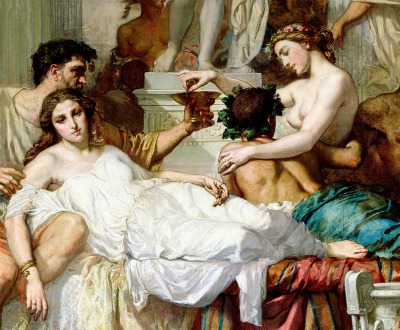 The Romans of the Decadence (detail), by Thomas Couture, 1847. Musée d'Orsay.
Intoxication
Volume VI, Number 1 | winter 2012
Miscellany
About the presidential election of 1928, between anti-Prohibitionist Al Smith and Prohibitionist Herbert Hoover, H.L. Mencken wrote, "If Al wins tomorrow, it will be because the American people have decided at last to vote as they drink." Hoover won, earning 444 of the 531 electoral-college votes.
The only thing that really worried me was the ether. There is nothing in the world more helpless and irresponsible and depraved than a man in the depths of an ether binge. And I knew we'd get into that rotten stuff pretty soon. Probably at the next gas station.
—Hunter S. Thompson, 1971