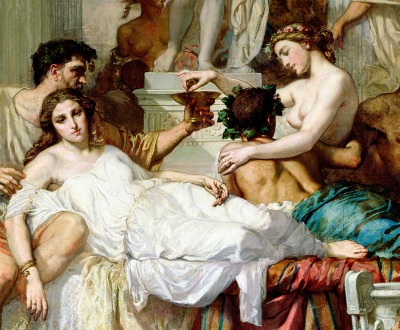 The Romans of the Decadence (detail), by Thomas Couture, 1847. Musée d'Orsay.
Intoxication
Volume VI, Number 1 | winter 2012
Miscellany
The questions "Have you ever used Derbisol?" and "How often?" sometimes appear along with questions about alcohol, cocaine, and marijuana use on youth-risk surveys for students. Derbisol is a fictitious drug devised to test the reliability of the responder. In one survey, 163 of 894 students said that they had tried Derbisol—or 18.2 percent.
Thanks be to God: since my leaving drinking of wine, I do find myself much better and do mind my business better, and do spend less money, and less time lost in idle company.
- Samuel Pepys, 1662
Lapham'sDaily
Stay Updated Subscribe to the LQ Newsletter

DÉjÀ Vu
2017:
U.S. Department of Agriculture bans words related to climate change.
-350:
Aristotle denies that the climate is changing.
More

LQ Podcast
Lewis H. Lapham talks with John Strausbaugh, author of City of Sedition: The History of New York City During the Civil War. More