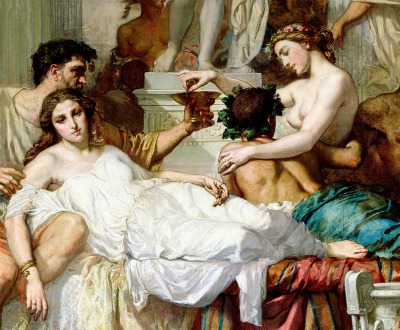 The Romans of the Decadence (detail), by Thomas Couture, 1847. Musée d'Orsay.
Intoxication
Volume VI, Number 1 | winter 2012
Miscellany
In An Inquiry into the Effects of Ardent Spirits upon the Human Body and Mind, published in 1785, physician and Founding Father Benjamin Rush wrote that drunkenness, an "odious disease (for by that name it should be called)," appeared with, among other symptoms, "unusual garrulity…unusual silence…a disposition to quarrel…uncommon good humor and an insipid simpering or laugh…disclosure of their own or other people's secrets…a rude disposition to tell those persons in company whom they know, their faults…certain extravagant acts which indicate a temporary fit of madn
The only thing that really worried me was the ether. There is nothing in the world more helpless and irresponsible and depraved than a man in the depths of an ether binge. And I knew we'd get into that rotten stuff pretty soon. Probably at the next gas station.
—Hunter S. Thompson, 1971