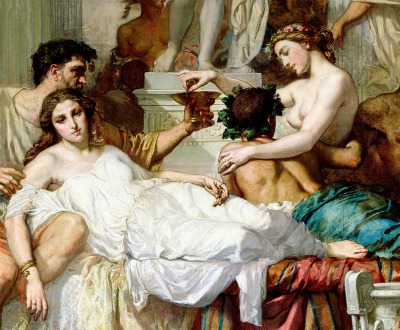 The Romans of the Decadence (detail), by Thomas Couture, 1847. Musée d'Orsay.
Intoxication
Volume VI, Number 1 | winter 2012
Miscellany
"Woe to you, my princess, when I come. I will kiss you quite red and feed you till you are plump. And if you are forward you shall see who is the stronger, a gentle little girl who doesn't eat enough or a big wild man who has cocaine in his body," wrote Sigmund Freud to his future wife, Martha Bernays, on June 2, 1884.
The pleasure we hold in esteem for the course of our lives ought to have a greater share of our time dedicated to it; we should refuse no occasion nor omit any opportunity of drinking, and always have it in our minds.
—Michel de Montaigne, 1580
Lapham'sDaily
Stay Updated Subscribe to the LQ Newsletter

DÉjÀ Vu
2020:
Exoplanet revealed to be nothing but a large cloud of dust.
1903:
Supposed irrigation canals on Mars are merely optical illusions.
More

The World in Time
Lewis H. Lapham speaks with the author of Hitler's First Hundred Days: When Germans Embraced the Third Reich. More