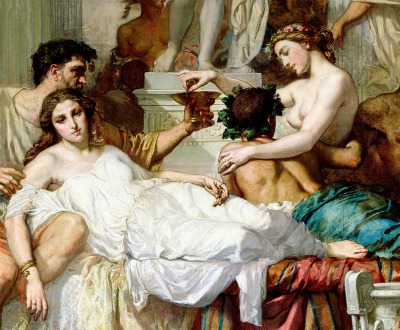 The Romans of the Decadence (detail), by Thomas Couture, 1847. Musée d'Orsay.
Intoxication
Volume VI, Number 1 | winter 2012
Miscellany
In William Shakespeare's Macbeth, Macduff asks the Porter, "What three things does drink especially provoke?" The Porter replies, "nose painting, sleep, and urine"—the first of which is usually taken to mean the red flush that comes across a drinker's face. It also leads to lechery, the Porter says, adding, "it provokes the desire, but it takes away the performance."
Modern life is often a mechanical oppression, and liquor is the only mechanical relief.
—Ernest Hemingway, 1935
Lapham'sDaily
Stay Updated Subscribe to the LQ Newsletter

DÉjÀ Vu
2017:
U.S. Department of Agriculture bans words related to climate change.
350 BC:
Aristotle denies that the climate is changing.
More

The World in Time
Lewis H. Lapham talks with Roger D. Hodge, author of Texas Blood: Seven Generations Among the Outlaws, Ranchers, Indians, Missionaries, Soldiers, and Smugglers of the Borderlands. More