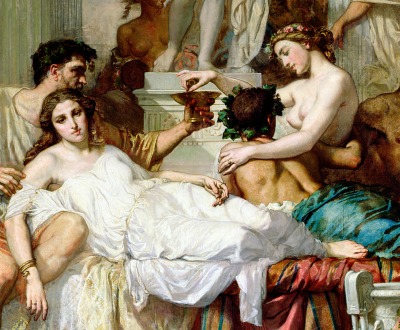 The Romans of the Decadence (detail), by Thomas Couture, 1847. Musée d'Orsay.
Intoxication
Volume VI, Number 1 | winter 2012
Miscellany
In 1387 the physicians to Charles II of Navarre, in order to treat his illness, soaked his sheets in aqua vitae, a distilled wine, and wrapped him in them to enhance the curative power that the liquid was supposed to possess. The sheets were then sewn shut by a maid, who, instead of cutting the final bit of string, set a candle to it. The alcohol-soaked king went up in a blaze and the maid ran away, leaving him to burn to death.
Sobriety diminishes, discriminates, and says no; drunkenness expands, unites, and says yes.
- William James, 1902
Lapham'sDaily
Stay Updated Subscribe to the LQ Newsletter

Roundtable
Listen to the preamble to Music, the Fall 2017 issue of Lapham's Quarterly. More

DÉjÀ Vu
2017:
U.S. Department of Agriculture bans words related to climate change.
-350:
Aristotle denies that the climate is changing.
More

LQ Podcast
Lewis H. Lapham talks with Stephen Greenblatt, author of The Rise and Fall of Adam and Eve. More