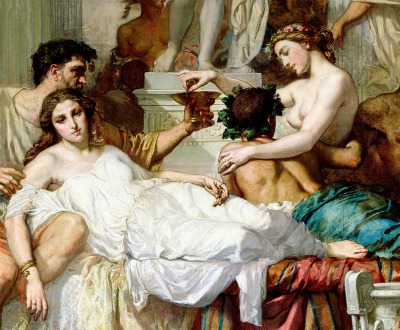 The Romans of the Decadence (detail), by Thomas Couture, 1847. Musée d'Orsay.
Intoxication
Volume VI, Number 1 | winter 2012
Miscellany
While on his American speaking tour in 1882, Oscar Wilde visited Leadville, Colorado, where he went into a saloon. There was a piano player in the corner with a sign over him that said: DON'T SHOOT THE PIANIST; HE'S DOING THE BEST HE CAN. It was, observed Wilde, "the only rational method of art criticism I have ever come across." He also visited a nearby mine where, upon reaching the bottom, the miners implored him to stay for supper: "the first course being whiskey, the second whiskey, and the third whiskey."
An old man is twice a child, and so is a drunken man.
—Plato,
c.
360
BC
Lapham'sDaily
Stay Updated Subscribe to the LQ Newsletter

Roundtable
Looking at 1968 through the eyes of photographer Ernest Withers. More

DÉjÀ Vu
2018:
Woman announces she is divorcing her pirate ghost husband.
1926:
Man sues wife for adultery with a ghost.
More

The World in Time
Lewis H. Lapham talks with Alan Rusbridger, author of Breaking News: The Remaking of Journalism and Why It Matters Now. More