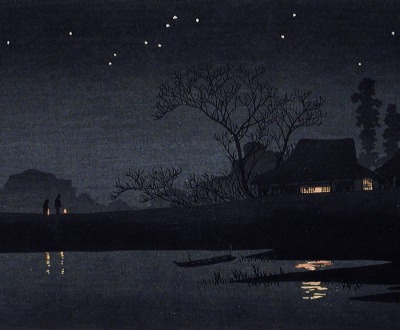 Starry Night, by Takahashi Shotei, c. 1926. The Los Angeles County Museum of Art, gift of Chuck Bowdlear, PhD, and John Borozan, MA.
Night
Volume XII, Number 1 | winter 2019
Miscellany
Poet Edward Fairfax kept a 1621 account of his daughter Helen's terrible nightmares, describing an incident in which she complained about a demonic white cat that "has been long upon me and drawn my breath." The cat, she said, "has left in my mouth and throat so filthy a smell that it does poison me."
By night an atheist half believes a God.
—Edward Young,
c.
1745
Lapham'sDaily
Stay Updated Subscribe to the LQ Newsletter

Roundtable
Looking at 1968 through the eyes of photographer Ernest Withers. More

DÉjÀ Vu
2018:
Woman announces she is divorcing her pirate ghost husband.
1926:
Man sues wife for adultery with a ghost.
More

The World in Time
Lewis H. Lapham talks with Alan Rusbridger, author of Breaking News: The Remaking of Journalism and Why It Matters Now. More