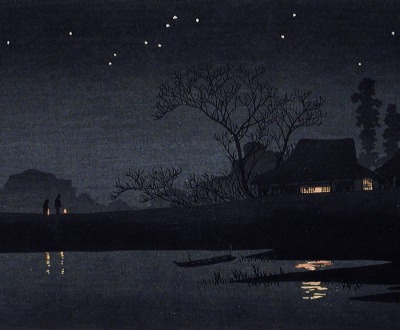 Starry Night, by Takahashi Shotei, c. 1926. The Los Angeles County Museum of Art, gift of Chuck Bowdlear, PhD, and John Borozan, MA.
Night
Volume XII, Number 1 | winter 2019
Miscellany
In Japanese tradition, ghosts and spirits are more likely to appear at dusk or dawn than in the middle of the night. "In order for people to see them and be frightened by them," wrote folklorist Kunio Yanagita, "emerging in the pitch-dark after even the plants have fallen asleep is, to say the least, just not good business practice."
It is not right for a ruler who has the nation in his charge, a man with so much on his mind, to sleep all night.
—Homer,
c.
750
BC
Lapham'sDaily
Stay Updated Subscribe to the LQ Newsletter

Roundtable
A black feminist examines racism and resistance in America, circa 1892. More

DÉjÀ Vu
2020:
Exoplanet revealed to be nothing but a large cloud of dust.
1903:
Supposed irrigation canals on Mars are merely optical illusions.
More

The World in Time
Lewis H. Lapham speaks with the author of Hitler's First Hundred Days: When Germans Embraced the Third Reich. More