Bad Moon Rising
The power of frightening.
By some unfortunate accident, there were neither blinds nor curtains to the windows of Professor Parkins' room. The previous night he had thought little of this, but tonight there seemed every prospect of a bright moon rising to shine directly on his bed, and probably wake him later on.
When he noticed this, he was a good deal annoyed, but with an ingenuity which I can only envy, he succeeded in rigging up, with the help of a railway rug, some safety pins, and a stick and umbrella, a screen which, if it only held together, would completely keep the moonlight off his bed. And shortly afterward he was comfortably in that bed. When he had read a somewhat solid work long enough to produce a decided wish to sleep, he cast a drowsy glance around the room, blew out the candle, and fell back upon the pillow.
He must have slept soundly for an hour or more when a sudden clatter shook him up in a most unwelcome manner. In a moment he realized what had happened: his carefully constructed screen had given way, and a very bright frosty moon was shining directly on his face. This was highly annoying. Could he possibly get up and reconstruct the screen? Or could he manage to sleep if he did not?
For some minutes he lay and pondered over all the possibilities; then he turned over sharply, and with his eyes open lay breathlessly listening. There had been a movement, he was sure, in the empty bed on the opposite side of the room. Tomorrow he would have it moved, for there must be rats or something playing about in it. It was quiet now. No! The commotion began again. There was a rustling and shaking: surely more than any rat could cause.
Tell us your phobias and we will tell you what you are afraid of.
—Robert Benchley, 1935
I can figure to myself something of the professor's bewilderment and horror, for I have in a dream thirty years back seen the same thing happen; but the reader will hardly, perhaps, imagine how dreadful it was to him to see a figure suddenly sit up in what he had known was an empty bed. He was out of his own bed in one bound, and made a dash toward the window, where lay his only weapon, the stick with which he had propped his screen. This was, as it turned out, the worst thing he could have done because the personage in the empty bed, with a sudden smooth motion, slipped from the bed and took up a position, with outspread arms, between the two beds, and in front of the door. Parkins watched it in a horrid perplexity. Somehow the idea of getting past it and escaping through the door was intolerable to him; he could not have borne—he didn't know why—to touch it; and as for its touching him, he would sooner dash himself through the window than have that happen. It stood for the moment in a band of dark shadow, and he had not seen what its face was like. Now it began to move, in a stooping posture, and all at once the spectator realized, with some horror and some relief, that it must be blind, for it seemed to feel about it with its muffled arms in a groping and random fashion. Turning half away from him, it became suddenly conscious of the bed he had just left and darted toward it, and bent and felt over the pillows in a way which made Parkins shudder as he had never in his life thought it possible. In a very few moments, it seemed to know that the bed was empty, and then, moving forward into the area of light and facing the window, it showed for the first time what manner of thing it was.
Parkins, who very much dislikes being questioned about it, did once describe something of it in my hearing, and I gathered that what he chiefly remembers about it is a horrible, an intensely horrible, face of crumpled linen. What expression he read upon it, he could not or would not tell, but that the fear of it went nigh to maddening him is certain.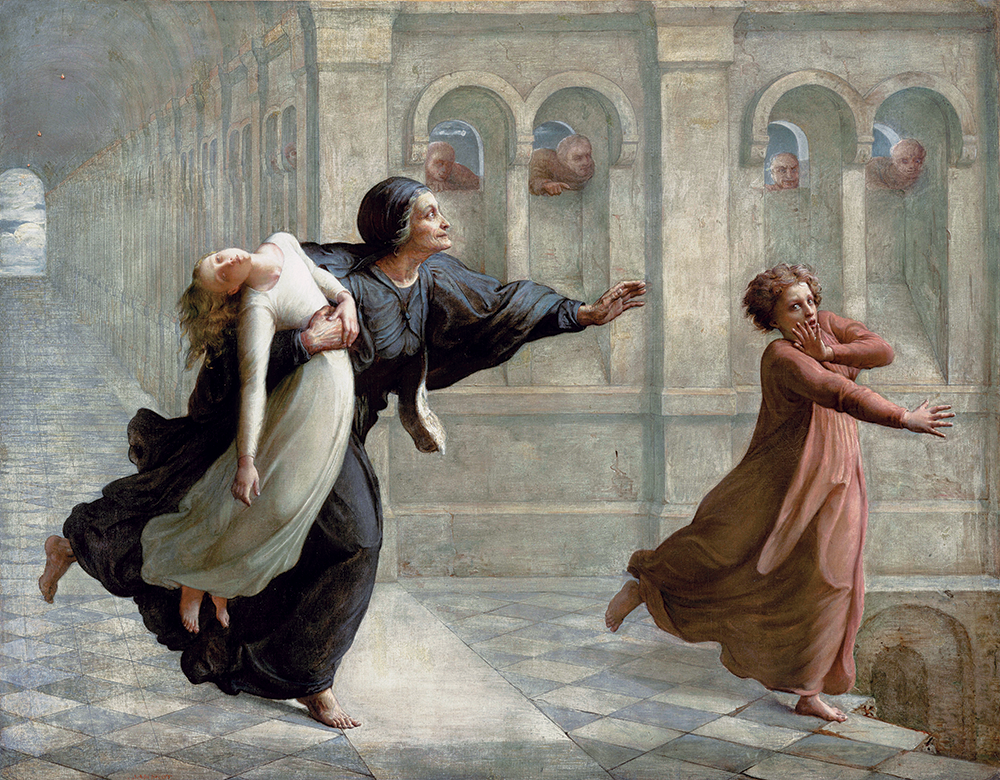 Nightmare, from the painting cycle The Poem of the Soul, by Louis Janmot, 1854. © RMN-Grand Palais / Art Resource, NY.
But he was not at leisure to watch it for long. With formidable quickness it moved into the middle of the room, and as it groped and waved, one corner of its draperies swept across Parkins' face. He could not, though he knew how perilous a sound was—he could not keep back a cry of disgust, and this gave the searcher an instant clue. It leaped toward him upon the instant, and the next moment he was halfway through the window backward, uttering cry upon cry at the utmost pitch of his voice, and the linen face was thrust close into his own. At this, almost the last possible second, deliverance came, as you will have guessed: the colonel burst the door open and was just in time to see the dreadful group at the window. When he reached the figures, only one was left. Parkins sank forward into the room in a faint, and before him on the floor lay a tumbled heap of bedclothes.
Exactly what explanation was patched up for the staff and visitors at the hotel I must confess I do not recollect. The professor was somehow cleared of the ready suspicion of delirium tremens, and the hotel of the reputation of a troubled house. 
There is not much question as to what would have happened to Parkins if the colonel had not intervened when he did. He would either have fallen out of the window or else lost his wits. But it is not so evident what more the creature that came in answer to the whistle could have done than frighten. There seemed to be absolutely nothing material about it save the bedclothes of which it had made itself a body. The colonel, who remembered a not very dissimilar occurrence in India, was of the opinion that if Parkins had closed with it, it could really have done very little, and that its one power was that of frightening. The whole thing, he said, served to confirm his opinion of the Church of Rome.
There is really nothing more to tell, but as you may imagine, the professor's views on certain points are less clear-cut than they used to be. His nerves, too, have suffered: he cannot even now see a surplice hanging on a door quite unmoved, and the spectacle of a scarecrow in a field late on a winter afternoon has cost him more than one sleepless night.

From "Oh, Whistle, and I'll Come to You, My Lad." After graduating from King's College, Cambridge, ghost-story author and medievalist Montague Rhodes James rose to become the college's provost in 1905. "The ghost story can be supremely excellent in its kind, or it may be deplorable," he wrote in 1931, five years before his death. "Bram Stoker's Dracula is a book with very good ideas in it, but—to be vulgar—the butter is spread far too thick."
Issue
Back to Issue
Fear