The Burning of the Houses of Lords and Commons, October 16, 1834, by Joseph Mallord William Turner, c. 1835. © The Philadelphia Museum of Art / Art Resource.
Disaster
Volume IX, Number 2 | spring 2016
Miscellany
The first mass extinction on earth occurred around 2.5 billion years ago, when a photosynthesizing bacterium appeared and released so much oxygen into the atmosphere that anaerobic life was largely wiped out. This is often called the Great Oxygenation Event, the Oxygen Catastrophe, or the Oxygen Holocaust. 
All the married heiresses I have known have shipwrecked.
—Benjamin Disraeli, 1880
Lapham'sDaily
Stay Updated Subscribe to the LQ Newsletter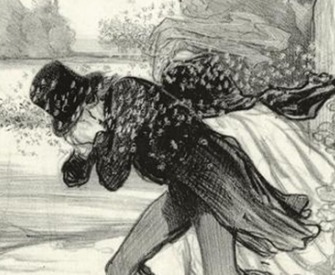 DÉjÀ Vu
2018:
The NYPD beekeeper vacuums up a swarm of bees on a hot dog stand in Times Square.
1906:
Bees take over a Los Angeles street as spectators watch.
More

The World in Time
Lewis H. Lapham talks with Jill Lepore, author of These Truths: A History of the United States. More