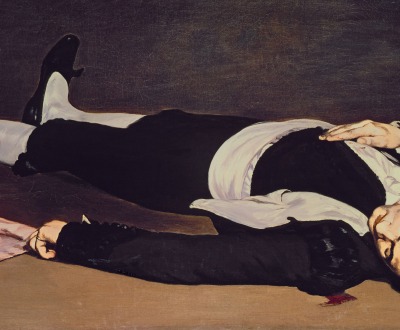 The Dead Toreador, by Édouard Manet, c. 1864. National Gallery of Art, Washington D.C.
Death
Volume VI, Number 4 | fall 2013
Miscellany
When told by a doctor that he was dying in 1851, J. M. W. Turner replied, "Go downstairs, take a glass of sherry, and then look at me again." The doctor followed the painter's suggestion but returned with the same prognosis. The day Turner died he was wheeled to the window so that he could see the sunshine on the river and boats passing by.
Life is a farce, and should not end with a mourning scene.
—Horace Walpole, 1784
Lapham'sDaily
Stay Updated Subscribe to the LQ Newsletter

DÉjÀ Vu
2017:
U.S. Department of Agriculture bans words related to climate change.
350 BC:
Aristotle denies that the climate is changing.
More

The World in Time
Lewis H. Lapham talks with Roger D. Hodge, author of Texas Blood: Seven Generations Among the Outlaws, Ranchers, Indians, Missionaries, Soldiers, and Smugglers of the Borderlands. More