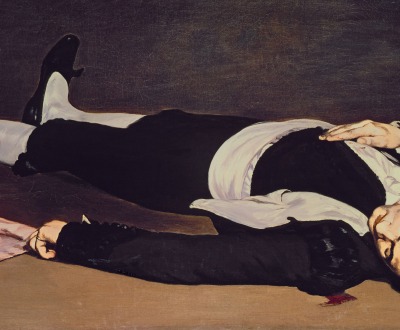 The Dead Toreador, by Édouard Manet, c. 1864. National Gallery of Art, Washington, DC.
Death
Volume VI, Number 4 | fall 2013
Miscellany
After the Golden Gate Bridge, the most popular spot in the world to commit suicide is Aokigahara Forest at the foot of Mount Fuji. Signs posted among the trees read: YOUR LIFE IS A PRECIOUS GIFT FROM YOUR PARENTS AND PLEASE CONSULT THE POLICE BEFORE YOU DECIDE TO DIE! Since the 1950s, more than five hundred people have killed themselves there, most by hanging. 
The only evidence, so far as I know, about another life is, first, that we have no evidence; and, secondly, that we are rather sorry that we have not, and wish we had.
—Robert G. Ingersoll, 1879