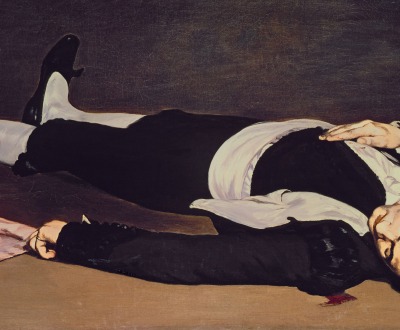 The Dead Toreador, by Édouard Manet, c. 1864. National Gallery of Art, Washington D.C.
Death
Volume VI, Number 4 | fall 2013
Miscellany
Titus Andronicus is William Shakespeare's bloodiest play; the body count reaches fourteen. Rounding out the top-three deadliest plays are Richard III (eleven) and King Lear (ten).
I was born without knowing why, I have lived without knowing why, and I am dying without either knowing why or how.
—Pierre Gassendi, 1655
Lapham'sDaily
Stay Updated Subscribe to the LQ Newsletter

Roundtable
Another news cycle, another media mogul stirring up electoral buzz. More

DÉjÀ Vu
2018:
Man auctions Dixie cup that could have touched the lips of Elvis.
1921:
Man auctions Lord Byron's cup made from a human skull.
More

The World in Time
Lewis H. Lapham talks with Holger Hoock, author of Scars of Independence: America's Violent Birth, at a New York Public Library event. More