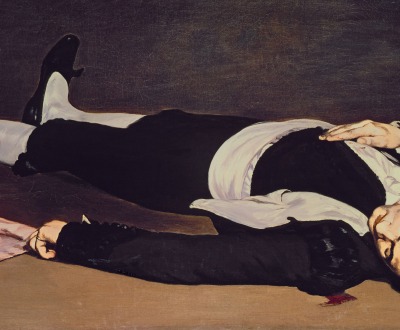 The Dead Toreador, by Édouard Manet, c. 1864. National Gallery of Art, Washington, DC.
Death
Volume VI, Number 4 | fall 2013
Miscellany
On June 4, 1827, Hector Berlioz wrote to his sister Nancy about James Fenimore Cooper's recently published novel The Prairie, in which the protagonist of Cooper's Leatherstocking series, Natty Bumppo, is killed off. "I devoured it straight off," Berlioz stated. "I reached the end at seven in the evening, and was still at the foot of one of the columns of the Pantheon in tears at eleven o' clock!"
Man has here two and a half minutes—one to smile, one to sigh, and half a one to love; for in the midst of this minute he dies.
—Jean Paul Richter, 1795