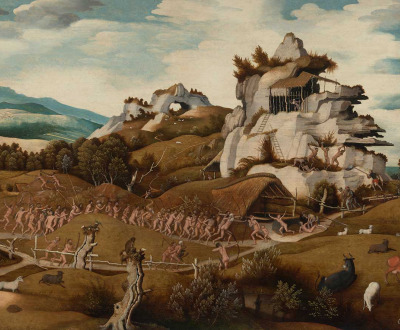 Landscape with an Episode from the Conquest of America, by Jan Jansz Mostaert, c. 1535. Rijksmuseum.
"Land is an originally Germanic word that has been current in English since the tenth century, denoting since then the solid surface of the planet that is found generally lying above sea level," Simon Winchester writes in Land: How the Hunger for Ownership Shaped the Modern World. "What strikes many as ironic is that we have long called our planet the Earth, when—and this is of course especially noticeable when our blue and green spheroid is seen from outer space—it manifestly should more properly be called the Ocean. The Earth is more sea than land, and by a long chalk…Land and landscape are the near exclusive domain of air-breathing mammals—and most especially those that can speak, read, and write. And even before humankind first encountered the sea, humans would have been aware, and just because of its endless variety, of the landscape in which they were placed. They would have noticed, and noted—with the result that land and its vast spectrum of forms would have come into their vocabulary with more facility—its sheer variety made them more aware of it."
In this episode of The World in Time, the frequent Lapham's Quarterly contributor discusses the many ways humans have interacted with land: possessing it, stealing it, trespassing upon it, and, in an era of climate change, attempting to make more of it or preserve it as its value becomes both more obvious and blurrier.
Lewis H. Lapham speaks with Simon Winchester, author of Land: How the Hunger for Ownership Shaped the Modern World.
Thanks to our generous donors. Lead support for this podcast has been provided by Elizabeth "Lisette" Prince. Additional support was provided by James J. "Jimmy" Coleman Jr.
Discussed in this episode