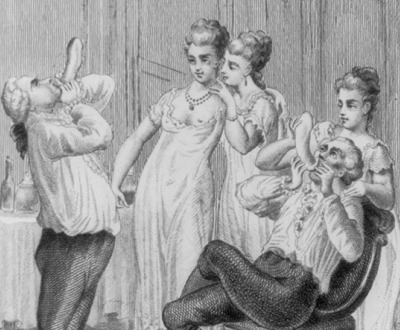 Casanova and the Condom, 1872. Library of Congress, Prints and Photographs Division.
"There have been a number of biographies of Casanova, but the time is overdue for a biography of a different kind," writes Leo Damrosch at the start of Adventurer: The Life and Times of Giacomo Casanova. "He was the first to tell his own story, in a massive autobiography entitled Histoire de Ma Vie…The word histoire can mean 'story' as well as 'history,' and a story it certainly is. Previous biographers have tended to retell it as he told it, adopting his own point of view with only occasional queries. Some have betrayed a vicarious investment in his tales of seduction, just as many readers clearly have; it's interesting that men with great political power, such as Winston Churchill and François Mitterrand, have been especially warm admirers of Casanova. In fiction such a character might be a charming rogue, but in real life Casanova's behavior was often far from charming, and this is evident even when all we have to go on is his own narrative."
This week on the podcast, Lewis H. Lapham speaks with Leo Damrosch, author of Adventurer: The Life and Times of Giacomo Casanova.
Thanks to our generous donors. Lead support for this podcast has been provided by Elizabeth "Lisette" Prince. Additional support was provided by James J. "Jimmy" Coleman Jr.
Discussed in this episode