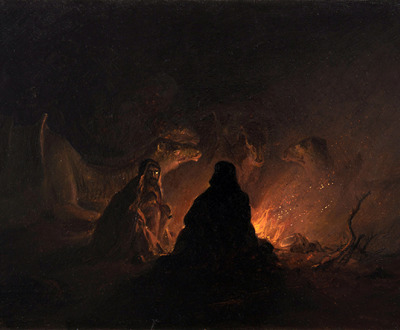 Bedouins in Camp at Night. Cooper Hewitt, Smithsonian Design Museum.
Fire, language, beauty, and time: these are the four things that author and broadcaster Gaia Vince says are responsible for turning primitive hunter-gatherers into the modern smartphone-carrying humans capable of listening to podcasts about books. On this week's episode of The World in Time, Lewis H. Lapham and Vince work backward from the present to see how we got here and how our ability to change the environment is partly to blame—and how we're presently, thanks to the processes that brought us to 2020, on the brink of a brand-new relationship with nature.
Lewis H. Lapham speaks with Gaia Vince, author of Transcendence: How Humans Evolved Through Fire, Language, Beauty, and Time.
Thanks to our generous donors. Lead support for this podcast has been provided by Elizabeth "Lisette" Prince. Additional support was provided by James J. "Jimmy" Coleman Jr.
Discussed in this episode