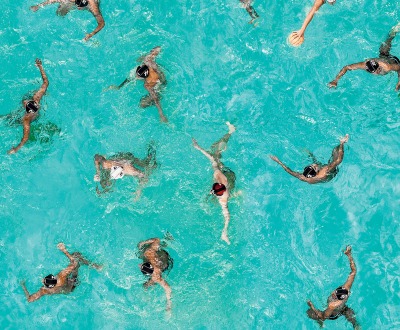 Timeline - Waterpolo 3, by Mario Arroyave, 2013. © Mario Arroyave, courtesy the artist and Artemisa Contemporary Latin American Art, New York.
Water
Volume XI, Number 3 | summer 2018
Miscellany
During a battle with Scythians in Macedonia on April 29, 1091, Byzantine emperor Alex­ius I Comnenus noted the midday sun "shedding its rays," reported his daughter Anna Comnena in the Alexiad. He dispatched local peasants to bring water in skins or jars to his troops, who "sipped a drop of water, then returned to the fray." The newly hydrated Byzantines wiped out their enemies, and a chant began: "All because of one day the Scythians never saw May."
"No fountain is so small but that heaven may be imaged in its bosom."—Nathaniel Hawthorne
View
Spit not in the well; you may have to drink its water.
—French proverb
Lapham'sDaily
Stay Updated Subscribe to the LQ Newsletter

DÉjÀ Vu
2018:
Woman announces she is divorcing her pirate ghost husband.
1926:
Man sues wife for adultery with a ghost.
More

The World in Time
Lewis H. Lapham talks with Joseph J. Ellis, author of American Dialogue: The Founders and Us. More