Punching In
Mac McClelland is on the clock and on her feet.
Inside Amalgamated Product Giant Shipping Worldwide Inc., an employee's first day is training day. Though we're not paid to be here until six, we have been informed that we need to arrive at five. If we don't show up in time to stand around while they sort out who we are and where they've put our ID badges, we could miss the beginning of training, which would mean termination. "I was up half the night because I was so afraid I was going to be late," a woman in her sixties tells me. I was, too. A minute's tardiness after the first week earns us half a penalty point, an hour's tardiness is worth one point, and an absence one and a half; six is the number that equals "release." But during the first week even a minute's tardiness gets us fired. When we get lined up so we can be counted a third or fourth time, the woman conducting the roll call recognizes the last name of a young trainee. "Does your dad work here? Or uncle?" she asks. "Grandpa," he says, as another supervisor snaps at the same time, sounding not mean but very stressed out, "We gotta get goin' here."
The culture is intense, an Amalgamated higher-up acknowledges at the beginning of our training. He's speaking to us from a video, one of several videos—about company policies, sexual harassment, etc.—that we watch while we try to keep our eyes open. We don't want to be so intense, the higher-up says. But our customers demand it. We are surrounded by signs that state our productivity goals. Other signs proclaim that a good customer experience, to which our goal-meeting is essential, is the key to growth, and growth is the key to lower prices, which lead to a better customer experience. There is no room for inefficiencies. The gal conducting our training reminds us again that we cannot miss any days our first week. There are no exceptions to this policy. She says to take Brian for example, who's here with us in training today. Brian already went through this training, but then during his first week his lady had a baby, so he missed a day and he had to be fired. Having to start the application process over could cost a brand-new dad like Brian a couple of weeks' worth of work and pay. Okay? Everybody turn around and look at Brian. Welcome back, Brian. Don't end up like Brian.
Soon, we move on to practical training. Like all workplaces with automated and heavy machinery, this one contains plenty of ways to get hurt, and they are enumerated. There are transition points in the warehouse floor where the footing is uneven, and people trip and sprain ankles. Give forklifts that are raised up several stories to access products a wide berth: "If a pallet falls on you, you won't be working with us anymore." Watch your fingers around the conveyor belts that run waist-high throughout the entire facility. People lose fingers. Or parts of fingers. And about once a year, they tell us, someone in an Amalgamated warehouse gets caught by the hair, and when a conveyor belt catches you by the hair, it doesn't just take your hair with it. It rips out a piece of scalp as well.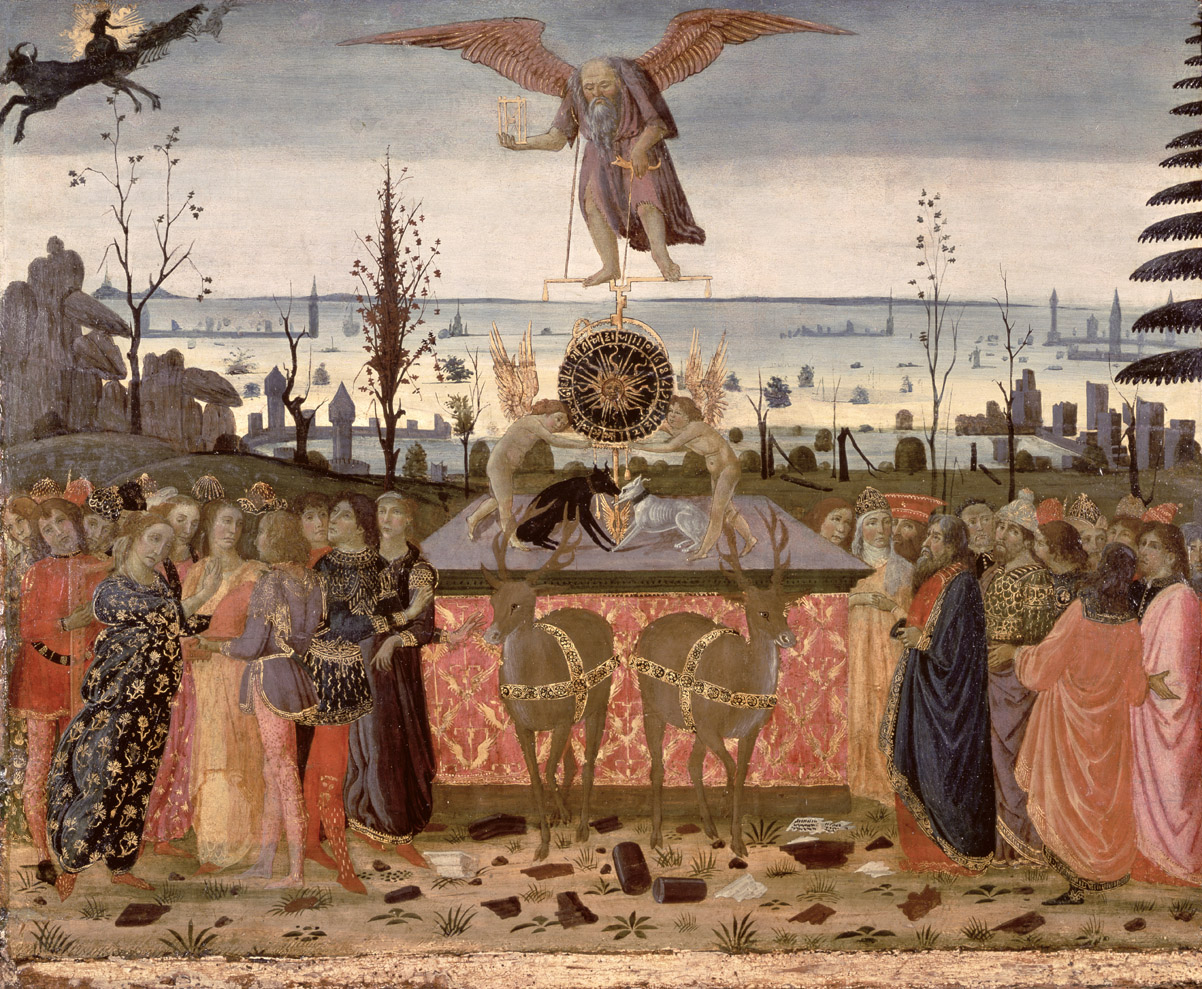 The Triumph of Time (detail), Florentine school, fifteenth century. Museo Bandini, Fiesole, Italy.
If the primary message of one-half of our practical training is Be Careful, the takeaway of the other half is Move as Fast as Humanly Possible. Or superhumanly possible. I have been hired as a picker, which means my job is to find, scan, place in a plastic tote, and send away via conveyor whatever item within the multiple stories of this several-hundred-thousand-square-foot warehouse my scanner tells me to. We are broken into groups and taught how to read the scanner to find the object among some practice shelves. Then we immediately move on to practicing doing it faster, racing each other to fill the orders our scanners dictate, then racing each other to put all the items back.
"Hurry up," a trainer encourages me when he sees me pulling ahead of the others, "and you can put the other items back!" I roll my eyes that my reward for doing a good job is that I get to do more work, but he's got my number: I am exactly the kind of freak this sort of motivation appeals to. I win, and set myself on my prize of the bonus errand.
That afternoon, we are turned loose in the warehouse, scanners in hand. And that's when I realize that for whatever relative youth and regular exercise and overachievement complexes I have brought to this job, I will never be able to keep up with the goals I've been given.
For everything there is a season, and a time for every matter under heaven.
—Book of Ecclesiastes, 250
BC
The place is immense. Cold, cavernous. Silent, despite thousands of people quietly doing their picking, or standing along the conveyors quietly packing or box taping, nothing noisy but the occasional whir of a passing forklift. My scanner tells me in what exact section—there are nine merchandise sections, so sprawling that there's a map attached to my ID badge—of vast shelving systems the item I'm supposed to find resides. It also tells me how many seconds it thinks I should take to get there. Dallas sector, section yellow, row H34, bin 22, level D: wearable blanket. Battery-operated flour sifter. Twenty seconds. I count how many steps it takes me to speed-walk to my destination: twenty. At five foot nine, I've got a decently long stride, and I only cover the twenty steps and locate the exact shelving unit in the allotted time if I don't hesitate for one second or get lost or take a drink of water before heading in the right direction as fast as I can walk or even occasionally jog. Olive-oil mister. Male-libido-enhancement pills. Rifle strap. Who the fuck buys their paper towels off the Internet? Fairy calendar. Neoprene lunch bag. Often as not, I miss my time target.
Plenty of things can hurt my goals. The programs for our scanners are designed with the assumption that we disposable employees don't know what we're doing. Find a Rob Zombie Voodoo Doll in the blue section of the Rockies sector in the third bin of the A level in row Z42, my scanner tells me. But if I punch into my scanner that it's not there, I have to prove it by scanning every single other item in the bin, though I swear on my life there's no Rob Zombie Voodoo Doll in this pile of thirty individually wrapped and barcoded batteries that take me quite a while to beep one by one. It could be five minutes before I can move on to, and make it to, and find, my next item. That lapse is supposed to be mere seconds.
This week, we newbies need to make 75 percent of our total picking-volume targets. If we don't, we get "counseled." If the people in here who've been around longer than a few weeks don't make their 100 percent, they get counseled. Why aren't you making your targets? the supervisors will ask. You really need to make your targets.
Everyone in here is hustling. At the announcement to take one of our two fifteen-minute breaks, we hustle even harder. We pickers close out the totes we're currently filling and send them away on the conveyor belt, then make our way as fast as we can with the rest of the masses across the long haul of concrete between wherever we are and the break room, but not before passing through metal detectors, for which there is a line—we're required to be screened on our way out, though not on our way in; apparently the concern is that we're sneaking Xbox 360s up under our shirts, not bringing in weapons. If we don't set off the metal detector and have to be taken aside and searched, we can run into the break room and try to find a seat among the rows and rows and long-ass rows of tables. We lose more time if we want to pee—and I do want to pee, and when amid the panic about the time constraints it occurs to me that I don't have my period I toss a fist victoriously into the air—between the actual peeing and the waiting in line to pee in the nearest one of the two bathrooms, which has eight stalls in the ladies' and I'm not sure how many in the men's and serves thousands of people a day. Once I pare this process down as much as possible, by stringing a necktie through my belt loops because I can't find a metal-less replacement for my belt at the local Walmart—and if my underwear or butt crack slips out, I've been warned, I can get penalized—and by leaving my car keys in the break room after a manager helps me find an admittedly "still risky" hiding place for them because we have no lockers and "things get stolen out of here all the time," I get myself up to seven minutes' worth of break time to inhale as many high-fat and high-protein snacks as I can. People who work at Amalgamated are always working this fast. Right now, because it's almost Black Friday, there are just more of us doing it.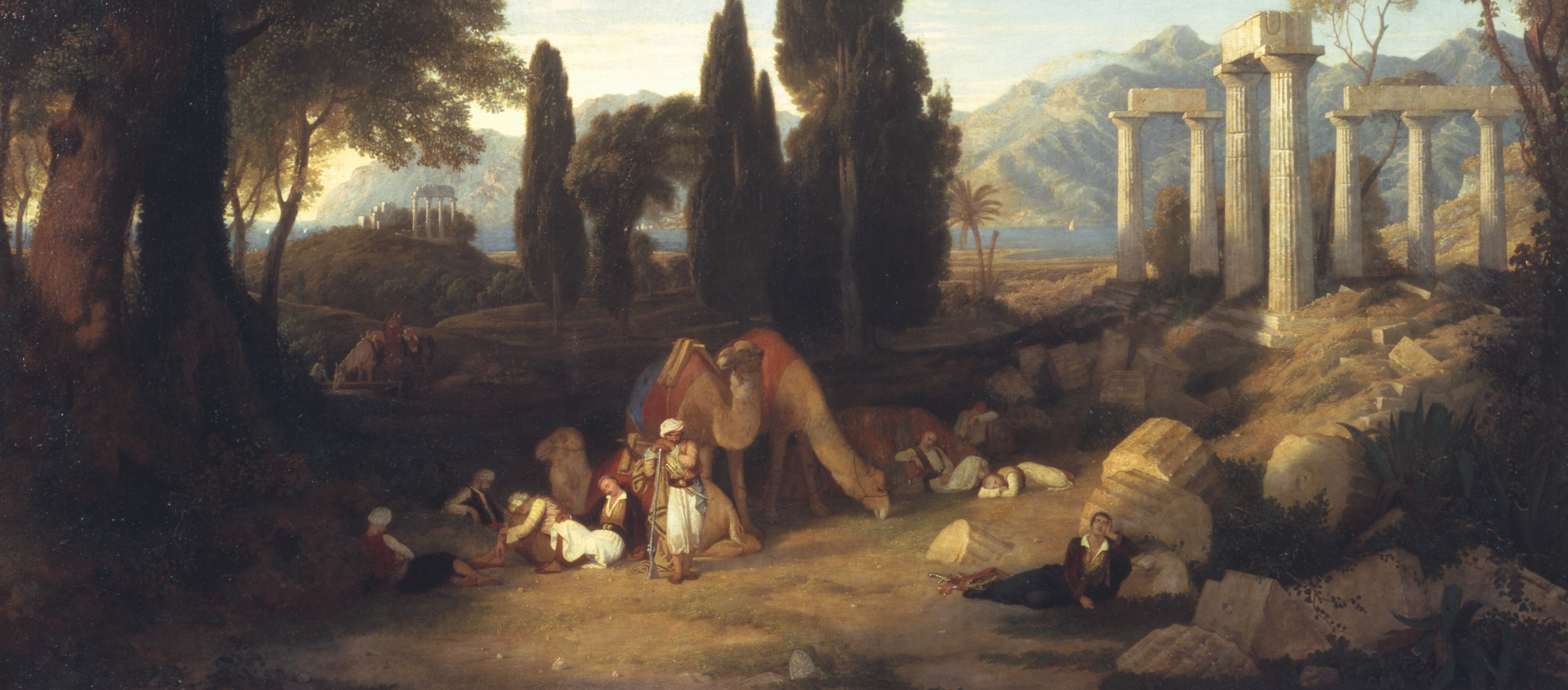 Lord Byron's Dream, by Charles Lock Eastlake, 1827. Tate Britian, London.
Then as quickly as we've come, we all run back. At the end of the fifteen minutes, we're supposed to be back at whichever far-flung corner of the warehouse we came from, scanners in hand, working. We run to grab the wheeled carts we put the totes on. We run past one another and if we do say something, we say it as we keep moving. "How's the job market?" a supervisor says, laughing, as several of us newbies run by. "Just kidding!" Ha ha! "I know why you guys are here. That's why I'm here too!"
Copyright © 2012 by Mother Jones. Used with permission of Mother Jones.

From "I Was a Warehouse Wage Slave." Writing this exposé for Mother Jones, where she served as the human rights reporter, McClelland noted that she fulfilled, in addition to a lot of iPad-related paraphernalia, a surprising amount of orders for dildos. "Really, a staggering number of dildos," she wrote, elaborating, "At lunch, the most common question, aside from 'Which offensive dick-shaped product did you handle the most of today?' is 'Why are you here?' like in prison." She is the author of For Us Surrender Is Out of the Question: A Story from Burma's Never-Ending War.
Issue
Back to Issue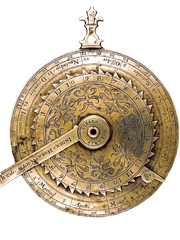 Time