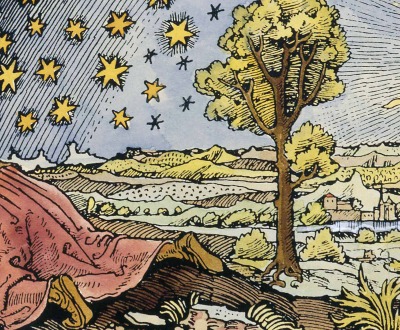 Medieval missionary discovering the point where heaven and earth meet, twentieth-century coloration of black-and-white engraving from The Atmosphere, by Camille Flammarion, 1888. 
The Future
Volume IV, Number 4 | fall 2011
Miscellany
"We don't like their sound," an executive at Decca Records said in 1962, rejecting The Beatles, adding, "and guitar music is on the way out." The same year, Marshall McLuhan wrote, "The book is dead. That is to say sometime before the end of the present century, the last printed book will roll off the presses."
All progress is based upon a universal, innate desire on the part of every organism to live beyond its income.
- Samuel Butler,
c.
1890
Lapham'sDaily
Stay Updated Subscribe to the LQ Newsletter

DÉjÀ Vu
2017:
U.S. Department of Agriculture bans words related to climate change.
-350:
Aristotle denies that the climate is changing.
More

LQ Podcast
Lewis H. Lapham talks with John Strausbaugh, author of City of Sedition: The History of New York City During the Civil War. More