Medieval missionary discovering the point where heaven and earth meet, twentieth-century coloration of black-and-white engraving from The Atmosphere, by Camille Flammarion, 1888.
The Future
Volume IV, Number 4 | fall 2011
Miscellany
On July 23, 1995, in New Mexico, the astronomer Alan Hale saw an unidentified fuzzy object in the sky. He emailed the Central Bureau for Astronomical Telegrams. In Arizona, Tom Bopp saw the same thing. He telegrammed the bureau. The comet was named Hale-Bopp the following day. Believing that a UFO was traveling behind it, thirty-eight members of The Heaven's Gate cult committed suicide on March 26, 1997, six days before the comet reached its perihelion. 
The future comes like an unwelcome guest.
—Edmund Gosse, 1873
Lapham'sDaily
Stay Updated Subscribe to the LQ Newsletter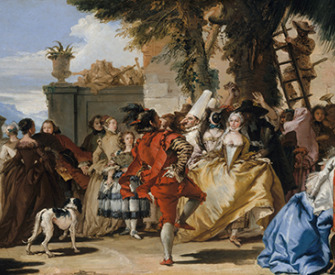 DÉjÀ Vu
2022:
Brazilian blocos ignore ban on Carnival celebrations.
1576:
Italian plague patients ignore ban on dance parties.
More

The World in Time
Lewis H. Lapham speaks with the author of The Man Who Understood Democracy: The Life of Alexis de Tocqueville. More