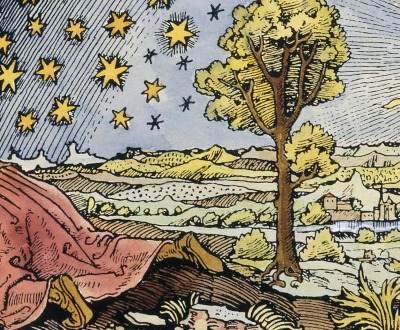 Medieval missionary discovering the point where heaven and earth meet, twentieth-century coloration of black-and-white engraving from The Atmosphere, by Camille Flammarion, 1888. 
The Future
Volume IV, Number 4 | fall 2011
Miscellany
Mark Twain was born on November 30, 1835—two weeks after the perihelion of Halley's Comet. "I came in with Halley's Comet," Mark Twain commented in 1909. "It is coming again next year. The Almighty has said, no doubt, 'Now there are these two unaccountable freaks; they came in together, they must go out together.'" He died on April 21, 1910—one day after the comet had once again reached its perihelion.
It would be madness, and inconsistency, to suppose that things which have never yet been performed can be performed without employing some hitherto untried means.
- Francis Bacon, 1620
Lapham'sDaily
Stay Updated Subscribe to the LQ Newsletter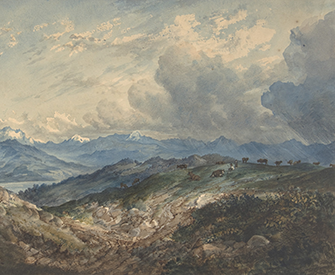 Roundtable
Tracing the history of a myth from Germany to Charlottesville. More

DÉjÀ Vu
2017:
U.S. Department of Agriculture bans words related to climate change.
-350:
Aristotle denies that the climate is changing.
More

LQ Podcast
Lewis H. Lapham talks with Stephen Greenblatt, author of The Rise and Fall of Adam and Eve. More