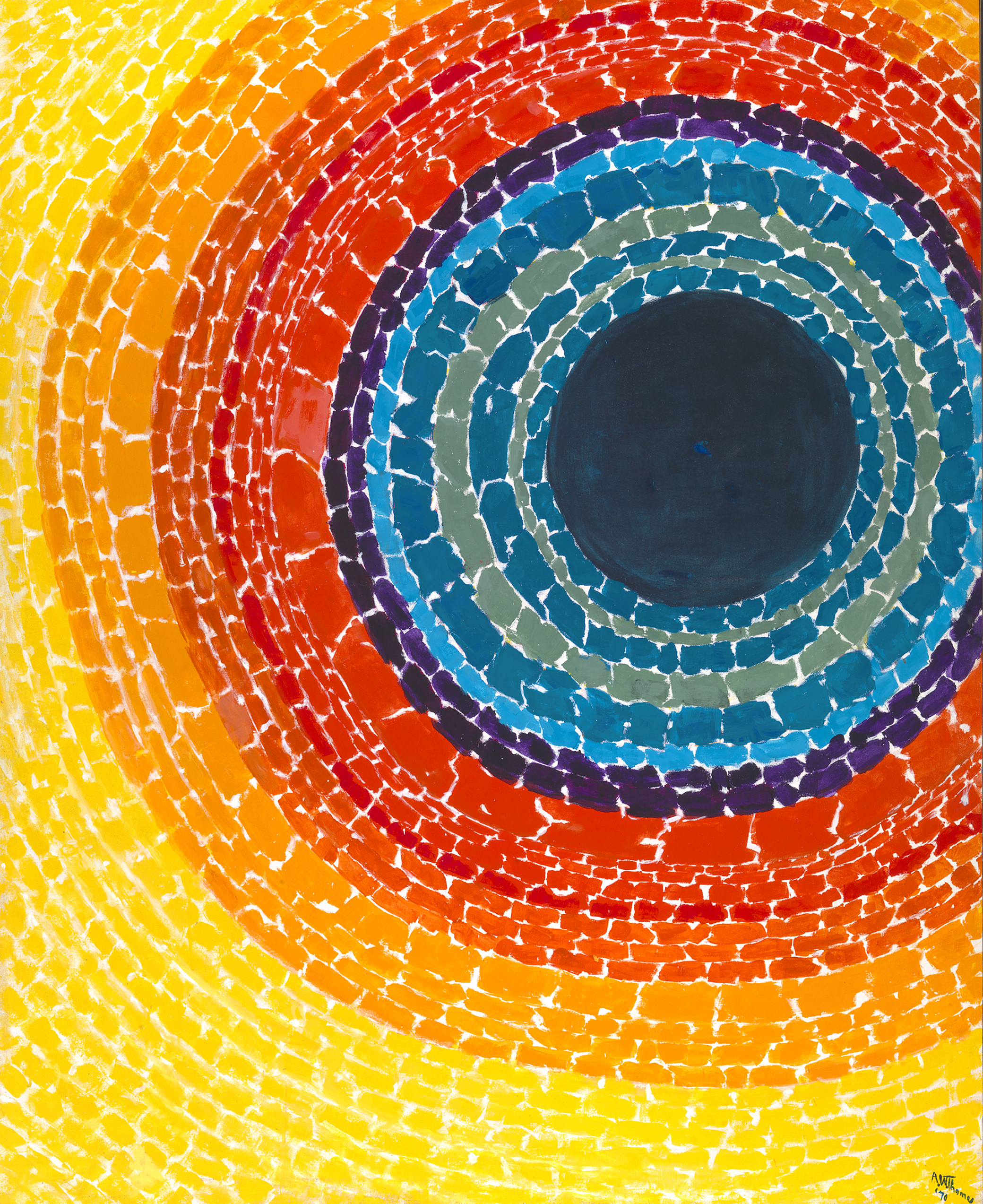 In the 1982 romantic comedy Losing Ground, Seret Scott and Bill Gunn star as the married couple Sara and Victor. Victor, a middle-aged painter, has just sold one of his pieces to a museum. It's his first real taste of career success, a leap forward that leads him to reconsider his entire path. At his urging, the couple leave New York City, where Sara works as a college professor, to spend the summer in a small, picturesque town on the Hudson River.
Victor's oversize canvases explode with verdant greens, blues, and yellows and cover the walls of the couple's apartment in the city. After spending most of his career as an abstract artist, he has decided to paint landscapes; the lush Hudson Valley, he believes, will nourish this new direction. Sara, less prone to reinvention, has a buttoned-up approach to life and her work in the academy. We observe Victor through her eyes. She envies his fanciful mind, his sense of eroticism and the sublime. "Victor has sex all the time," she tells her mother. "With a new color, a room, the way the light falls across a building." Although Sara needs a large city's library to accomplish her summer research on ecstatic experiences, she goes along with her husband's plan.
As she begins to apprehend the mechanics of ecstasy through her studies, Sara also begins to crave an embodied, rapturous freedom for herself. Victor's experiments in art and extramarital romance—with a lovely woman who lives in their new town—help fuel her exploration. From a text on Haitian voodoo, she learns that spirits mount supplicants to possess them; the ecstatic moment, "a sensation of physical well-being, of mental alertness, sometimes clairvoyance," occurs after possession. She wanders into the home of a psychic to find out how the flash of insight feels inside the body of the mystic. "Why can't I just go…lose control?" she asks her stage-actress mother, who describes for Sara the alchemy of performance: "I lift a finger, turn my head, smile, hold back a line, let another one fall with perfect timing…I'm in complete control, yet gone."
Sara finally experiences the kind of abandon she longs for, a tethering of her mind, body, and spirit, when she performs in a student film based on the folk ballad "Frankie and Johnny." The film within the film explores the same kind of romantic tumult as her waking life, and the ritual of performance allows her to embody a bold eroticism. She moves differently as Frankie, with more energy in the hips. Her clothes fit closer to the skin. Her rage surfaces.
By the time the film ends, Sara is transformed; her personality has grown more facets, more texture, a kind of wholeness. Yet the filmmaker doesn't provide an easy resolution to the marital conflict. Kathleen Collins, Losing Ground's screenwriter and director, told Black Film Review in a 1986 interview that French New Wave director Eric Rohmer was her primary filmmaking influence. She appreciated his "respect for language," how he took for granted the intelligence of his audience. In Rohmer's film My Night at Maud's, characters dive in and out of romantic couplings while pondering strains of Western philosophy. Similarly, Losing Ground opens with Sara lecturing a hall of students on the existentialist response to World War II. Throughout the film, characters embody their thoughts: they salsa, slow drag, boogie, flail their arms frantically, shuffle their feet, or laugh nervously to convey their interior states. Like Rohmer, Collins foregrounded dialogue and the intricate details of character to create a cinematic vocabulary.
All but one of Losing Ground's characters are black. It is one of the first feature-length films written by a black American woman produced, and predates Julie Dash's Daughters of the Dust, the first film by a black woman to have a theatrical release, by eleven years.
Kathleen Collins was born upper-middle-class in an all-black New Jersey town in 1942. She studied philosophy and religion at Skidmore College, and spent a summer traveling in Georgia organizing with the Student Nonviolent Coordinating Committee. During her graduate studies in French literature at the Sorbonne, she took a course on literary adaptation in film and "by accident," she told the scholar Phyllis R. Klotman. began to seriously pursue the discipline of cinema.
When Collins returned to the United States, she worked as a film editor and taught film history and screenwriting at the City College of New York. She also got married, had two children, and found time to write plays, short fiction, screenplays, and a novel. In 1980 Collins directed her first film, The Cruz Brothers and Miss Malloy, adapted from a series of short stories by her friend Henry Roth. She made her second film, Losing Ground, on a shoestring budget of $125,000, raised from grants, personal funds, and a late infusion of money from a German TV network for postproduction. Her students made up most of the crew.
Losing Ground fared well on the independent festival circuit, especially internationally, but it couldn't find an American distributor. Studio representatives said they "didn't know black women" like Sara, Collins recounted in a 1984 lecture to Howard University film students. Yet she'd created characters out of the substance of her own life, writing with friends and former lovers in mind. Studios also claimed they couldn't find the story's "racial angle," she said. Though race is an important subtextual element of Losing Ground, there is no obvious melodrama of racial turmoil or uplift. The characters' concerns are internal, about dreams and love, sex and desire. Collins spent much of the Howard lecture discussing how, for a society's outsiders, "normal emotions…are to some degree distorted." The work of narrative, in her mind, was to "divest" black characters from mythologized heroics or exaggerated evil, to endow them with an idiosyncratic normalcy.
Losing Ground emerged out of a creative ferment of black filmmakers, playwrights, editors, writers, and actors living in and around New York City from the late 1960s to the early 1980s. Coming after the civil rights movement, but before hip-hop became a dominant cultural force, this group predates (and made possible) Spike Lee's ascension. Scholars Nicholas Forster and Michele Prettyman call it the "New York Scene," a movement of sorts populated by artists such as Collins and Gunn, the novelist, playwright, actor, and filmmaker who wrote and directed the art-horror film Ganja and Hess; William Greaves, who produced the public TV show Black Journal and directed the meta-documentary Symbiopsychotaxiplasm; Julie Dash, who'd been a student of Collins as an undergraduate at City College; and Ayoka Chenzira, who directed the animated short Hair Piece as well as Alma's Rainbow, a film about a black girl's coming of age. They orbited each other, frequently appearing in one other's projects. The resulting work was often formally experimental, defying and expanding the boundaries of genre.
Within this milieu, Losing Ground was no quandary. Yet the film's difficulties with distributors meant it would not be widely seen until years later, when Kathleen's daughter, Nina Collins, had it restored from its negatives. In 2015, more than two decades after Kathleen's death, Losing Ground opened at Lincoln Center. Critics adored it and were careful to note how it broke new ground in independent American cinema.
The following year, Nina Collins published Whatever Happened to Interracial Love?, a collection of sixteen of her mother's short stories. Only one story had been published during Kathleen's lifetime. Kathleen Collins became part of a broader moment of exhumation and recovery that saw the work of women artists, including Bette Howland, Lucia Berlin, and Clarice Lispector, belatedly canonized. The legacies of women who were less "forgotten" than insufficiently remembered, with a single story dominating public thought about their lives and work—Sylvia Plath, Shirley Jackson, and Zora Neale Hurston—were reconstituted more fully with new biographies and reissued books. Readers have met this wave of memorializing with a hungry voraciousness. In February 2019 Nina released a second volume of Kathleen's works, Notes from a Black Woman's Diary. It includes two of the author's previously unpublished short stories; six plays, including The Brothers, which had a limited run off-Broadway in 1982; passages from her journals; and two screenplays, the luminous A Summer Diary—which was never filmed but has been optioned by Issa Rae—and the shooting script for Losing Ground.
Critics Joanna Scutts and Parul Sehgal have lauded the current wave of recoveries while advising caution around how we think, write, and talk about it. Scutts worried a surge in biographical information about "recovered" women artists could tempt us into using facts from their personal lives to justify their disappearance from literary history. Sehgal lamented the possibility of reinternment. "Without champions and concerted support," she warned, "even the most breathtakingly original writer will sail into oblivion, her legacy erased or distorted."
Living through the recovery has been a dream, but it is also equally sad and enraging. Watching Losing Ground for the first time felt glorious. I was captivated by Sara's beauty and cinematographer Ronald Gray's lush, spring-like palette. I'd never seen a black woman think so rigorously onscreen before. In the words of Danielle Evans, in her introduction to Notes from a Black Woman's Diary, "These are the protagonists I wanted to be reading all my life." It also means I've spent most of my life not reading and not seeing them. My earliest years are those in which the work had been produced but had become increasingly difficult to see or read, fading away into obscurity, disappearing just when I would have reached for them had I known they existed.
Every generation of black women artists, it seems, must weave the work of recovery and restoration into their own creative pursuits: reconstructing lifelines and geographies, reanimating the hovering ghosts of their own histories. The flowering of feminist scholarship in the 1970s and '80s brought back the novels of Zora Neale Hurston; Alice Walker placed the first marker at her (likely) gravesite. In the 1920s and '30s, Hurston had been a meticulous scholar of disappearing folkways of the American South and the Caribbean. In Beloved, Toni Morrison imagined a haint as a manifestation of the living past. In most of Kathleen Collins' writing, she mined and reanimated her personal experiences and obsessions. Yet at the time of her death, she was developing a screenplay, Only the Sky Is Free, that was a fictionalized account of the life of early twentieth-century black stunt pilot Bessie Coleman. A Texas native who went to France for flight school, Coleman became the first American black woman to earn a pilot's license.
Even when it isn't explicit, a marginalized person creating anything does so against erasure, inscribing and planting herself into history. "Why are recovery efforts so fragile, so fleeting?" asked the scholar Michelle Burnham in an essay about the rediscovery of works by early American women writers. In the background of every wave of recovery lurks the danger that new volumes and reprints could go out of print, too.
In her interview with Black Film Review, Kathleen Collins talked about her abiding appreciation for Lorraine Hansberry, the only other black writer she felt she could relate to. By then, Hansberry had been dead for two decades. The importance of A Raisin in the Sun, the first play by a black woman to appear on Broadway, meant the playwright had been memorialized incompletely. "I really think that A Raisin in the Sun has never been done correctly," Collins said. "It's a play that's actually been misinterpreted, and it's been taken as kind of a simple family tale. I think that the levels of abstraction of the play are more complicated than that."
After her death in 1965, Hansberry became known as the "Mother of Black Drama," and rightfully so. It had been her intention that Raisin's world would be specifically a black world and that its characters' dilemmas and desires would be specifically connected to the South Side of Chicago. She had taken the plot from real-life events from her childhood, when her father, Carl Hansberry, fought Chicago's racially restrictive housing covenants and won. In a creative departure, Hansberry's second play, The Sign in Sidney Brustein's Window, had a single black character and embraced a more heightened, possibly absurdist, view on contemporary life. Recent critical scholarship has brought a clarification of Hansberry's multiplicity, fed by the opening of her vast archive—a bounty of letters, lists, short fiction, and essays—and new biographies (one already published, the acclaimed Looking for Lorraine: The Radiant and Radical Life of Lorraine Hansberry by the scholar Imani Perry, and at least two more in the works, by Margaret Wilkerson and Soyica Colbert). The new and newly available works reveal Hansberry's roving curiosity, mastery at writing prose, and prescient grasp of the social issues of her time.
Collins became familiar with the breadth of Hansberry's work from Haile Gerima. Director of Ashes and Embers, Bush Mama, and Sankofa, Gerima is now considered a leading figure of the L.A. Rebellion, the late 1960s to late 1980s movement of UCLA-trained black filmmakers who sought to create a cinema outside the conventions of Hollywood. Both Collins and Hansberry died young—Hansberry from pancreatic cancer at thirty-four, and Collins at forty-six after a tortuous ordeal with breast cancer. Collins drew a direct line from their illnesses to their struggles with visibility and career success. In the early 1970s, she'd been unable to raise the funds to produce her first screenplay, Women, Sisters, and Friends, and suspected her race had been a factor. And though Hansberry's screenplay for the film adaptation of Raisin had been well received, an NBC-commissioned teleplay she'd written for the Civil War's centennial was never produced.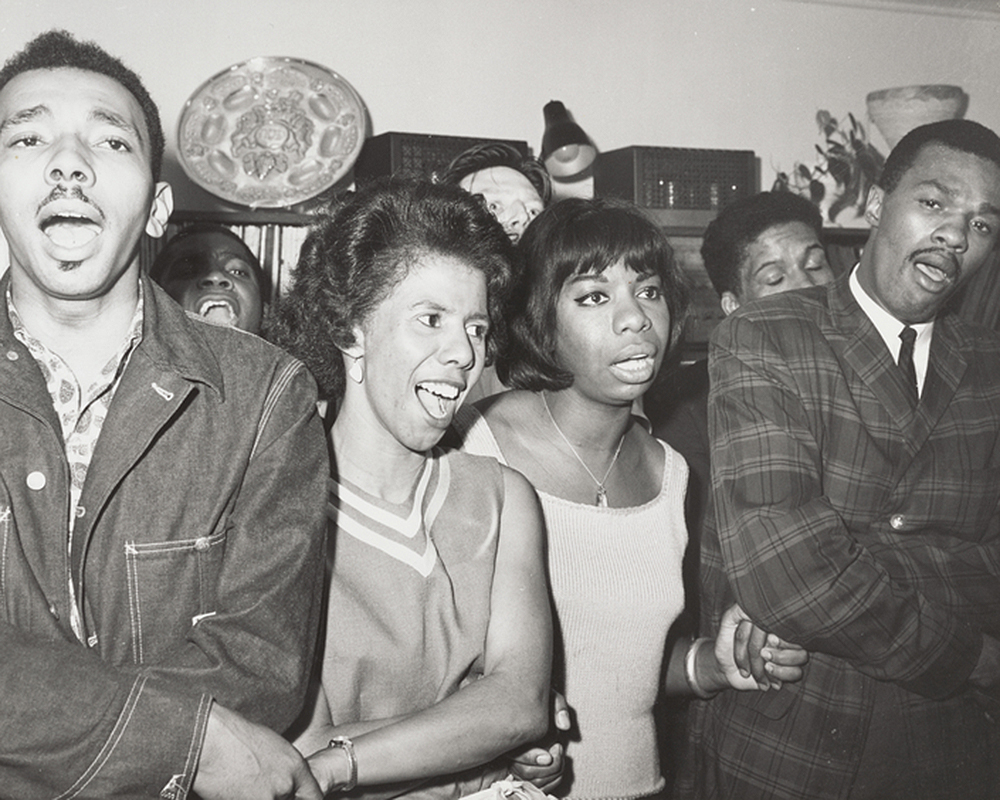 When Collins managed to get The Cruz Brothers and Miss Malloy made, she considered it a breakthrough. She also believed it was a catalyst for her body's destruction. Hansberry, she felt, had been similarly ravaged by the weight of her own brilliance.
The nature of illness and female success and the capacity of the female to acknowledge its own intelligence is a subject that interests me a lot. If there is any way in which women tend to be self-destructive it is in that area of creativity where they actually feel their own power and can't either acknowledge it or go into it with as much…They can't go to the end of it. They get scared and they retreat into illness or into having too many babies or destructive love affairs with men who run them ragged. Somewhere or other, they detour out of a respect for their own creativity. My feeling is that her detour was into illness. Talented women are probably frightened of themselves, very frightened of themselves.
Collins was constructing a lineage, an imagined community shaped out of recognition, not for representation's sake, but for company—as a talisman to ward off, or at least soften, the loneliness and isolation of breaking through. Though buried and underdiscussed, these ancestral lines, scenes, paths, and archives of relation have always existed. Perhaps, to survive, we forget how much has been submerged, uprooted, stricken from the record. We forget how populous with precedents and peers every endeavor must be to bloom.
The quarterly Black Film Review was in print from 1984 to 1995 and funded in part by the University of the District of Columbia's Black Film Institute. Its Winter 1988 issue was dedicated to the memory of Kathleen Collins. In the issue, DC filmmaker and poet Michelle Parkerson called Collins "a mentor to the small but fertile community of black women filmmakers." Scholar Haley O'Malley wrote in Black Camera that Toni Cade Bambara advised her friend Toni Morrison to go to Collins for guidance in writing a screenplay. In an essay in the 1993 anthology Black American Cinema, Bambara called Losing Ground a "liberating sign" that helped clear a path for Daughters of the Dust.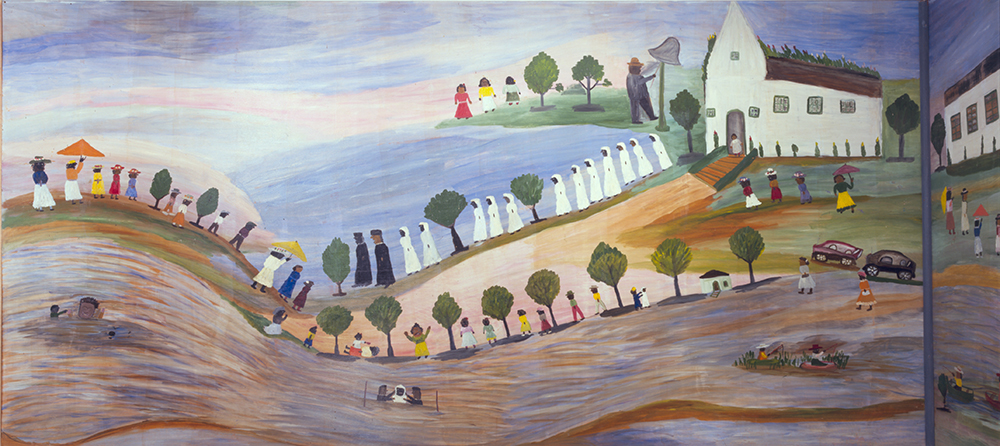 In that film, director Julie Dash foregrounds the multigenerational Peazant family's crowd of cousins, in-laws, aunts and uncles, daughters and sons. Nana Peazant, the eldest member of the family, co-narrates with her great-great-granddaughter, the unborn child of Eula and Eli. Their marriage is facing trouble; Nana is determined to heal the rupture. The health and future of the clan relies on every relationship within it.
"It's such a loved picture—the alienated, isolated, individual writer. A loved picture, but a truly lethal one," Morrison said in a 1981 address to the American Writers' Congress. Had I understood when I was young that it really does take a village, I wouldn't have been so reluctant to trust my own creative impulses, to give them breath, to try. Remembering the scenes and relationships, material and imaginary, and not solely the singular figures of literary history, may be a way to keep the work (and workers) alive, beyond the fragile waves of recovery. Nobody disrupts, nobody breaks ground alone.