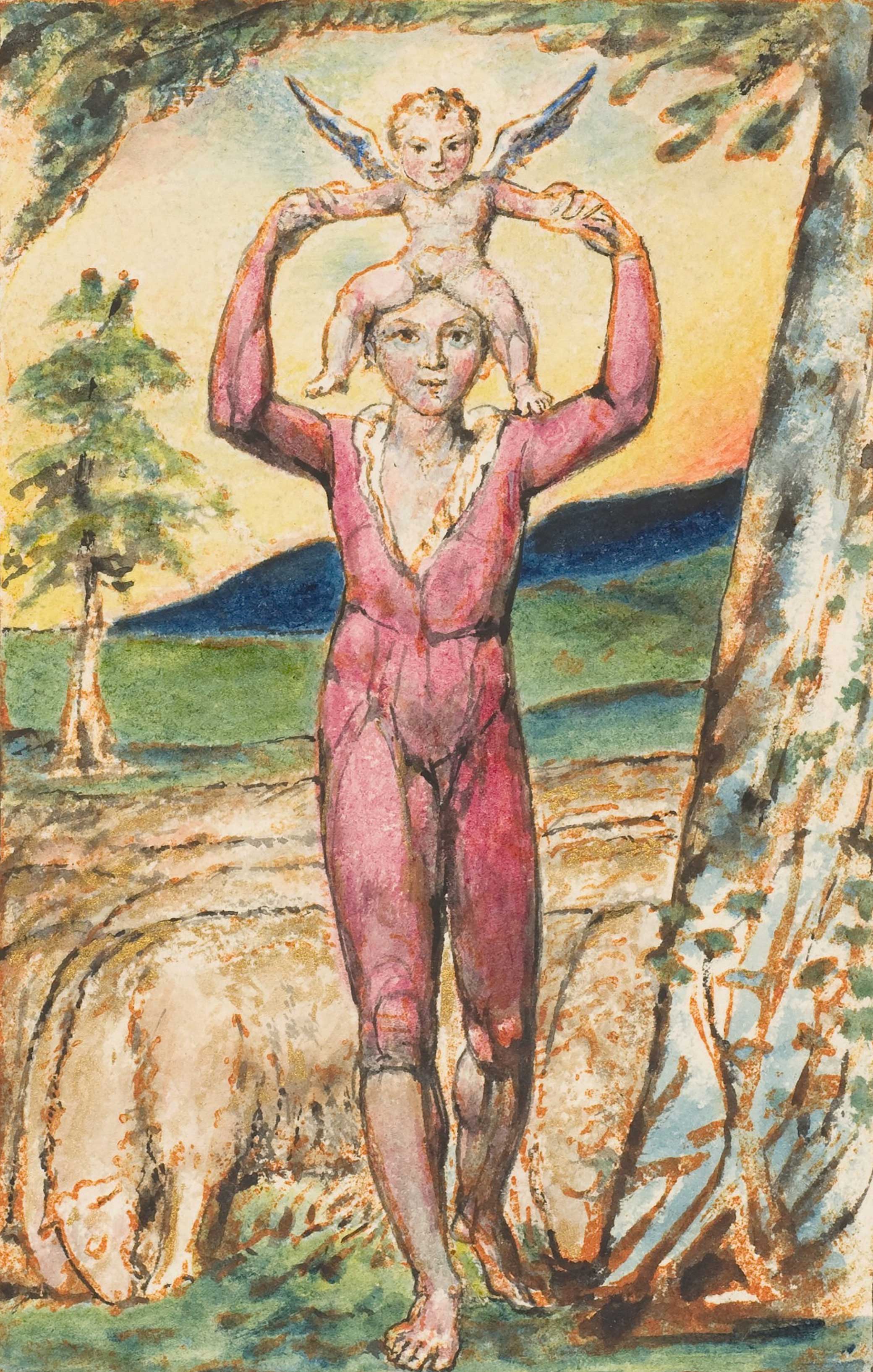 On December 10, 1825, the fifty-year-old English lawyer Henry Crabb Robinson attended a dinner at the home of his friend Charles Aders, a London businessman. Eliza, Aders' wife, was a painter and printmaker, and she had invited a few artist and engraver friends to the party. Over the course of the evening Robinson became increasingly fascinated by one of the guests—an elderly, relatively unknown poet and painter by the name of William Blake, whose conversation casually roamed from the polite and mundane to the beatific and fantastic.
Blake was short, pale, and a little overweight, with the accent of a lifelong Londoner. He was dressed in old-fashioned, threadbare clothes and his gray trousers were shiny at the front through wear. His large, strong eyes didn't seem to fit with his soft, round face. Robinson noted in his diary that he had "an expression of great sweetness, but bordering on weakness—except when his features are animated by expression, and then he has an air of inspiration about him."
For all his wild notions and heretical statements, Blake was pleasant company and easy to like. The aggressive and hectoring voice of his writings was not the Blake those who met him recall. Many years later, another guest at that party, Maria Denman, remarked, "One remembers even in age the kindness of such a man."
What made Blake so fascinating was the casual way in which he talked about his relationship with the spirit world. Blake, Robinson wrote, "spoke of his paintings as being what he had seen in his visions—and when he said 'my visions' it was in the ordinary unemphatic tone in which we speak of trivial matters that everyone understands and cares nothing about." Blake peppered his conversation with remarks about his relationship with various angels, the nature of the devil, and his visionary meetings with historical figures such as Socrates, Milton, and Jesus Christ. Somehow, he did this in a way that people found endearing rather than disturbing. As Robinson wrote, "There is a natural sweetness and gentility about Blake which are delightful. And when he is not referring to his visions he talks sensibly and acutely."
Robinson walked home with Blake that night and was so struck by the conversation that he spent the evening transcribing as much of it as he could remember. The two men became friends, and Robinson's diary is an invaluable record of how Blake acted and thought during the last two years of his life. "Shall I call him Artist or Genius—or Mystic—or Madman?" Robinson mused that first night. He spent the rest of their relationship attempting to come up with a definite answer. "Probably he is all" was the best he could find.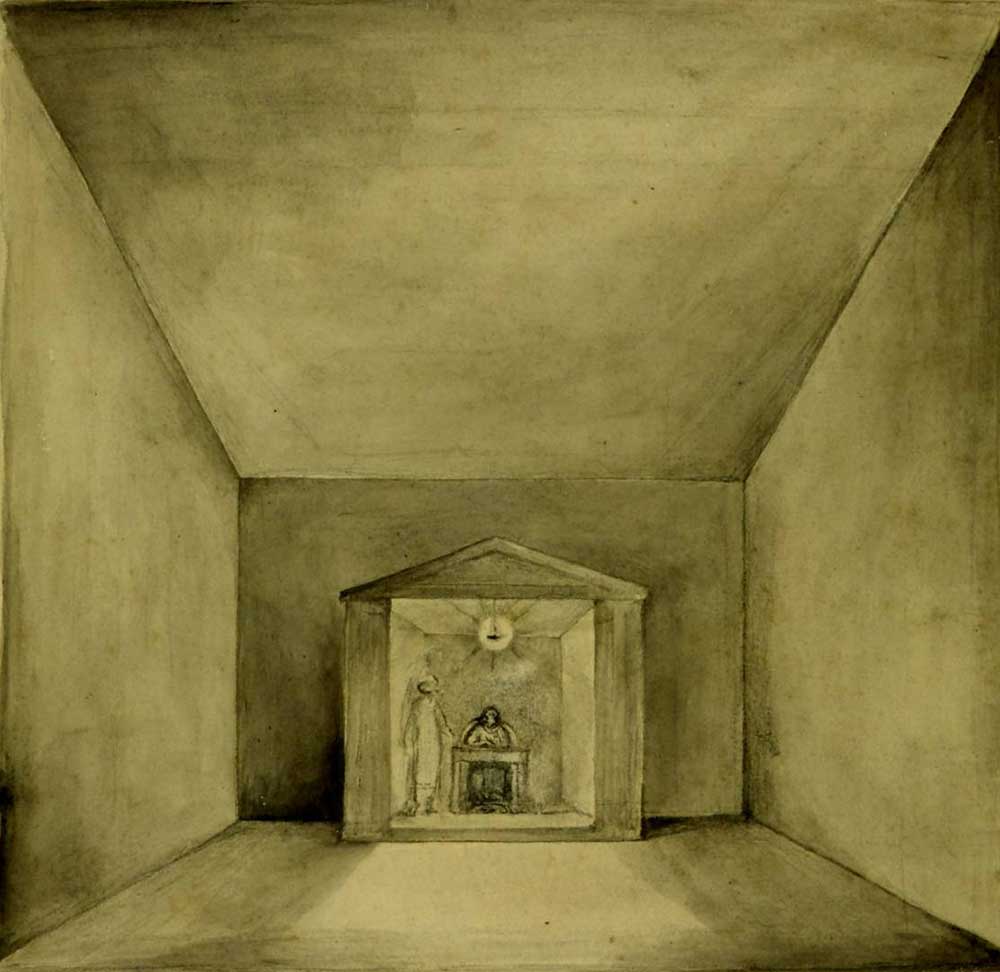 Through his attempts to understand his new friend, Robinson only became more confused. Some of Blake's declarations appeared to be foolish nonsense. When they first met, Blake told him that he did not believe that the world was round, and that he believed it to be quite flat. Robinson attempted to get Blake to justify this outrageous claim, but the group were called to dinner at that moment and the thread of the conversation was lost. While some of Blake's opinions appeared obviously wrong, others were simply baffling. When Robinson asked him about the divinity of Jesus, Blake replied, "He is the only God. And so am I and so are you." How could Robinson even begin to interpret an answer like that? If there was any sense to be found, it was quite outside mainstream nineteenth-century theology.
Yet Robinson couldn't bring himself to dismiss Blake as a simple madman, nor could he shake the suspicion that there was something important and vital about his worldview, even if it was frustratingly obscure. As he later wrote, "It is strange that I, who have no imagination, nor any power beyond that of a logical understanding, should yet have great respect for the mystics."
A week after the party, Robinson made his first visit to Blake's home at Fountain Court in the Strand, where he lived with his wife, Catherine. The building itself has long since gone, but it was roughly where the Savoy Hotel now stands. Robinson was unprepared for the level of poverty in which the couple were living. "I found him in a small room, which seems to be both a working room and a bedroom," he wrote. "Nothing could exceed the squalid air both of the apartment and his dress, but in spite of dirt—I might say filth—an air of natural gentility is diffused over him."
This was the second of the two rooms that the Blakes rented on the first floor of the building. The first was a wood-paneled reception room, which doubled as an unofficial gallery for Blake's drawings and paintings. The second, at the rear, was reserved for everything else. In one corner was the bed, and in the other was the fire on which Catherine Blake cooked. There was one table for meals, and another on which Blake worked. From here he looked out of the southern-facing window, where a glimpse of the Thames could be seen between the buildings and streets that ran down to the river. This sliver of water would often catch the sun and appear golden. Behind it, the Surrey Hills stretched into the distance. For all the evident poverty, visitors spoke of the rooms as enchanted. As one later recalled, "There was a strange expansion and sensation of freedom in those two rooms very seldom felt elsewhere."
Blake, Robinson remembered, was "quite unembarrassed when he begged me to sit down, as if he were in a palace. There was but one chair in the room besides that on which he sat. On my putting my hand to it, I found that it would have fallen to pieces if I had lifted it, so, as if I had been a sybarite, I said with a smile, 'Will you let me indulge myself?' and I sat on the bed, and near him, and during my short stay there was nothing in him that betrayed that he was aware of what to other persons might have been even offensive, not in his person, but in all about him."
"I live in a hole here, but God has a beautiful mansion for me elsewhere," Blake once said. He knew that he was pitied by the occasional prosperous artist who visited, but he thought that it was he who should be pitying them. "I possess my visions and peace," he argued. "They have bartered their birthright for a mess of pottage." Robinson was struck on that first visit by how at ease the Blakes seemed with their poverty. "I should be sorry if I had any earthly fame, for whatever natural glory a man has is so much detracted from his spiritual glory," Blake told him. Despite how the world had treated him he was quite happy, he insisted, because he wanted nothing other than to live for art and had no desire to do anything for profit. But as Robinson also noted, "Though he spoke of his happiness, he spoke of past sufferings, and of sufferings as necessary. 'There is suffering in heaven, for where there is the capacity of enjoyment, there is the capacity of pain.' "
During later visits, Blake's failing health was clear. In December 1826 Robinson visited Blake to tell him about the death of their mutual friend the celebrated sculptor John Flaxman. Blake's first reaction was a smile. "I thought I should have gone first," he said, then remarked, "I cannot consider death as anything but a removing from one room to another."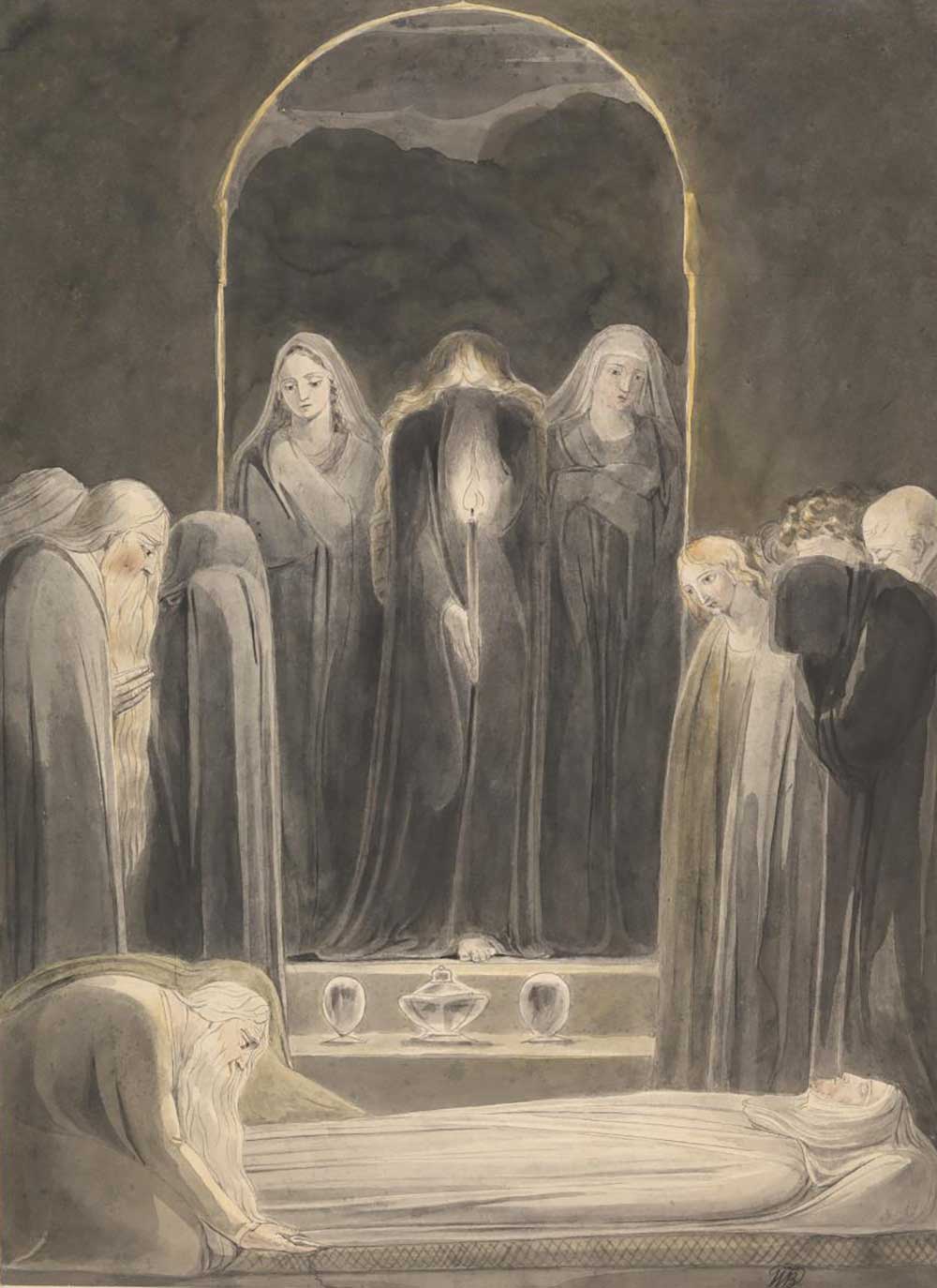 Blake died in that room the following August. The painter George Richmond reported that he died "in a most glorious manner. He said he was going to that country he had all his life wished to see and expressed himself happy…Just before he died his countenance became fair. His eyes brighten'd and he burst out singing of the things he saw in heaven."
With Blake gone, Robinson could no longer hope to find the answers to the riddle of his strange but fascinating friend. Turning to the work he left behind usually caused more confusion. Perhaps there hadn't ever been a coherent vision to be decoded in his work? The simplest explanation was that there was only madness there all along.
Five days after Blake died, he was given a pauper's burial in an unmarked grave at the Bunhill Fields dissenters' burial ground, beyond the northern boundary of the City of London. The name Bunhill derives from "bone hill"—the place had long been used to dispose of the unwanted dead.
With his bones under the ground and his spirit departed, that should have been the end of his story. Blake's friend John Flaxman, in contrast, was one of the most influential and famous artists of his day, and those who mourned him assumed posterity would keep his name alive for centuries. There had been no such earthly fame for William Blake, and precious few had been prepared to part with money for his work. He would remain in the memories of those who knew him as a fond curiosity—history, surely, would not remember him.
From William Blake vs. the World by John Higgs, published by Pegasus Books. Copyright © 2022 by John Higgs​. All rights reserved.