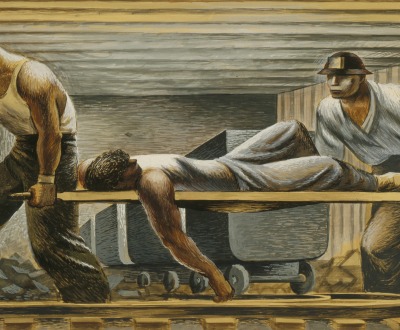 Mine Rescue, by Fletcher Martin, 1939. Smithsonian American Art Museum, Washington, DC.
Philanthropy
Volume VIII, Number 3 | summer 2015
Miscellany
William Gladstone, prime minister of England four times between 1868 and 1894, walked the streets of London at night hoping to rescue prostitutes from their lives of vice. In 1848 he cofounded the Church Penitentiary Society Association for the Reclamation of Fallen Women; he would, it is said, offer streetwalkers a place to sleep, protection from their procurers, and a chance to give up their way of life.
Almsgiving tends to perpetuate poverty; aid does away with it once and for all.
- Eva Perón, 1949
Lapham'sDaily
Stay Updated Subscribe to the LQ Newsletter

Roundtable
Listen to the preamble to Music, the Fall 2017 issue of Lapham's Quarterly. More

DÉjÀ Vu
2017:
U.S. Department of Agriculture bans words related to climate change.
-350:
Aristotle denies that the climate is changing.
More

LQ Podcast
Lewis H. Lapham talks with Stephen Greenblatt, author of The Rise and Fall of Adam and Eve. More