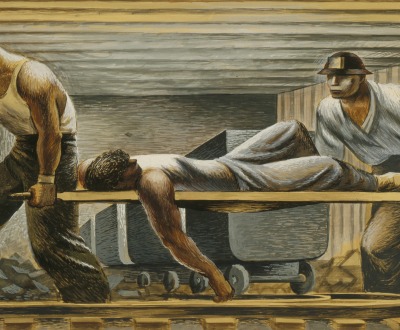 Mine Rescue, by Fletcher Martin, 1939. Smithsonian American Art Museum, Washington, DC.
Philanthropy
Volume VIII, Number 3 | summer 2015
Miscellany
In 1956 a shelter run by Catholic social worker Dorothy Day was ordered closed by New York City for being a firetrap. Day was fined $250. On her way to court, she passed a group of needy-looking men, one of whom gave her a check and said, "I want to help out a little bit toward the fine. Here's two-fifty." Based on the man's shabby dress, Day assumed he had given $2.50; later she noticed the check was for the full amount and signed by W.H. Auden, who had read about her case and come to help. "Poets do look a bit unpressed, don't they?" Day said.
Do good by stealth, and blush to find it fame.
- Alexander Pope, 1738
Lapham'sDaily
Stay Updated Subscribe to the LQ Newsletter

DÉjÀ Vu
2017:
U.S. Department of Agriculture bans words related to climate change.
-350:
Aristotle denies that the climate is changing.
More

LQ Podcast
Lewis H. Lapham talks with John Strausbaugh, author of City of Sedition: The History of New York City During the Civil War. More