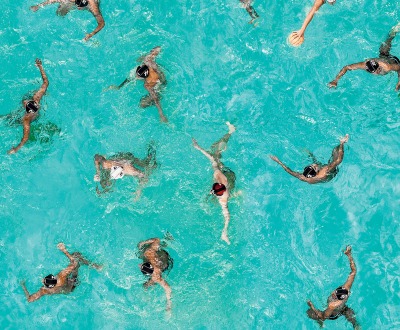 Timeline - Waterpolo 3, by Mario Arroyave, 2013. © Mario Arroyave, courtesy the artist and Artemisa Contemporary Latin American Art, New York.
Water
Volume XI, Number 3 | summer 2018
Miscellany
Many medical experts disdain the widely circulated idea that adults need to drink eight glasses of water per day; most agree that solid foods alone provide enough hydration. Barbara Rolls, a nutrition researcher at Pennsylvania State University, was asked in 2001 about the origin of the spurious rule. "I can't even tell you," she said, "and I've written a book on water."
"No fountain is so small but that heaven may be imaged in its bosom."—Nathaniel Hawthorne
View
Can you draw sweet water from a foul well?
—Brooks Atkinson, 1940