Mine Rescue, by Fletcher Martin, 1939. Smithsonian American Art Museum, Washington, DC.
Philanthropy
Volume VIII, Number 3 | summer 2015
Miscellany
William Gladstone, prime minister of England four times between 1868 and 1894, walked the streets of London at night hoping to rescue prostitutes from their lives of vice. In 1848 he cofounded the Church Penitentiary Society Association for the Reclamation of Fallen Women; he would, it is said, offer streetwalkers a place to sleep, protection from their procurers, and a chance to give up their way of life.
Without virtue, both riches and honor, to me, seem like the passing cloud.
—Confucius,
c.
350
BC
Lapham'sDaily
Stay Updated Subscribe to the LQ Newsletter

Roundtable
A debate in Berkeley about the power of a name. More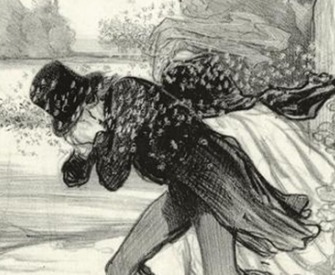 DÉjÀ Vu
2018:
The NYPD beekeeper vacuums up a swarm of bees on a hot dog stand in Times Square.
1906:
Bees take over a Los Angeles street as spectators watch.
More

The World in Time
Lewis H. Lapham talks with Jim Holt, author of When Einstein Walked with Gödel: Excursions to the Edge of Thought. More