Mine Rescue, by Fletcher Martin, 1939. Smithsonian American Art Museum, Washington, DC.
Philanthropy
Volume VIII, Number 3 | summer 2015
Miscellany
In the spring of 1914 the International Workers of the World formed the Unemployed Union. As a publicity stunt the group published fake extracts from first-century Roman press in The Masses magazine. One item carried the headline JESUS OF NAZARETH LEADS HOBO ARMY ON JERUSALEM. "Softhearted sympathy is misplaced," it read, "as we are informed from reliable sources that the Judean rioters belong chiefly to the class of professional unemployed and habitual roustabouts."
Unfortunately, humanitarianism has been the mark of an inhuman time.
—G.K. Chesterton, 1932
Lapham'sDaily
Stay Updated Subscribe to the LQ Newsletter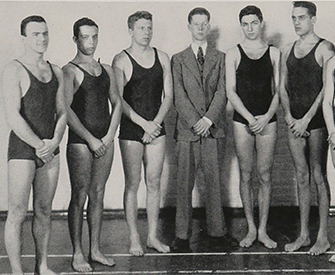 Roundtable
Looking at the reporter's life through five houses in Baltimore. More

DÉjÀ Vu
2017:
Internet resident pays $117,712 for a virtual kitty.
c. 1637:
Dutch resident (allegedly) trades twelve fat sheep for one sexy tulip root.
More

The World in Time
Lewis H. Lapham talks with Gordon S. Wood, author of Friends Divided: John Adams and Thomas Jefferson. More