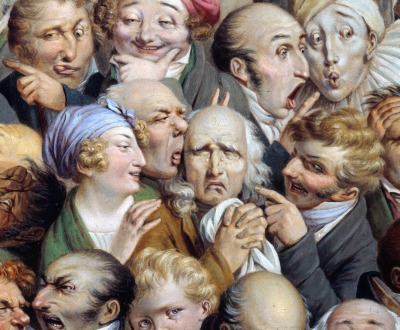 Thirty-Five Expressive Heads, by Louis-Léopold Boilly, c. 1825. Musee des Beaux-Arts, Tourcoing, France.
Comedy
Volume VII, Number 1 | winter 2014
Miscellany
As editor of the New York Tribune, Horace Greeley once received a letter requesting an autograph of the late Edgar Allan Poe that Greeley might possess from his correspondence. Greeley replied, "I happen to have in my possession but one autograph of the late distinguished American poet Edgar A. Poe. It consists of an IOU, with my name on the back of it. It cost me just $51.50, and you can have it for half-price."
A joke is at most a temporary rebellion against virtue, and its aim is not to degrade the human being but to remind him that he is already degraded.
—George Orwell, 1945
Lapham'sDaily
Stay Updated Subscribe to the LQ Newsletter

Roundtable
Looking at 1968 through the eyes of photographer Ernest Withers. More

DÉjÀ Vu
2018:
Woman announces she is divorcing her pirate ghost husband.
1926:
Man sues wife for adultery with a ghost.
More

The World in Time
Lewis H. Lapham talks with Alan Rusbridger, author of Breaking News: The Remaking of Journalism and Why It Matters Now. More