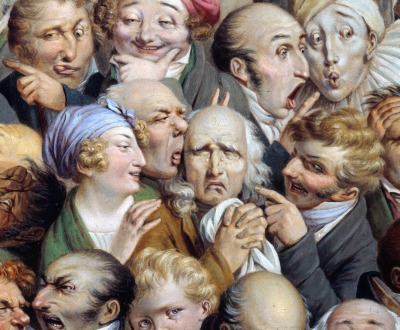 Thirty-five Expressive Heads, by Louis-Léopold Boilly, c. 1825. Musee des Beaux-Arts, Tourcoing, France.
Comedy
Volume VII, Number 1 | winter 2013
Miscellany
A review of the sitcom The Hank McCune Show in a 1950 issue of Variety described the first known use of a laugh track on TV: "Although the show is lensed on film without a studio audience, there are chuckles and yucks dubbed in. Whether this induces a jovial mood in home viewers is still to be determined, but the practice may have unlimited possibilities if it's spread to include canned peals of hilarity, thunderous ovations, and gasps of sympathy."
I said of laughter, "It is mad," and of pleasure, "What use is it?"
—Book of Ecclesiastes, 225
BC
Lapham'sDaily
Stay Updated Subscribe to the LQ Newsletter

DÉjÀ Vu
2017:
U.S. Department of Agriculture bans words related to climate change.
350 BC:
Aristotle denies that the climate is changing.
More

The World in Time
Lewis H. Lapham talks with Roger D. Hodge, author of Texas Blood: Seven Generations Among the Outlaws, Ranchers, Indians, Missionaries, Soldiers, and Smugglers of the Borderlands. More