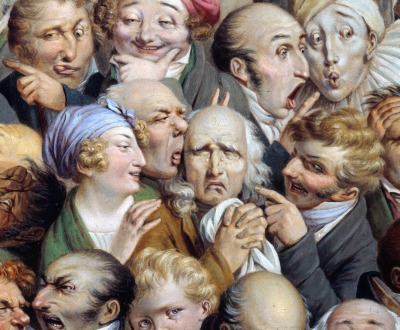 Thirty-five Expressive Heads, by Louis-Léopold Boilly, c. 1825. Musee des Beaux-Arts, Tourcoing, France.
Comedy
Volume VII, Number 1 | winter 2014
Miscellany
In Moscow in 1921, a group of actors formed the Blue Blouses, a theater company that acted out scenarios from the news. Their success inspired the creation of many similar amateur troupes. One joke that emerged from the movement went: Bim and Bom were the most popular clowns in revolutionary Moscow. Bim came out with a picture of Lenin and one of Trotsky. "I've got two beautiful portraits," he announced, "I'm going to take them home with me!" Bom asked, "What will you do with them when you get home?" "Oh, I'll hang Lenin and put Trotsky against the wall."
A difference of taste in jokes is a great strain on the affections.
—George Eliot, 1876
Lapham'sDaily
Stay Updated Subscribe to the LQ Newsletter

Roundtable
Another news cycle, another media mogul stirring up electoral buzz. More

DÉjÀ Vu
2018:
Man auctions Dixie cup that could have touched the lips of Elvis.
1921:
Man auctions Lord Byron's cup made from a human skull.
More

The World in Time
Lewis H. Lapham talks with Holger Hoock, author of Scars of Independence: America's Violent Birth, at a New York Public Library event. More