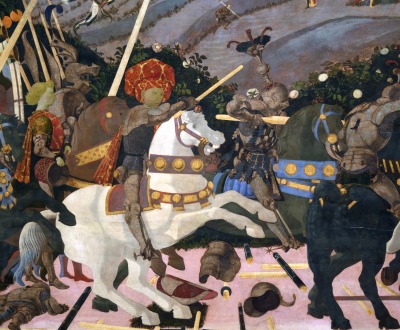 Niccolò Mauruzi da Tolentino at the Battle of San Romano, by Paolo Uccello, c. 1435–1460. National Gallery, London.
States of War
Volume 1, Number 1 | winter 2008
A U.S. serviceman's chances of death in battle.
View
Don't talk to me about naval tradition. It's nothing but rum, sodomy, and the lash.
—Winston Churchill, 1939
Lapham'sDaily
Stay Updated Subscribe to the LQ Newsletter

Roundtable
A fight over all things visible and invisible, featuring practical magic, empire, and terrible men. More

DÉjÀ Vu
2018:
Woman announces she is divorcing her pirate ghost husband.
1926:
Man sues wife for adultery with a ghost.
More

The World in Time
Lewis H. Lapham talks with Alan Rusbridger, author of Breaking News: The Remaking of Journalism and Why It Matters Now. More