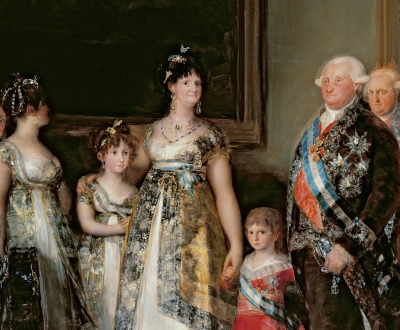 Charles IV and His Family, by Francisco José de Goya y Lucientes, 1800. Prado Museum, Madrid. 
Family
Volume V, Number 1 | winter 2012
Miscellany
It is said that Alexander the Great once found Diogenes the Cynic examining a pile of human bones. "What are you looking for?" the ruler inquired. "I am searching for the bones of your father," replied the philosopher, "but I cannot distinguish them from those of his slaves." On another occasion a woman came to see Diogenes, complaining that her son was poorly behaved, and asked what she could do about it. Diogenes answered by slapping the woman in the face.
To be a successful father… there's one absolute rule: when you have a kid, don't look at it for the first two years.
—Ernest Hemingway, 1954
Lapham'sDaily
Stay Updated Subscribe to the LQ Newsletter

Roundtable
A fight over all things visible and invisible, featuring practical magic, empire, and terrible men. More

DÉjÀ Vu
2018:
Woman announces she is divorcing her pirate ghost husband.
1926:
Man sues wife for adultery with a ghost.
More

The World in Time
Lewis H. Lapham talks with Alan Rusbridger, author of Breaking News: The Remaking of Journalism and Why It Matters Now. More