Gardens of Earthly Delights
Human-made pleasure domes and their visitors.



palace poetry

Duolon, Mongolia (1256–94)

Locale: Built by Kublai Khan, Shangdu (or Xanadu) became the summer residence for Mongol emperors. Samuel Taylor Coleridge coined the term pleasure dome in his 1816 poem about the palace: "In Xanadu did Kubla Khan / A stately pleasure-dome decree."

Guest list: Marco Polo reported that the khan kept two sorcerers on hand to ensure he always enjoyed pleasant weather at his gilded and exquisitely painted palace. After his ouster, the last Mongol emperor recorded his thoughts on the palace in the 1368 Lament of Toghon Temur.




no worries

Potsdam, Prussia (1747–86)

Locale: At Sanssouci, his rococo summer palace, Frederick the Great hunted, visited his personal art gallery, composed music, and entertained artists and philosophers. To further escape his cares, Frederick could withdraw to the small but opulent Chinese House, a retreat within a retreat.

Guest list: Voltaire published The Age of Louis XIV, his "life's work," while living at Sanssouci. The walls and ceiling of his preferred room remain adorned with carvings of fruit, foliage, birds, and monkeys by Johann Christian Hoppenhaupt.




many waters

Mandu, India (c. 1469–1500)

Locale: Built between two reservoirs under the direction of Sultan Ghiyasuddin, the Jahaz Mahal, or "Ship Palace," is said to have housed a harem of fifteen thousand women as well as five hundred female bodyguards.

Guest list: The Jahaz Mahal has been a favorite subject of professional and amateur watercolor artists, including David Goodall, British high commissioner to India from 1987 to 1991.




booze cruise

Lake Nemi, Italy (37–41)

Locale: Suetonius describes the "jeweled poop decks, multicolored sails, and huge baths" of the galley ships that served as Caligula's floating retreat. After the emperor was assassinated, the ships may have been intentionally sunk.

Guest list: In 1535 architect Francesco de Marchi looted fragments of marble and bronze by means of a rudimentary diving bell. Benito Mussolini had the lake drained and the ships put on display in 1927. Seventeen years later they were destroyed in an Allied bombing.



the demimonde

London, England (1732–1859)

Locale: Vauxhall, the largest of London's pleasure gardens, offered spectacles, music, food, and socializing. Its secluded walkways transported urban pleasure seekers to a retreat more fun than the actual countryside.

Guest list: Open to all classes but frequented by the rich, Vauxhall also welcomed many fictional guests. In Henry Fielding's novel Amelia, the title character compares Vauxhall to heaven: "I could not have, indeed, imagined there had been anything like this in this world."




a floating world

Edo, Japan (1618–1958)

Locale: Sometimes described as a red-light district, the walled-in Yoshiwara was more than just a site of government-sanctioned prostitution. As a ukiyo (floating world) with special customs, fashions, and laws, Yoshiwara operated as if in a separate reality.

Guest list: Edo artists produced ukiyo-e, sumptuously colored and detailed paintings and wood-block prints depicting the joys of everyday life in and out of the pleasure quarter. In 1986 Kazuo Ishiguro published An Artist of the Floating World, which depicts the joys and sorrows of a ukiyo artist in 1950s Japan.




cheap amusements

Brooklyn, NY (1880–present)

Locale: On Coney Island, the world's first permanent amusement parks took inspiration from English pleasure gardens and world's fairs. Seaside rollercoasters and refreshments were available alongside re-creations of indigenous villages.

Guest list: The Cuban poet José Martí visited in 1881: "It is a town of stars—and of orchestras, dances, chatter, surf sounds, human sounds, choruses of laughter and praise for the air, hawkers' loud cries, swift trains and speedy carriages, until it is time to go home."




the simple life

Versailles, France (1774–89)

Locale: At the Petit Trianon, Marie Antoinette threw off the formalities of Versailles, including formal dress, and entertained her friends with picnics, plays, and pastoral frivolity. A gift from her husband, the Petit Trianon was a refuge that no one could enter without the queen's permission—not even the king.

Guest list: Élisabeth Vigée-Lebrun was asked to remove Marie Antoinette in a Chemise Dress from the Salon of 1783 because the public depiction of royalty in such informal dress was considered inappropriate. Two years later chemise dresses were à la mode in France.
Issue
Back to Issue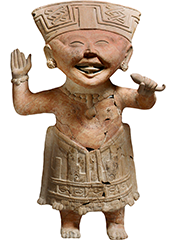 Happiness