In One of Dante's Rings
John Boyden sizes up the spiritual differences between Jesuits and natives.
They are beautiful people. I cannot ignore this fact. I write all of this down in the bound book I've carried tucked in my robe, one of the very few comforts I possess. To bring Jesus into the lives of these people is one mission. To report my findings back to my Superior in Kebec, who will in turn send it to his home back in France, is the other. Ultimately, I write of my journeys and my struggles and my suffering to glorify You. I will die here for You if this is what is requested of me.
These sauvages, they are shameless in their lack of modesty. When the fire burns hot, the children run naked around the longhouse and the women strip down to their waist. The men often walk around in simple breechclouts, and a number of times I've witnessed couples I am quite sure aren't married embracing and then slipping away. The light of the fires, the thick smoke, the primal grunts of passion, the laughing children, the chatter of this language that I struggle so hard to master, I think I might very well be in one of Dante's rings.
I record in my journal that each longhouse is the length and width of a small ship, and families related through the women reside within. As far as I can tell, eight or ten families, each with its own fire, fill these residences with the noises of humanity. I've estimated anywhere from forty to sixty souls in each longhouse, and I believe there to be at least fifty longhouses in this community. What's more, I've been told that this village is just one of many in what I've termed Huronia, this land they call Wendake. While it's possible to walk the length of Huronia in just a few days, I've learned that five separate and yet unified nations populate this fertile country, each with its own name. The people I reside with call themselves the Bear, and the other nations are named Rock and Cord and Swamp and Deer. Their sworn enemies, the Iroquois, also consist of five nations, but it seems that the Huron refer to them collectively as Haudenosaunee in their language.
The Huron are the key traders in a very large geography, controlling their business with the keen eye of a banker. They dominate the trade of tribes as disparate as the Montagnais to the north and the Neutral to the south. Their main currency is the vast quantity of corn that they grow each summer. I'm fascinated to watch how their different systems work as time allows, but from what I can see, they trade their produce with the Algonquin and the Nipissing for those hunting people's furs, mainly beaver, which the Huron then paddle all the way to New France in the summer, where they trade those furs for staples such as iron axes and copper kettles and all form of glass beads, which to the Huron are as valuable as gold. They in turn bring back these treasures from New France and again trade them with their neighbors to the north and south. Yes, they are indeed the linchpin to the economy of this new world.
If you wish to avoid foreign collision, you had better abandon the ocean.
—Henry Clay, 1812
Now that it's winter, each family sleeps up off the ground on raised platforms, mother on one end, father on the other, children squeezed in between. They are smart enough to peel the bark from the wood they burn but it's still sometimes so smoky that my eyes are often irritated. These longhouses are truly a wonder, like giant beehives woven together with saplings and covered in sheets of bark. Up in the rafters hang corn and beans and squash and tobacco and dried fish and all manner of food that I've never seen before. The Huron winters are clearly the time of relaxation and enjoyment. All day long the mothers play with their children, and the dozen or so dogs that wander through the longhouse are treated as members of the family as well, eating from their hosts' kettles and sleeping in their beds, and all this madness of life surrounds me while the men stand in groups, taking turns visiting one another's longhouses to talk and laugh and smoke pipes of tobacco.
The men are tall, some nearly my size. I've always towered over my companions in France. Wasn't it the dear bishop who nicknamed me the Brittany Giant? But these ones have a musculature that's impressive, taut stomachs and strong arms, their brown, hairless skin in the winter firelight like oil paintings that have come alive. Some have their women pluck and shave the hair from both sides of their heads with sharpened and intricately decorated clamshells, leaving a thick brush of it running down the center that they grease until it stands on end. An ancient sailor on the miserable voyage over from the old world to this new one regaled all of us with his experiences in this land, going so far as to claim he was the one to first name these people Huron, wild boars, for how he thought the men's hair bristles like a pig's. Other warriors grow their hair long and shave off only one side of it, which leaves them looking frightening and half-mad. On the warpath, Bird and his soldiers paint their faces in red and yellow and black ocher. I am sure this was meant to stir the same fear in their enemies that it did in me.
The women are as striking as the men with their long shining black hair, their white smiles flashing against brown skin. They go to great lengths to decorate themselves, sometimes spending hours chattering as they braid feathers and tiny painted clay beads into one another's hair. Some of them have even tattooed their bodies with the images of animals, and these women seem held in high regard. Many of them love to flirt with me, regardless of their age. They smile coyly, and the younger ones think nothing of touching my hand or my arm, as if to prove to themselves that I'm indeed real. Word has gotten out that my vows prevent me from being with women, but obviously their simplicity prevents them from understanding the complexity of Catholicism. As I preached the other day, after much confusion in our mutual understanding, a man dared to ask me if I preferred boys, causing all the others to laugh hysterically. This childlike comprehension of the world will be both my greatest test and a wonderful tool. I'll treat them as I once treated young children back in France when I was given the rather odious mission of teaching them the catechism.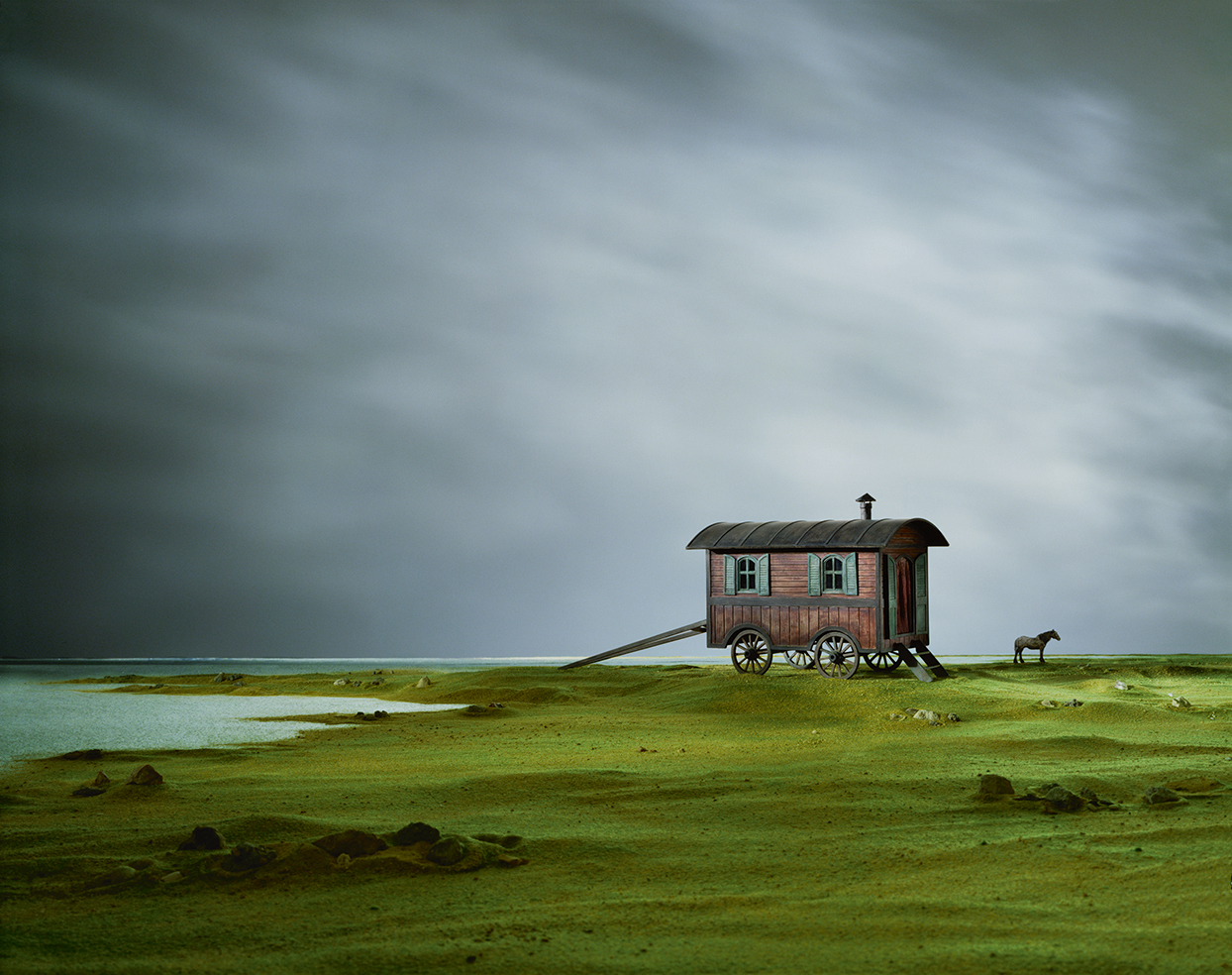 Caravan, from the series Imaginary Journeys, by Didier Massard, 1996. Chromogenic print, edition of 10, 37" x 47", edition of 10. © Didier Massard, courtesy Julie Saul Gallery, New York.
These first ten days, I feel like a prisoner in this glowing longhouse filled with smoke. Bird is clearly an important man in this community. I've watched people bring him gifts and come to visit now that he's back. And I understand the crowds come as much to see me as they do Bird. I take this opportunity to try to bring a little of God's light into this dark corner of the world. For months last year back in Kebec, I worked on learning the Huron language, a converted sauvage with the Christian name of Luke teaching me its guttural intricacies.
He explained that I had to begin to grasp the natural world around me if I were ever to conquer the language. The Huron, Luke said, don't live above the natural world but as a part of it. The key to their language was to make the connection between man and nature. I scoffed at this. A language doesn't exist that can't be learned by rote. And You, Lord, have given us the natural world for our use and our governance. Man was not meant to grovel in the dirt with animals but to rise above them. I make note in my relations to be sent back in due course to you, my dear Superior, that this is a lesson paramount for the conversion of the sauvages. I had long ago proved myself masterful with languages. Thanks be to God, I've been given the gift of Latin and Greek, a little English, some Dutch. In fact, dear Superior, did you not choose me for this mission to New France because of my ability to learn new tongues?
Just one more reflection for now, something I find both fascinating and appalling. In matters of the spirit, these sauvages believe that we all have within us a life force that is similar, if you will, to our own Catholic belief in the soul. They call this life force the orenda. That is the fascinating part. What appalls me is that these poor misguided beings believe not just humans have an orenda but also animals, trees, bodies of water, even rocks strewn on the ground. In fact, every last thing in their world contains its own spirit. When I pushed Bird about this, he explained it to me in a rather odd way. He told me of a recent hunting trip in which he pursued a deer for a long time. Eventually he caught up to and killed it. "My orenda overpowered its orenda," he said. "The deer's orenda allowed me to take it." He then looked at me as if his words might explain with final clarity this strange belief of theirs. I have to admit, dear Superior, that I'm still left confused.
Copyright © 2013 by Joseph Boyden. Used with permission of Alfred A. Knopf, an imprint of The Knopf Doubleday Publishing Group, a division of Random House LLC. http://www.amazon.com/The-Orenda-novel-Joseph-Boyden/dp/0385350732

From The Orenda. Of writing this novel, published in 2013, Boyden said in an interview, "One of the biggest things I had to deal with was the ritual torture that the Huron and Iroquois practiced on one another, to try to come to terms with that and figure that out. And then I realized, as I was writing, that the Spanish Inquisition was in full tilt at the time, so this is not just some kind of heathen sauvage thing." Boyden grew up in Ontario, attended a Jesuit high school, and is the author of two other historical novels, Three Day Road and Through Black Spruce.
Issue
Back to Issue
Foreigners