Don't Be Vulgar
"The woman who is chic is always a little different."
Clothes are to us what fur and feathers are to beasts and birds; they not only add to our appearance, but they are our appearance. How we look to others entirely depends upon what we wear and how we wear it; manners and speech are noted afterward, and character last of all.
In the community where we live, admirableness of character is the fundamental essential, and in order to achieve a position of importance, personality is also essential; but for the transient impression that we make at home, abroad, everywhere in public, two superficial attributes are alone indispensable: good manners and a pleasing appearance.
It is not merely a question of vanity and inclination. In New York, for instance, a woman must dress well to pay her way. In Europe, where the title of duchess serves in lieu of a court train of gold brocade; or in bohemian circles where talent alone may count; or in small communities where people are known for what they really are, appearance is of aesthetic rather than essential importance.
In the world of smart society—in America at any rate—clothes not only represent our ticket of admission, but our contribution to the effect of a party. What makes a brilliant party? Clothes. Good clothes. A frumpy party is nothing more or less than a collection of badly dressed persons. People with all the brains, even all the beauty imaginable, make an assemblage of dowds unless they are well dressed.
Not even the most beautiful ballroom in the world, decorated like the Garden of Eden, could in itself suggest a brilliant entertainment, if the majority of those who filled it were frumps—or worse yet, vulgarians! Rather be frumpy than vulgar! Much. Frumps are often celebrities in disguise—but a person of vulgar appearance is vulgar all through.
Frumps are not very typical of America, vulgarians are somewhat more numerous, but the greatest number of all are the quietly dressed, unnoticeable men and women who make up the representative backbone in every city; who buy good clothes but not more than they need, and whose ambition is merely to be well enough dressed to fit in with their background, whatever their background may be.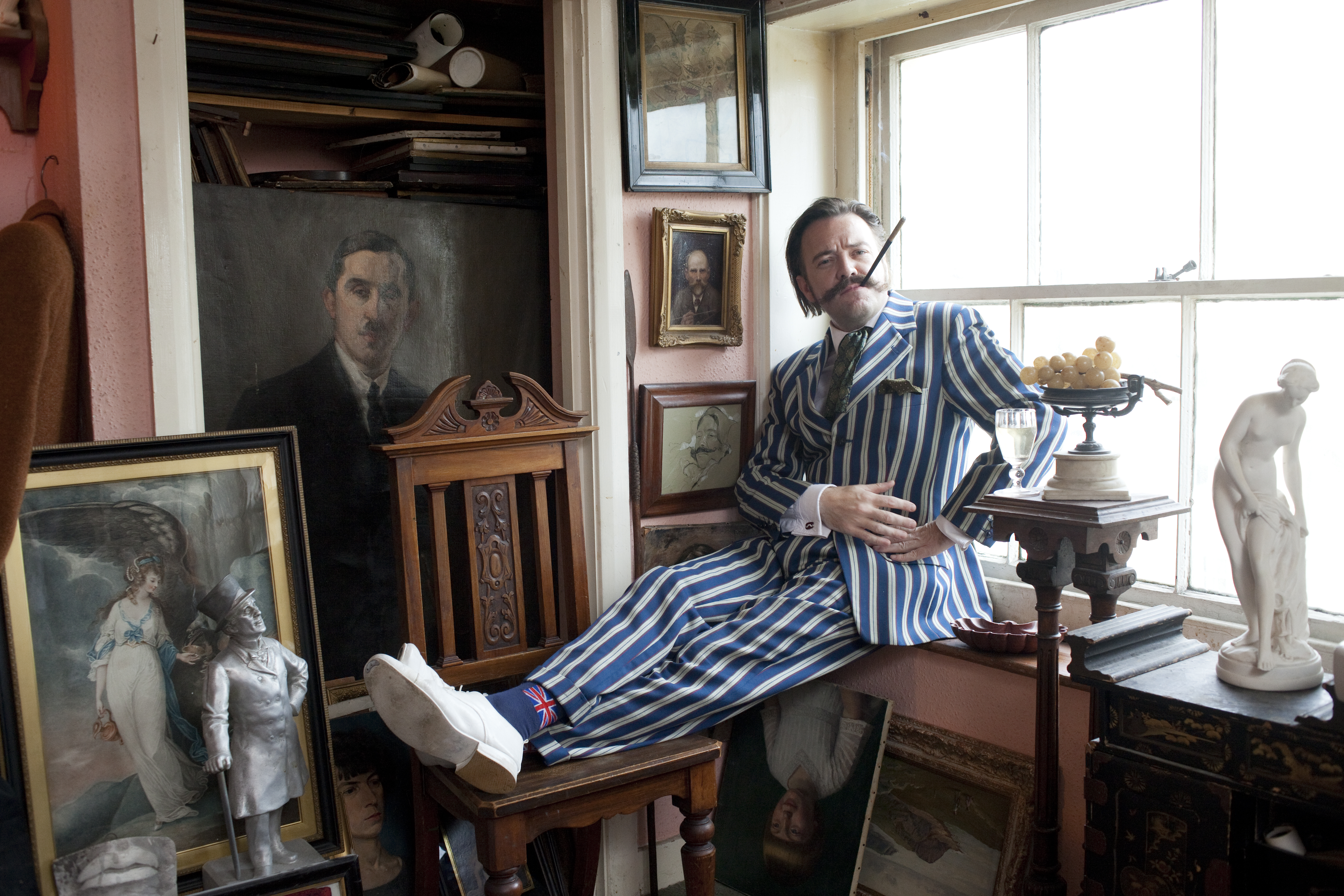 Michael "Atters" Attree at home in Brighton, United Kingdom, September 2011. Photograph by Rose Callahan, from I Am Dandy: The Return of the Elegant Gentleman. Photograph © Rose Callahan, courtesy the artist.
Less numerous, but far more conspicuous, are the dressed-to-the-minute women who, like sheep exactly, follow every turn of latest fashion blindly and without the slightest sense of distance or direction. As each new season's fashion is defined, all the sheep run and dress themselves each in a replica of the other, their own types and personalities have nothing to do with the case. Fashion says: "Wear bolster cases tied at the neck and ankle," or "A few wisps of gauze held in place with court plaster," and daughter, mother, grandmother, and all the neighbors wear the same. If emerald green is the fashionable color, all of the yellowest skins will be framed in it. When hobble skirts are the thing, the fattest wobble along, looking for all the world like chandeliers tied up in mosquito netting. If ball dresses are cut to the last limit of daring, the ample billows of the fat will vie blandly with the marvels of anatomy exhibited by the thin. Comfort, convenience, becomingness, adaptability, beauty are of no importance. Fashion is followed to the letter—therefore they fancy, poor sheep, they are the last word in smartness. Those whom the fashion suits are "smart," but they are seldom, if ever, distinguished because they are all precisely alike.
To achieve harmony in bad taste is the height of elegance.
—Jean Genet, 1949
The woman who is chic is always a little different. Not different in being behind fashion, but always slightly apart from it. Chic is a borrowed adjective, but there is no English word to take the place of elegant, which was destroyed utterly by the reporter or practical joker who said "elegant dresses," and yet there is no synonym that will express the individuality of beautiful taste combined with personal dignity and grace which gives to a perfect costume an inimitable air of distinction. Une dame élégante is all of that! She follows fashion merely so far as is absolutely necessary. She gets the latest model perhaps, but has it adapted to her own type, so she has just that distinction of appearance that the sheep lack. She has even clung with slight modifications to the Worth ball dress, and her "wrapped" or fitted bodice has continued to look the smartest in every ballroom in spite of the Greek drapery and one-piece meal bag and all the other kaleidoscopic changes of fashion the rest of us have been through.
But the average would-be independent who determines to stand her ground, saying, "These new models are preposterous! I shall wear nothing of the sort!" and keeps her word soon finds herself not at all an example of dignity but an object of derision.

From Etiquette in Society, in Business, in Politics, and at Home. Post published Etiquette when she was fifty years old. Only five thousand copies were initially printed, but the book was reprinted eight times during the eighteen months it spent on the best-seller list. Post began to write a column on good taste that appeared in more than two hundred newspapers.
Issue
Back to Issue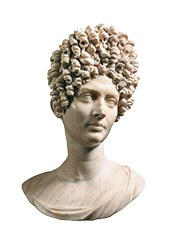 Fashion