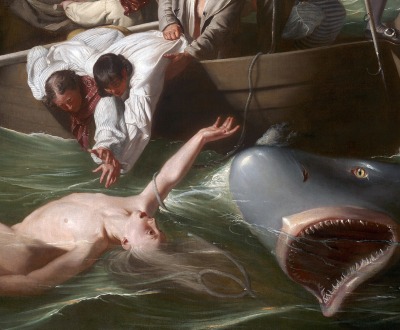 Watson and the Shark, by John Singleton Copley, 1778. National Gallery of Art, Washington DC.
The Sea
Volume VI, Number 3 | summer 2013
Miscellany
"If ever a loss at sea fell under the definition, in the terms of a bill of lading, of Act of God," Joseph Conrad wrote, "this one does, in its magnitude, suddenness, and severity; and in the chastening influence it should have on the self-confidence of mankind." The sentence ends the first paragraph of his 1912 essay "Some Reflections on the Loss of the Titanic."
The bathing was so delightful this morning, and Molly so pressing with me to enjoy myself, that I believe I stayed in rather too long, as since the middle of the day I have felt unreasonably tired. I shall be more careful another time, and shall not bathe tomorrow as I had before intended.
—Jane Austen, 1804