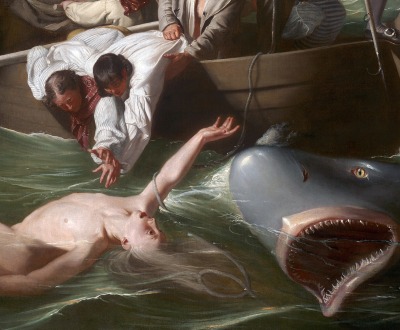 Watson and the Shark, by John Singleton Copley, 1778. National Gallery of Art, Washington D.C.
The Sea
Volume VI, Number 3 | summer 2013
Miscellany
On May 2, 2011, Rear Admiral Charles Gaouette emailed Chairman of the Joint Chiefs of Staff Michael Mullen to report on the traditional Islamic procedures that were followed in the burial of Osama bin Laden. "The deceased's body was washed (ablution) then placed in a white sheet. The body was placed in a weighted bag. A military officer read prepared religious remarks, which were translated into Arabic by a native speaker. After the words were complete, the body was placed on a prepared flat board, tipped up, whereupon the deceased's body slid into the sea."
He who travels by sea is nothing but a worm on a piece of wood, a trifle in the midst of a powerful creation. The waters play about with him at will, and no one but God can help him.
- Muhammad as-Saffar, 1846
Lapham'sDaily
Stay Updated Subscribe to the LQ Newsletter

Roundtable
Listen to the preamble to Music, the Fall 2017 issue of Lapham's Quarterly. More

DÉjÀ Vu
2017:
U.S. Department of Agriculture bans words related to climate change.
-350:
Aristotle denies that the climate is changing.
More

LQ Podcast
Lewis H. Lapham talks with Stephen Greenblatt, author of The Rise and Fall of Adam and Eve. More