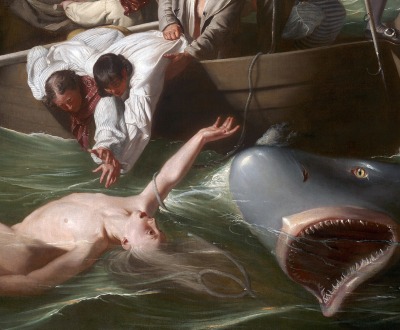 Watson and the Shark, by John Singleton Copley, 1778. National Gallery of Art, Washington DC.
The Sea
Volume VI, Number 3 | summer 2013
Miscellany
On May 2, 2011, Rear Admiral Charles Gaouette emailed Chairman of the Joint Chiefs of Staff Michael Mullen to report on the traditional Islamic procedures that were followed in the burial of Osama bin Laden. "The deceased's body was washed (ablution) then placed in a white sheet. The body was placed in a weighted bag. A military officer read prepared religious remarks, which were translated into Arabic by a native speaker. After the words were complete, the body was placed on a prepared flat board, tipped up, whereupon the deceased's body slid into the sea."
I must be a mermaid, Rango. I have no fear of depths and a great fear of shallow living.
—Anaïs Nin, 1950