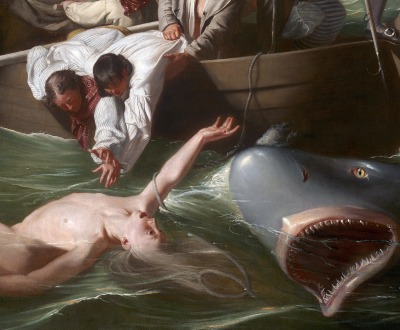 Watson and the Shark, by John Singleton Copley, 1778. National Gallery of Art, Washington D.C.
The Sea
Volume VI, Number 3 | summer 2013
Miscellany
Suetonius, a biographer of Roman emperors, claimed that the violent ruler Tiberius had a clifftop location in Capri from which he liked to watch his victims thrown into the sea. "A party of marines were stationed below," Suetonius wrote, "and when the bodies came hurtling down, they whacked at them with oars and boathooks, to make sure that they were completely dead."
The power which the sea requires in the sailor makes a man of him very fast, and the change of shores and population clears his head of much nonsense of his wigwam.
- Ralph Waldo Emerson, 1870
Lapham'sDaily
Stay Updated Subscribe to the LQ Newsletter

DÉjÀ Vu
2017:
U.S. Department of Agriculture bans words related to climate change.
-350:
Aristotle denies that the climate is changing.
More

LQ Podcast
Lewis H. Lapham talks with John Strausbaugh, author of City of Sedition: The History of New York City During the Civil War. More