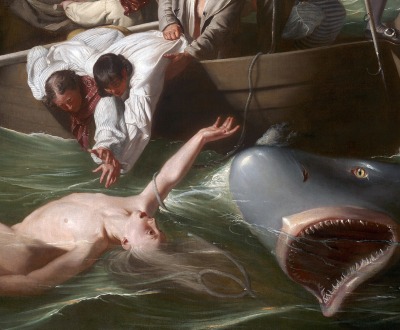 Watson and the Shark, by John Singleton Copley, 1778. National Gallery of Art, Washington D.C.
The Sea
Volume VI, Number 3 | summer 2013
Miscellany
In 1906 Congress passed "An Act to Prohibit Shanghaiing in the United States." One section made unlawful the inducing of a man "intoxicated or under the influence of any drug" to perform labor aboard a foreign or domestic ship.
And to our age's drowsy blood
Still shouts the inspiring sea.
—James Russell Lowell, 1848
Lapham'sDaily
Stay Updated Subscribe to the LQ Newsletter

Roundtable
Another news cycle, another media mogul stirring up electoral buzz. More

DÉjÀ Vu
2018:
Man auctions Dixie cup that could have touched the lips of Elvis.
1921:
Man auctions Lord Byron's cup made from a human skull.
More

The World in Time
Lewis H. Lapham talks with Holger Hoock, author of Scars of Independence: America's Violent Birth, at a New York Public Library event. More