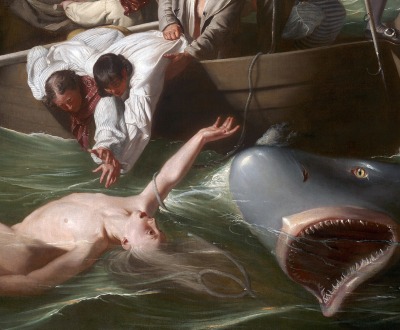 Watson and the Shark, by John Singleton Copley, 1778. National Gallery of Art, Washington DC.
The Sea
Volume VI, Number 3 | summer 2013
Miscellany
Around noon on April 27, 1932, while aboard a steamship southeast of Florida, poet Hart Crane, intoxicated and still wearing his pajamas, jumped overboard. The ship's captain later told Crane's companion, Peggy Cowley, "If the propellers didn't grind him to mincemeat, then the sharks got him immediately."
Take back your golden fiddles, and we'll beat to open sea.
—Rudyard Kipling, 1892
Lapham'sDaily
Stay Updated Subscribe to the LQ Newsletter

DÉjÀ Vu
2018:
Woman announces she is divorcing her pirate ghost husband.
1926:
Man sues wife for adultery with a ghost.
More

The World in Time
Lewis H. Lapham talks with Alan Rusbridger, author of Breaking News: The Remaking of Journalism and Why It Matters Now. More