Human vs. Machine
Notable battles of strength and wit.
Name
Medea, wife of mythical Greek hero Jason
Date
c. 1300 bc
Machine Foe
Talos, an ichor-fueled giant automaton built by the god Hephaestus to guard the island of Crete.
Showdown
When Jason and his Argonauts attempt to disembark on Crete, Talos easily fends off their physical attacks but proves vulnerable to magic. Trained as a witch, Medea hypnotizes the automaton and forces it to self-destruct.
Name
Lancelot, legendary British knight
Date
c. 500
Machine Foe
A "big and strange" copper knight who has seized the English castle of Dolorous Guard, challenging all comers to fight to the death
Showdown
Hoping to free the castle's residents, Lancelot fights wave upon wave of the automaton's minions until he reaches a copper chest. Unlocking it destroys the copper knight's enchantment, and Lancelot renames the castle Joyous Guard.
Name
Mary and Lydia Molyneux, Lancastrian teenage sisters
Date
1812
Machine Foe
Two hundred steam-powered looms at the Westhoughton Mill, in northwest England, which threaten to put the region's textile artisans out of work
Showdown
Amid a national wave of Luddite-inspired attacks on industrial machines, the sisters lead a gang of fifty men to burn the looms. The girls are acquitted of arson, and powered looms are not employed in the town for decades to come.
Name
John Henry, African American folk hero
Date
c. 1875
Machine Foe
A pneumatic steam drill, which permits railroad companies to tunnel through mountains more quickly and cheaply than by using human crews
Showdown
After the railroad company he works for purchases a steam drill and lays him off, the "steel-driving man" issues a challenge to his former employer: "I'll beat your steam drill down." After briefly outperforming the machine in a drilling race, Henry suddenly collapses and dies."
Name
Garry Kasparov, Soviet-born chess grandmaster
Date
1996
Machine Foe
Deep Blue, an IBM computer capable of evaluating around 100 million chess moves per second
Showdown
After Kasparov bests the supercomputer in a 1996 tournament in Philadelphia, Deep Blue's engineers double its processing capacity. Now able to calculate 200 million moves per second, it soundly defeats Kasparov in a 1997 rematch.
Name
Harish Natarajan, British Indian champion debater
Date
2019
Machine Foe
Project Debater, IBM's female-voiced AI system that produces formal arguments by combing through millions of published documents in a matter of minutes
Showdown
In a 2019 demonstration in San Francisco, Natarajan and the AI system debate whether preschools should be subsidized. Though Project Debater processed information from 400 million articles, an audience poll determines Natarajan to be the winner.
Issue
Back to Issue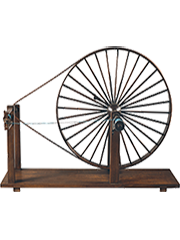 Technology