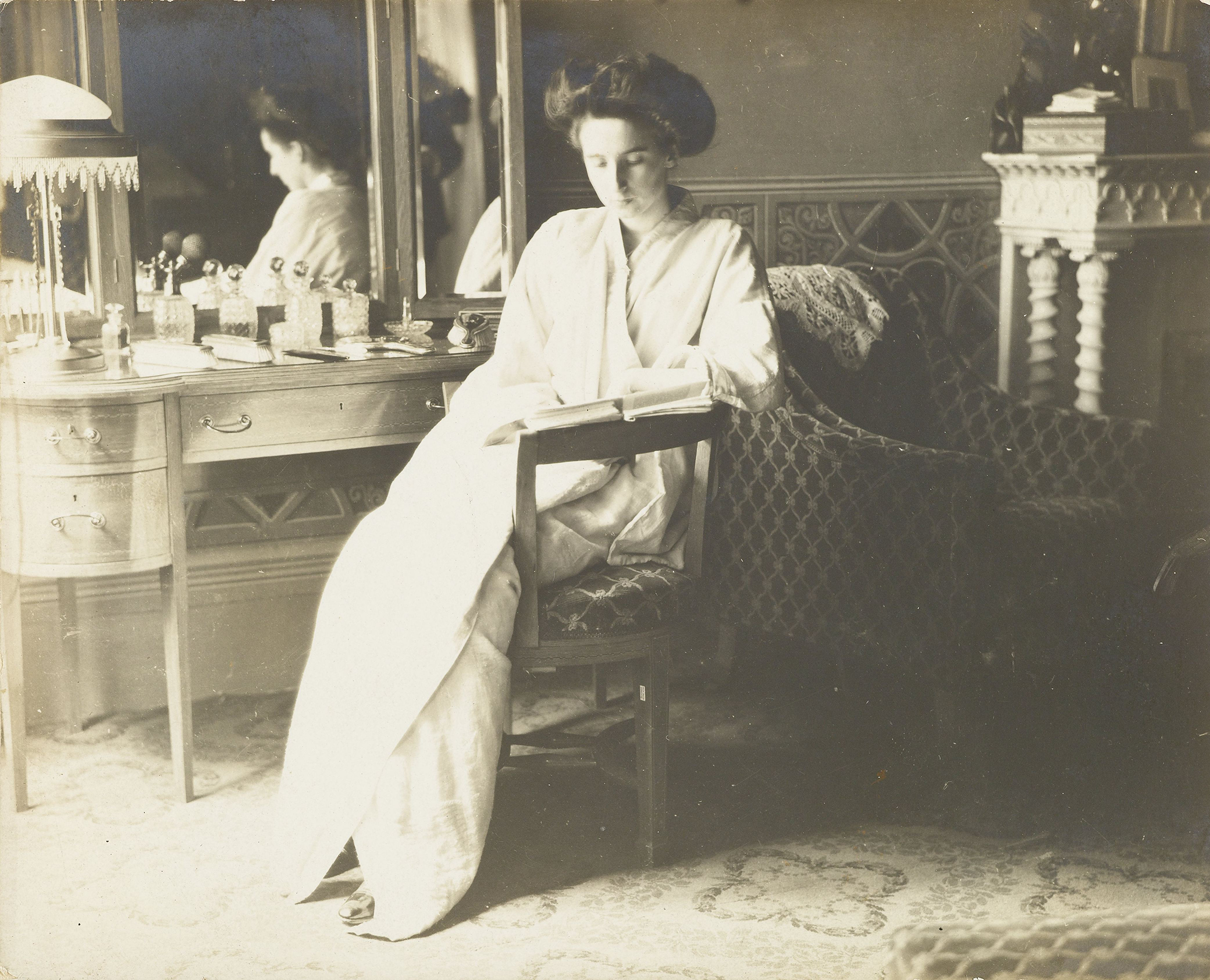 No one seems to have taken much notice of adolescents until the 1860s. That age was a threshold, a departure. In working-class circles, girls and boys were "placed" early. The bourgeoisie, both French and English, sent its boys to boarding school, middle school, or high school. Girls were educated less and tended to stay at home. Adolescence is above all a gendered category rather than a social one. Hence the distinction of the chambre de demoiselle, or young lady's bedroom, which appeared toward the end of the eighteenth century. This is the testimony of Rétif de La Bretonne, who was keeping watch: "I saw arrive a young girl who appeared to be very beautiful…She was put to bed in her room, while I was put in a little room under a staircase."
The emergence of the young lady—her body scrutinized by doctors, her desires pored over by novelists—was accompanied by the invention of a space for her, a cloistered, protective space, located near her attentive mother. Somewhere between a cell and a boudoir, the young lady's room was modeled on that of the Virgin as represented by painters of the Annunciation: narrow bed, next to which the Virgin sits, reading or weaving, while the angel visits her. This is where the young lady was initiated into the domestic order. In the retreat of her bedroom she sewed, read, and wrote a familiar correspondence: her diary, which Catholic educators recommended as a way of examining one's conscience and the Protestants as a form of self-control. The room was saturated with morality, even religiosity, and was as closed off as a tabernacle. It became consubstantial with the young lady herself. So every young lady dreamed of having her own room, which she could decorate, fill with flowers, and arrange her knickknacks. At boarding school, she would think about it. A young lady was judged by the state of her room. Before the rise of the magazine, etiquette books recommended that she take good care of it, this laboratory in which her character took shape. She too would choose flowered wallpaper, curtains (austere or filmy but opaque), bouquets (preferably flowers with subtle odors). She was to reject whatever was loud, luxurious, heady. Pious, she would fill the room with objects of piety. Musical, she was permitted a piano. Bookish, she was allowed a library, filled with "worthy" volumes. Photographs would remind her of her loved ones, especially her ancestors, who set a respectable example. She would use her mirror sparingly. She would receive friends there but never a man. Her door must remain closed, like her legs. The rules of prudence necessarily have an erotic edge.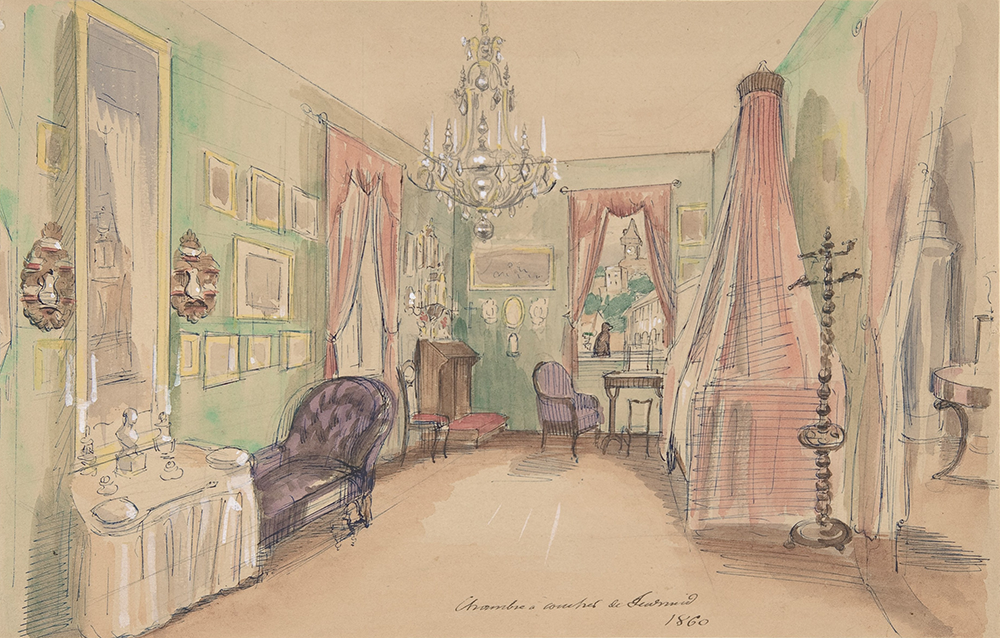 The young lady's room haunted the literary imagination to the point of fantasy. Victor Hugo lingers in Cosette's. Balzac inventories Césarine Birrotteau's, Eugénie Grandet's, and Ursule Mirouët's. As the perfumer César Birrotteau rises in society, his apartment undergoes a radical transformation. He gives his wife a beautiful bedroom, adjoining Césarine's, "coquettish, with a piano, a pretty mirrored armoire, a small chaste bed with unfussy curtains, and all the delicate little furnishings that young ladies adore." For Balzac, a man who loved his metaphors, the arrangement of the domestic space says much about the soul. Ursule Mirouët's may be read in her bedroom: "In this room you might breathe in the perfume of heaven. The exact arrangement of her things attested to an orderly spirit, a sense of harmony that certainly would have struck anyone who saw it." The novelist's gaze stops at the doors of the armoire, "a great armoire containing, no doubt, her dresses and underthings," which should not be rifled through. It is an ideal room for the ideal young lady that Ursule incarnates, luminously, always dressed in white and blue, the colors of matrimony.
Young German ladies were mad about Marguerite's room in Faust, "a small, well-ordered room," which Mephistopheles mocked: "Not all young ladies are so neat and proper." Faust notices it, and it piques his desire: "I feel, O young woman! your orderly spirit murmuring around me, this spirit that rules over your days like a tender mother, who teaches you to properly roll the mat on the table and to lightly powder the parquet with sand…A hut would become, for you, a paradise."
Young ladies had two approaches to this ideal room. Either they retired to it to escape from the world, to slow down their encroaching maturity, which they feared; they wanted enjoy this time in the chrysalis, dreaming like Emma Bovary or Jane Austen's heroines or even making art themselves. This was the painter Marie Bashkirtseff's desire, to find some authenticity on the canvas. Or, on the contrary, they sought to flee this prison, if not through love, then at least through marriage. "They have wandered around in circles, confined to the narrow room in which they've been given a deadly brainwashing," wrote Hélène Cixous. How to escape, how to be elsewhere? Young ladies had a taste for travel writing, missionary adventures in faraway lands, love stories that unraveled over interminable feuilletons. They read in their rooms, by the changing light of their lamps, later than was allowed. Some dared to explore their bodies, but few would admit it. Marie Chaix describes "this unknown pleasure whose name [she] doesn't know."
Behind my closed door, I finally grasped the horror of the young lady's room…In a room like this one, neither beautiful nor ugly, just a bit gauche, with its grays, its roses, its rosettes. I learned, patient and gloomy, to accommodate myself to adolescence.
Between boarding school and the conjugal bedroom is a transitional space of apprenticeship, a suspended time when everything is still possible.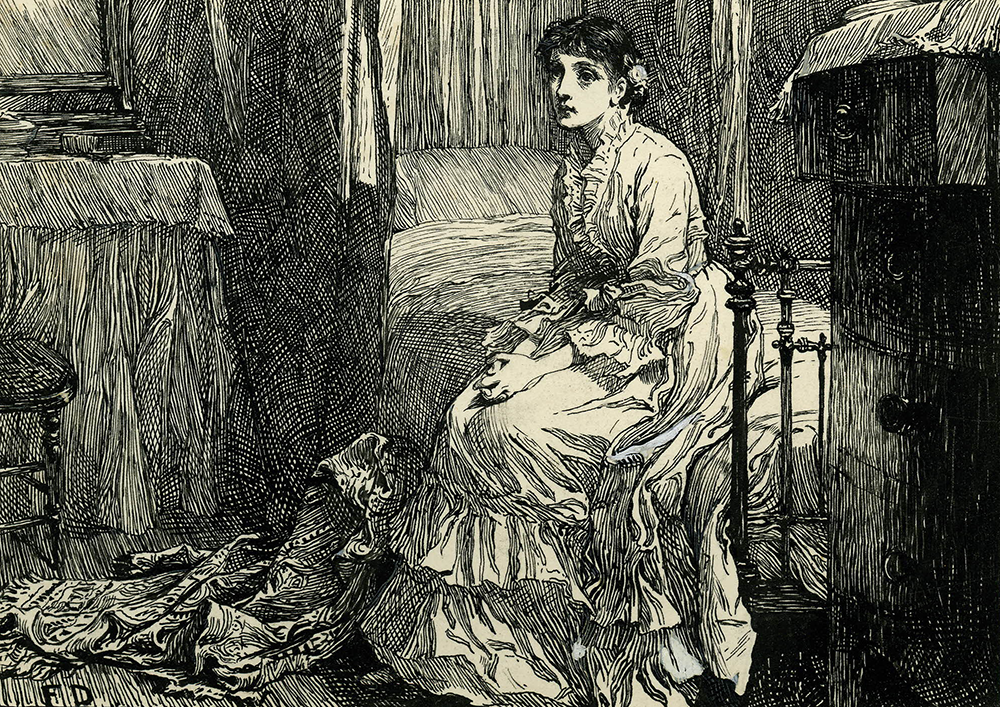 This was a norm that continued to form the habits of young female teachers in their first provincial teaching posts, after studying at Sèvres or for the agrégation. Finding a room was their first worry, and they were the bread and butter of landladies who preferred these decent young boarders to young men with their dubious associates. Marguerite Aron recounts how she attempted to personalize her room, which was rented to her by a pair of spinsters in clogs. She describes "the little blue vases…, the dried branch, the cloth curtains around the alcove bed, the walnut chest of drawers, the worn carpet with faded flowers. I added my photographs to the mantelpiece and my engravings to the walls…Then I was really at home." How many sad little provincial rooms were filled with these young women, spending long, solitary hours preparing their classes, correcting essays, pausing for the daily tea ritual—their only luxury, left over from Sèvres. Women like Jeanne Galzy, Colette Audry, and Simone de Beauvoir have written about the challenges they faced, which one by one they escaped.
"Nothing is as solitary as a young lady," wrote Kafka.
In The House of Life, which the great collector and aesthete Mario Praz devotes to his apartment in the Palazzo Ricci in Rome, he spends one hundred pages describing his daughter Lucia's bedroom. Of all the rooms, this one changes the most, in its furnishings as well as its decor. He had to make room for the child, whom his wife clearly wanted more than he did; she made him buy a crib, a barcelonnette in the style of the King of Rome (Praz is a great lover of the Empire style), in the hopes of exciting his paternal instincts—finally accomplished around 1936. Ten years later husband and wife were separated, but Lucia kept her room at the Palazzo Ricci, occupying it sporadically. It was updated in accordance with her age; for the child, everything was covered in pink, and the room was filled with custom-built maple furniture, including a lit galerie inspired by a model from the Directory. All these "modern furnishings" disappeared, replaced by antique furnishings adapted for a young girl: a sober Empire bed in the shape of a boat, bought in 1925, with a mahogany nightstand, on which was placed a candle that was never lit but "could be used if the electricity went out." There was a round work table with multiple drawers, a "country bidet," like that which belonged to Pauline Borghèse, a desk, seats, etc. The author spends a long time discussing the bed, which once belonged to him and which he wanted to give to his daughter, in spite of what people might say: "Most people hesitate before buying an antique bed, some for reasons of hygiene, out of fear it will contain some vermin or microbe, but mostly for superstitious reasons, for it is certain that someone has died in it." This single Empire bed, surrounded by a "crown" canopy with curtains to match the bedding, which he found after searching long and hard in secondhand shops, would stay with him all his life. The walls were covered in paintings, about thirty of them: portraits of women and children, genre paintings, and very feminine English conversation pieces from the eighteenth century. Lucia's room also contained many toys; a few stayed behind, like her miniature dollhouses, very Victorian, in the Chippendale style; Praz laments that they are too little appreciated in Italy. But Lucia was a destructive child; she broke "an adorable doll with periwinkle eyes," which her father had saved from his own childhood and which he had given her "in a moment of unpardonable weakness." He felt its loss like a wound.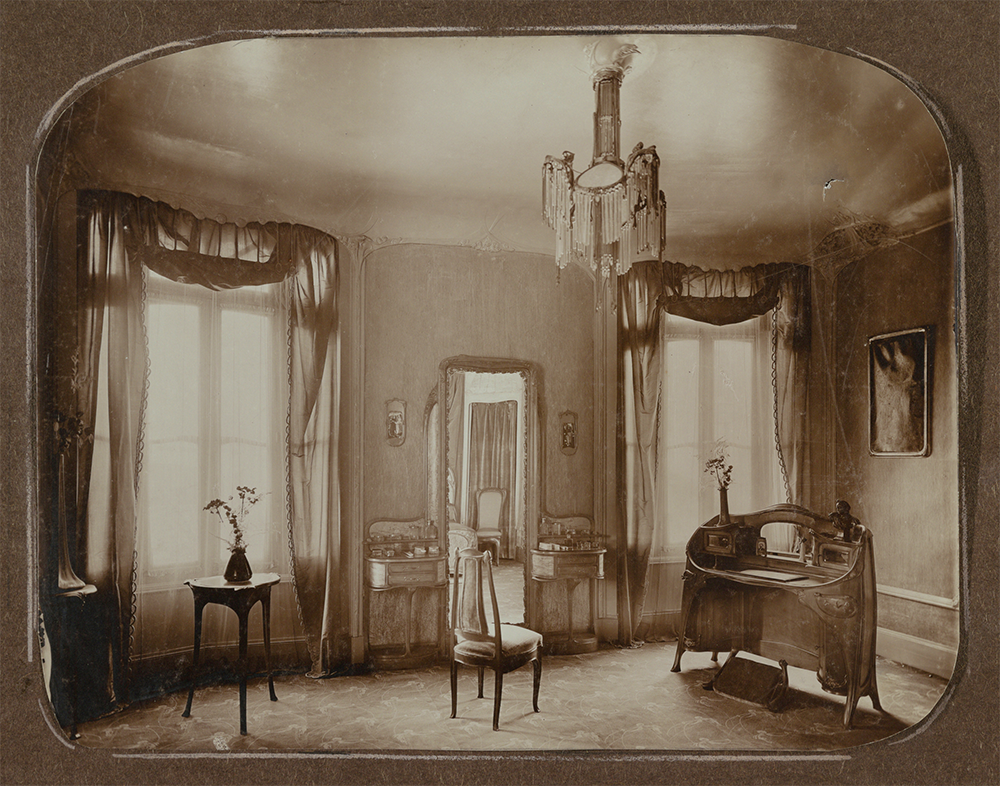 The story of this bedroom allows us to glimpse the disappointed love of an aesthete father, who didn't know how to express his love except by collecting or through the choice of an object, without understanding that neither his daughter nor his wife (an Englishwoman who left him because he devoted himself to dead things) really liked the things he gathered, even perceiving them to be a form of tyranny. When, years later, she returns to her room, Lucia regrets that he took down the garlanded crystal chandelier, whose shimmers she used to track: "She reproached me for having replaced a cheerful object with a boring globe. Me, who had thought to stimulate her imagination with the stars scattered on the face of the globe, the color of lapis-lazuli." This misunderstanding of things is a misunderstanding of hearts.
Excerpted from The Bedroom: An Intimate History by Michelle Perrot and translated by Lauren Elkin. English translation copyright © 2018 by Lauren Elkin. Reprinted by permission of Yale University Press.