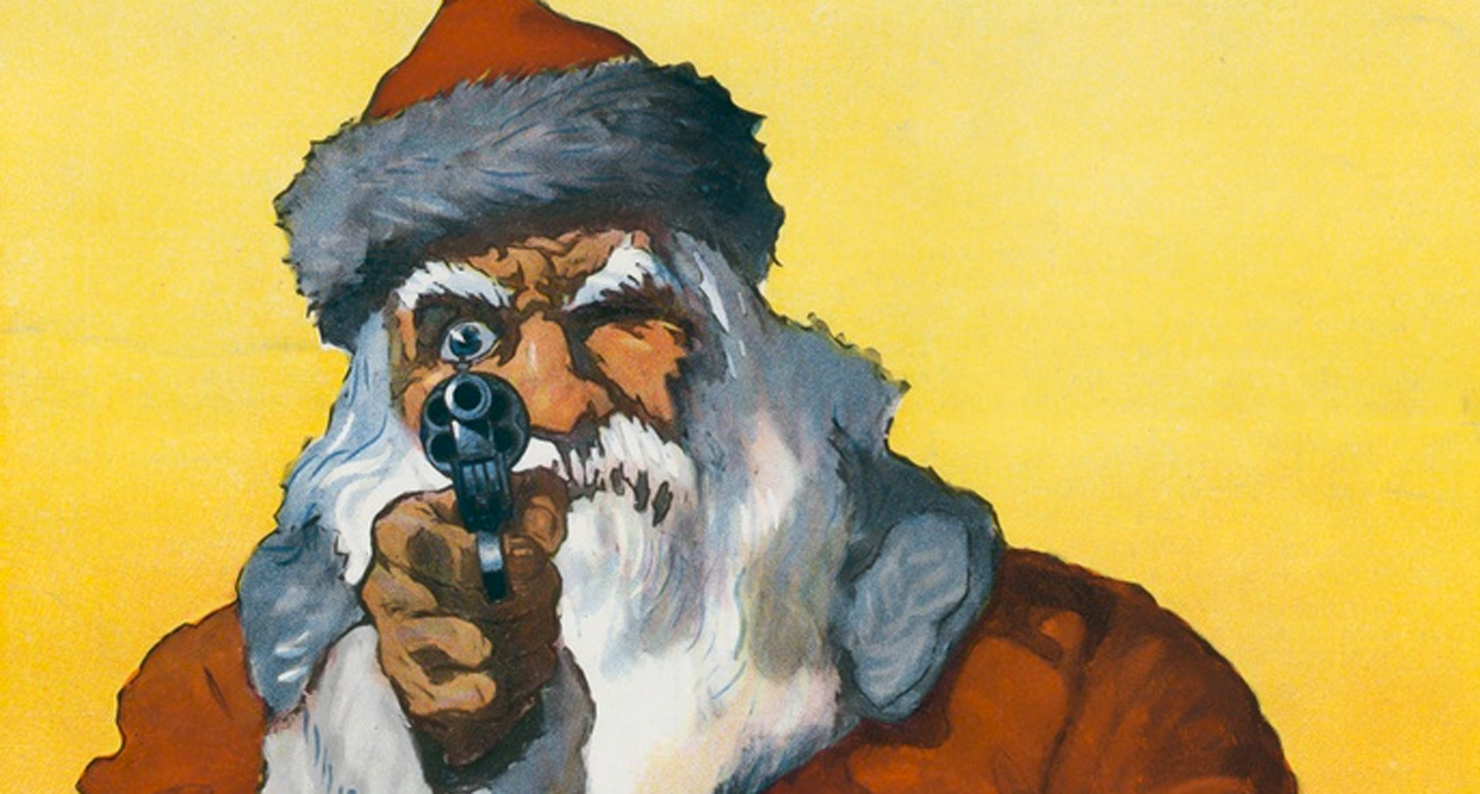 "I stopped believing in Santa Claus when I was six. Mother took me to see him in a department store and he asked for my autograph." —Shirley Temple
"He went to the front of the teller line and started asking for money and putting it in the bag. It was a little unbelievable. He was actually jovial, which is scary. He explained that he was robbing the bank because Santa had to pay his elves. He had the whole outfit on—even the shoes." So said Jimmy Edwards, witness to the 2009 robbery of a SunTrust bank in Nashville, Tennessee, three days before Christmas, by a man disguised as Saint Nick. Besides the gun, only the sunglasses were out of character—though he'd traded his sleigh for a car.
Where Halloween is a masquerade of multiplicity, Christmas invites conformism. The standard carols are sung in every house; the trees are monuments to nostalgia; children and parents reach a grim consensus on that season's must-have toy. At the center is Santa himself, not so much an archetype as a costume. For the month of December, it's very easy to be Santa—one simply dresses the part. And in doing so you join a vast, anonymous army of goodwill, with boots on the ground in any province or hamlet you care to name.
That soporific fantasy is at odds with the sleazy facts of life. After Samuel Byck, a tire salesman who found himself unemployed, divorced, and depressed, killed two people and committed suicide during the course of a harebrained scheme to assassinate Richard Nixon by crashing a jetliner into the White House, the Secret Service revealed he'd been arrested several times for protesting in front of the president's home without a permit. In one instance, Byck wore a Santa outfit and carried a sign that read: "All I want for Christmas is my constitutional right to publicly petition my government for a redress of grievances." They'd written him off as a harmless crank, but his dissociation from reality was what made him dangerous. Alone and invisible, he cloaked himself in a lie that one generation tells the next, the icon of familial, well-intentioned deceit.
Certain songs aside, Santa Claus is, for the most part, above reproach; the men who portray him are not. Almost as soon as his cheerful image had solidified in the American consciousness, he became a mask for evil. News reports about the Nashville robbery mention the 2003 movie Bad Santa, in which Billy Bob Thornton uses his mall-Santa gigs as a cover for burglaries, but the roots of the bad-Santa crime spree go back to 1927.
On December 23 of that year, four men held up the First National Bank of Cisco, Texas. The leader, Marshall Ratliff, wore a Kris Kringle costume borrowed from the proprietress of his Witchita Falls boarding house. Previously, a wave of heists had prompted the Texas Bankers Association to offer civilians five thousand dollars for shooting any robber caught in the act, and Ratliff, previously imprisoned for knocking over a bank in nearby Valera, was fearful of being recognized in Cisco, where he'd lived before serving his sentence.      
By all accounts his Kris Kringle disguise backfired, as excited kids flocked to Ratliff outside the bank, some even chasing him inside. The tellers also greeted him as Santa before the stickup. The robbers soon found themselves in a deadly shootout with police and armed vigilantes eager to bag the reward. Those who survived were caught, tried, and convicted, with Ratliff later killing a guard in an escape attempt, thereby sealing his fate at the hands of a vengeful mob more than a thousand strong. The rope with which they hanged him is today on display at a local museum, while a stone plaque at the death site describes the "Last Mob Lynching in Texas."  
Did Ratliff mistake the significance of his festive garb? The visual aesthetic of modern Santa is traced to Thomas Nast's nineteenth-century illustrations for Harper's Weekly, which saw Claus morph from a stern, Union-supporting elf—not the last time Santa would take sides in a military conflict—to a rounder, happier, and more approachable figure, as described in Clement Clarke Moore's "A Visit from St. Nicholas" of 1823. Although legend has it that Coca-Cola's holiday advertising determined Santa's appearance, particularly his red coat, it wasn't until 1931 that the company adopted this friendlier interpretation. Tellingly, their own history of this marketing campaign mentions the aim of "showing Santa himself, not a man dressed as Santa." Impersonators can no longer be trusted to portray this incorruptible paragon.
This is the dream that plays out in Miracle on 34th Street, a film that sees the drunken, boorish Santa hired for the Macy's Thanksgiving Day Parade supplanted by the real McCoy. The more recent Santa Clause franchise instead closes the moral gap between an ideal Father Christmas and his daft doppelgängers with murderous legal voodoo: Santa's job turns out to be a form of involuntary servitude, the suit always filled by whoever offs the previous owner. Thus a succession of regular guys—in this case Tim Allen—assume the mantle of impossible goodness, along with Falstaffian dimensions and a heartbeat that sounds like "Jingle Bells," as a cosmic punishment for their human failings.  
Here we discern another tension: Santa may decide who's naughty or nice, but who judges Santa? An affecting plotline in The Sopranos includes flashbacks about a portly mafioso who had long played Santa at the clan's Christmas party. His friends, who have already whacked him for snitching, miss his talents when battling the churlish attitude of his replacement. Both the animated series Futurama, which features an insane robot Santa bent on the liquidation of the ill-behaved, and the 2010 Finnish horror comedy Rare Exports, which resurrects a likewise punishing but archaic old-world Santa, rely on an audience's understanding of some unspoken potential for tyranny. Santa does, after all, secretly survey us year round and illegally enter our homes while we sleep. My own sister, in her youth, once tearfully asked if Santa would just leave our presents on the front porch.
And so we sense a responsibility conferred by the stocking hat and the snow-white beard, annually scorned by the dread revelers of SantaCon, a massive multi-city pub crawl, which in New York presents as a sordid spectacle of vomit and violence. Though organizers of the widely mocked event claim it's a celebration of free speech that raises money for charity, its true effect is to excuse public obscenity with trappings of the season. (SantaCon's creator, also a cofounder of Burning Man, conceived it in 1994 as anti-consumerist performance art.)
Since Marshall Ratliff's infamous heist, Santa robberies have become a regular, globalized occurrence, and the attention to detail is astounding. Just this fall, a man dressed as Santa was sentenced to eight years in prison for a 2013 attempt to detonate a bomb supposedly concealed in a gift-wrapped package. Who, then, could be surprised that the latest Santa stickup was timed to coincide with the criminal mischief of this year's SantaCon? San Francisco police said that this robber, 5'11" and in his forties, passed a note and made off with cash at a bank near Union Square, where "scores of merrymakers amassed...before swarming to the city's Santa-friendly bars," as local media put it. Presumably, he melted into the white-bearded crowd.