Exodus
Escapes from persecution.
Persecuted: Approximately 2.5 million Israelites
Persecutors: Pharaoh, Egyptians
Leader of Exodus: Moses
Date of Departure: c. 1447
Route: Land of Goshen to Border of Canaan, by way of the Wilderness of Sin, Mt. Sinai, Kadash, and the Land of Moab
Time in Transit: 40 years
Obstacles Encountered: Sea of Reeds, bitter waters, hunger, Amalekites and Canaanites, snake bites, distrustful pilgrims
Details: After God inflicted ten plagues on the people of Egypt, Moses led the Israelites to the border of the Holy Land, where he died, passing leadership on to Joshua.

Persecuted: Approximately 36,000 Bohemian Brethren families
Persecutors: Jesuits, Holy Roman Emperors, Prince Lichtenstein
Leader of Exodus: John Amos Comenius
Date of Departure: c. 1628
Route: Brandeis-on-the-Adler to Leszno, Poland
Time in Transit: Unknown
Obstacles Encountered: Govermment commissioners, the Giant Mountains
Details: Ordered out of Bohemia for his Protestant beliefs, Comenius led the last band of the Unity of the Brethren to safety in Leszno, where they practiced their faith freely.

Persecuted: Approximately 70,000 Mormons (over 30 years)
Persecutors: Missourians, Illinoisans
Leader of Exodus: Joseph Smith Jr., Brigham Young
Date of Departure: 1838
Route: Northwest Missouri to Salt Lake Valley, by way of Nauvoo, Illinois, Fort Laramie, and Fort Bridger
Time in Transit: 9 years
Obstacles Encountered: Governor of Missouri, the Nauvoo Expositor, the winter of 1846–47, scurvy, malaria
Details: After Smith's murder by an angry mob in Nauvoo, Young led the Mormons across unorganized territory to the Salt Lake Valley, in what was then Mexico.

Persecuted: Approximately 100,000 Tibetans
Persecutors: Communist Party of China
Leader of Exodus: Tenzin Gyatso (Dalai Lama)
Date of Departure: 1959
Route: Lhasa to Dharamsala, by way of Bomdila and Mussoori
Time in Transit: 1 year
Obstacles Encountered: The Himalayas, unfamiliar tropical climate, diseases of the Indian lowlands
Details: Following the invasion of the Chinese Army, the Dalai Lama fled his palace under nightfall, armed and wearing a soldier's uniform.
Issue
Back to Issue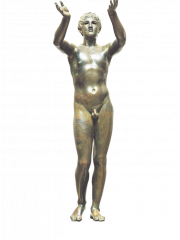 Religion