Medieval missionary discovering the point where heaven and earth meet, twentieth-century coloration of black-and-white engraving from The Atmosphere, by Camille Flammarion, 1888.
The Future
Volume IV, Number 4 | fall 2011
Miscellany
While on his deathbed in 1849, the Japanese artist Hokusai said to those gathered around him that he wished he could live another ten years. He paused, and went on: "If I had another five years, even, I could have become a real painter." Then he died, at the age of eighty-nine.
The future is no more uncertain than the present.
—Walt Whitman, 1856
Lapham'sDaily
Stay Updated Subscribe to the LQ Newsletter

Roundtable
A debate in Berkeley about the power of a name. More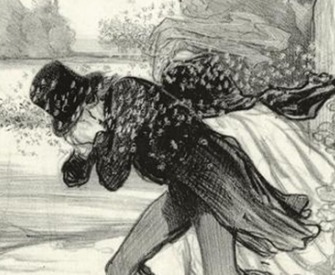 DÉjÀ Vu
2018:
The NYPD beekeeper vacuums up a swarm of bees on a hot dog stand in Times Square.
1906:
Bees take over a Los Angeles street as spectators watch.
More

The World in Time
Lewis H. Lapham talks with Jim Holt, author of When Einstein Walked with Gödel: Excursions to the Edge of Thought. More