Graveyard Shift
If history's night owls used Craigslist.
laphamslist
wanted: an occasional quatorzième, or fourteenth, to join dinner parties with an inauspicious thirteen attendees. Must be dressed and ready for conversation at a moment's notice.
Seeking dedicated monks and/or nuns to sing the psalms continuously both day and night. Must reject the orthodoxy that prayer should be limited to specific times. Multiple positions available.
Help keep the wheels of industry turning by tapping on factory workers' windows with a baton, ensuring they get to work on time. You will be responsible for waking yourself up and must be punctual; shifts begin no later than 3 am.
Seasonal position for the Inuit. Must be able to recognize ringed seal lairs and breathing holes. Patience required. Term of employment runs from spring through fall, when the night is bright enough for hunting.
Are you strong in body and stomach? Haarlem's City Council seeks applicants for a four-person team to remove night soil from backyard cesspits for transport by barge to the Vuilrak (Filth Canal).
Are you willing and able to debate the abolition of legal privilege and the nature of French democracy until 2 am? Experience as a magistrate or lawyer an asset.
Naked-eye astronomer Tycho Brahe seeks students to help document celestial phenomena. Candidates should accept geoheliocentrism; be ready to argue that planets orbit the sun but the sun orbits the Earth. Position funded by His Majesty, King Frederick II of Denmark and Norway.
Looking for an adventurous mariner based out of the Arabian Peninsula to voyage throughout the Indian Ocean. Must be able to calculate latitude using the stars, a block of wood, and string. Familiarity with Ahmad ibn Majid's twelve principles of navigation preferred.
Click here for the magazine version of this chart.
Issue
Back to Issue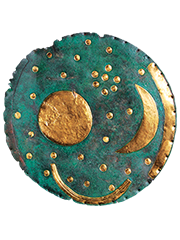 Night