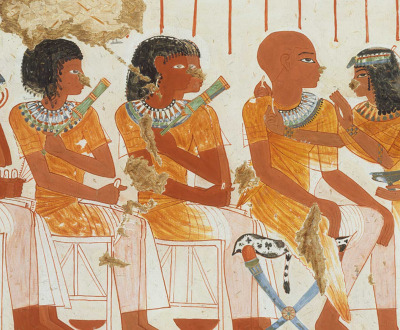 Guests at a Banquet, tempera facsimile by Nina de Garis Davies after a fourteenth-century-bc Egyptian frieze, c. 1920. The Metropolitan Museum of Art, Rogers Fund, 1930.
Friendship
Volume XIV, Number 2 | spring 2021
Map
A simplified diagram of the allegiances and rivalries behind the fall of the Roman Republic.
View
Miscellany
After the suicide of one of his former patients, Zimbabwe-based psychiatrist Dixon Chibanda began training local grandmothers in evidence-based talk therapy. Since 2006 over four hundred grandmothers have been trained to deliver free services in more than seventy communities across the country while sitting on a "friendship bench" next to a local clinic. Friendship-bench patients were found after six months to have improved more significantly than patients receiving standard care. "I value human beings so much," said one grandmother in the program. "I introduce myself and I say, 'What is your problem? Tell me everything, and let me help you with my words.' "
We cherish our friends not for their ability to amuse us but for ours to amuse them.
—Evelyn Waugh, 1963