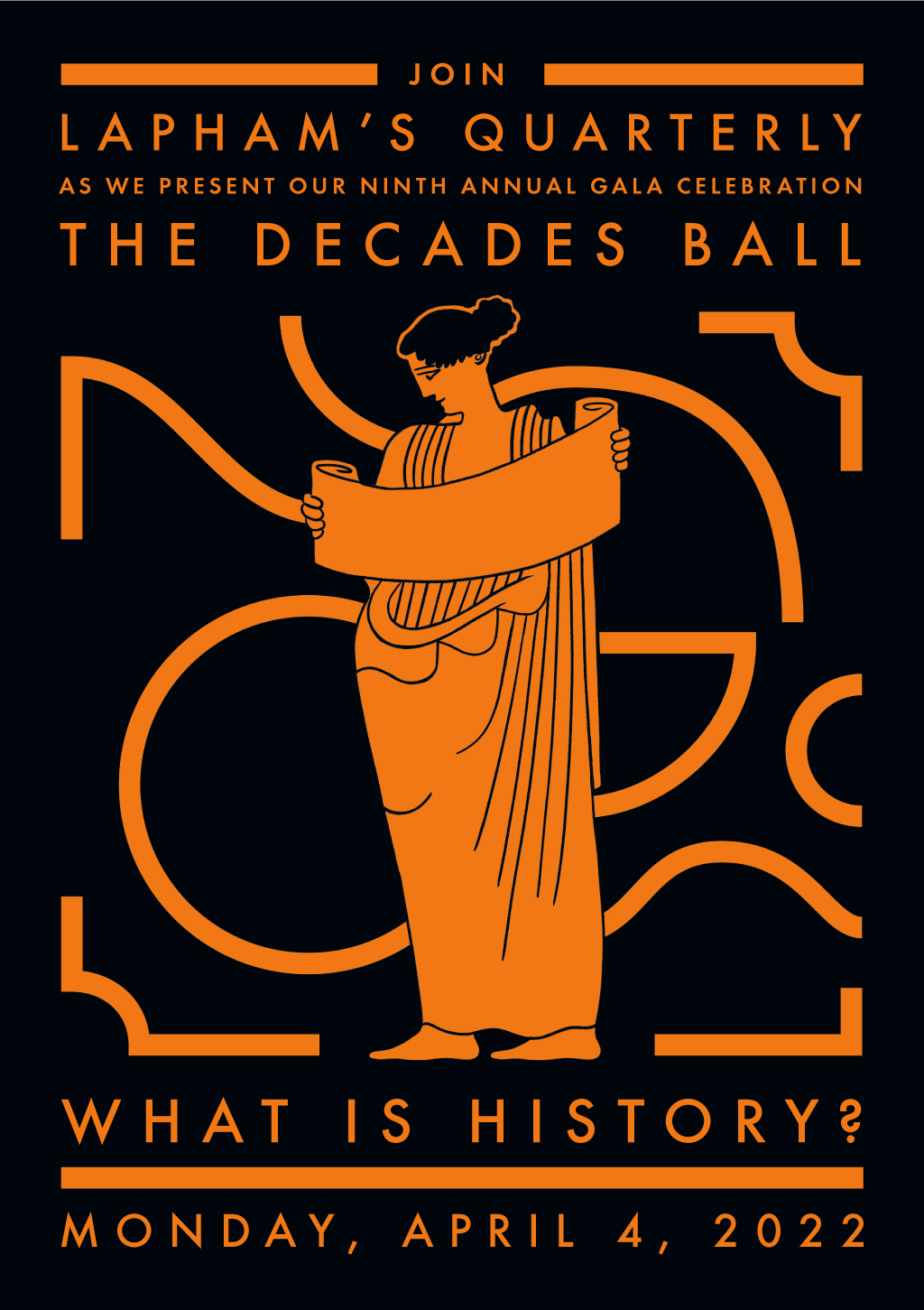 Monday, April 4, 2022
The Rubin Museum of Art
150 West 17th Street
New York City
HONOREE
Hilary Mantel
Recipient of the 2022 Janus Prize
DECADES BALL CHAIRS
Hilaria and Alec Baldwin
Lisa and Christopher Lloyd
Deborah and Bill Ryan
MASTER OF CEREMONIES
Simon Winchester
6:30 pm: Cocktails and hors d'oeuvres
7:30 pm: Dinner with performances
Festive Dress
An epic exploration of the past, from the ancient world to the present day, featuring performances by celebrated actors. The evening benefits the educational mission of Lapham's Quarterly and provides the core support necessary to carry on the work of the magazine.
Actor Bob Balaban (A Mighty Wind, The French Dispatch) reads Voltaire, from Encyclopédie, and Jacob Burckhardt, from Judgments on History and Historians
Actor and singer-songwriter Reeve Carney (Penny Dreadful, Hadestown) reads Dorothy Thompson, from "Who Goes Nazi?"
Actor Richard Kind (A Serious Man, Curb Your Enthusiasm) reads Aristotle, from Poetics; Du Fu, "Jade-Blossom Palace"; and Finley Peter Dunne, from Observations by Mr. Dooley
Actor Morgan Spector (The Gilded Age, The Plot Against America) reads Will and Ariel Durant, from The Lessons of History
Actress Rebecca Hall (Parade's End, writer and director of Passing) reads W.H. Auden, "Musée des Beaux Arts"
Actor and director Reggie D. White (The Inheritance) reads W.E.B. Du Bois, from Black Reconstruction in America
Alec Baldwin and Christopher Lloyd read Richard Nixon and John Ehrlichman, from White House Tape #498-005
Exhibits at the Rubin Museum, including the shows Gateway to Himalayan Art and Masterworks: A Journey Through Himalayan Art, will be open for viewing during the cocktail hour.
To purchase tickets, please click here, email events@laphamsquarterly.org, or call the Decades Ball office at (212) 590-6875.
We are pleased to offer free virtual access to the Decades Ball. Click here to receive access to the livestream and a link to watch the event at your convenience. You can also become a supporter at the $50, $300, or $1,000 levels and receive special gifts from Lapham's Quarterly and our sponsors.
BENEFIT COMMITTEE
Mary Stewart Hammond Allen
Melissa Ballate
Tracy Bollag
Kathy Robbins and Richard Cohen
Jessica Hairston and Andrew M. Davenport
Jackie and Nick Drexel
Ed Epstein
Barbara Fleischman
Francis M. Flynn
Agnes Gund
Judith Gurewich
Lucy Hamilton
The Hendra Family
Linda Karshan
 Lisa Atkin and Tony Kiser
Carmella R. Kletjian
Shelley Ambrose and Douglas Knight
Jennifer and Winston Lapham
Monica and Raymond A. Lamontagne
Rachel Lenrow
Win McCormack
Stacey Hadash and Terry McDonell
Diahn and Tom McGrath
Kim Miller
Alan Patricof
John Postley
Diana Prince
Elizabeth "Lisette" Prince
Donna and Benjamin A. Rosen
May and Samuel Rudin Family Foundation, Inc.
Sarah and David R. Stack
Maggie and Amor Towles
Christie and Ron Ulrich
Dr. Samuel Waksal
Brian and Jane Williams
Simon and Setsuko Winchester
SPONSORS
The Decades Ball is the annual gala event presented by Lapham's Quarterly, bringing together friends and readers of the magazine, celebrated writers and performers, and devoted patrons. Guests are treated to performances of timeless readings and songs, a menu inspired by sumptuous feasts throughout history, and rousing company the New York Times compared to "dedicated revelers at a Gatsby party." This "stirring night" (Wall Street Journal) has in the past featured performances by F. Murray Abraham, Patricia Clarkson, Maggie Gyllenhaal, Tom Hanks, Anne Hathaway, Kevin Kline, Lin-Manuel Miranda, and Mary-Louise Parker.
For directions to the Rubin and information about the museum's Covid safety protocols, please visit this page. You must be fully vaccinated against Covid-19 to enter the Rubin, but masks are not required at the event. Should a public health advisory from state or local officials necessitate canceling the Decades Ball, the event will move fully online.