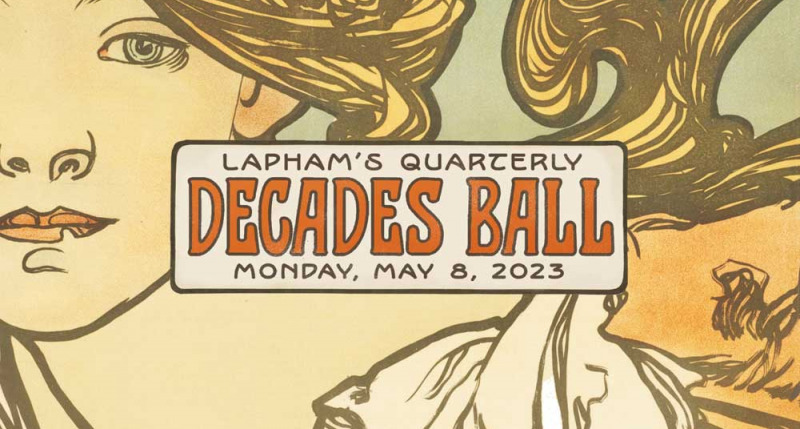 Monday, May 8, 2023
One East Sixtieth Street
New York City
The tenth annual Decades Ball takes up the years 1900 to 1910. The evening features renowned actors and musicians performing signature works from the decade—and celebrates the fifteenth anniversary of Lapham's Quarterly.
HONOREE
David Cannadine
Recipient of the 2023 Janus Prize
6:30 pm: Cocktails and hors d'oeuvres
7:30 pm: Dinner with words and music
1900s Costume or Festive Dress
To purchase tickets, please click here, email events@laphamsquarterly.org, or call the Decades Ball office at (212) 590-6875.
The Decades Ball is the annual gala benefit presented by Lapham's Quarterly, bringing together friends and readers of the magazine, celebrated writers and performers, and devoted patrons. Guests are treated to performances of readings and songs from the decade in the limelight, a menu featuring period food and drink, and rousing company the New York Times compared to "dedicated revelers at a Gatsby party." The evening benefits Lapham's Quarterly and its educational programs and provides the core support necessary to carry on the work of the magazine.
This "stirring night" (Wall Street Journal) has in the past featured performances by F. Murray Abraham, Angel Blue, Glenn Close, Maggie Gyllenhaal, Rebecca Hall, Tom Hanks, Kevin Kline, Christopher Lloyd, Lin-Manuel Miranda, Mary-Louise Parker, and Sam Waterston.
Click here to watch the 2022 Decades Ball.
To view photos from previous Decades Balls, click below.