Everyone a Critic
Artworks altered or destroyed.
The Herms, c. 580 bc (stone)
415 bc: Athens
The statues dedicated to Hermes, the god of fertility, had their genitals smashed on the eve of the Sicilian Expedition. Alcibiades, known to be fond of drink and debauchery, was accused, tried in absentia, and sentenced to death. He defected to the Spartan side.
Expulsion from the Garden of Eden, by Masaccio, c. 1424–28 (fresco)
c. 1723: Florence
The Grand Duke of Tuscany, Cosimo de' Medici, ordered that fig leaves be added to the painting to conceal Adam and Eve's "disgusting" genitals. In the 1980s, the painting was restored, and the couple was naked once more.
Pietà, by Michelangelo, 1499 (marble)
1972: Vatican City
While shouting, "I am Jesus Christ, Christ is risen from the dead," László Toth took fifteen hammer swings at Mary, breaking her nose and arm. The following year he was committed to a mental hospital. Two years later he was released.
The Rokeby Venus, by Diego Velázquez, c. 1647–51 (oil on canvas)
1914: London
Suffragette Mary Richardson attacked the canvas with a meat cleaver, leaving seven slashes across the goddess' back. Arrested and sentenced to six months in prison, she later said that she "didn't like the way men visitors gaped at it all day long."
Le Rêve, by Pablo Picasso, 1932 (oil on canvas)
2006: Las Vegas
Real estate developer Steve Wynn agreed to sell hedge fund manager Steven Cohen the portrait of Picasso's mistress for $139 million. Before the transfer, Wynn, who suffers from retinitis pigmentosa, crashed his elbow through the canvas. "Oh shit," he said. "Look what I've done." The deal was off.
Issue
Back to Issue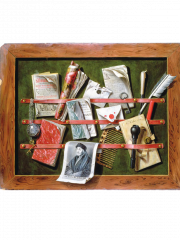 Arts & Letters