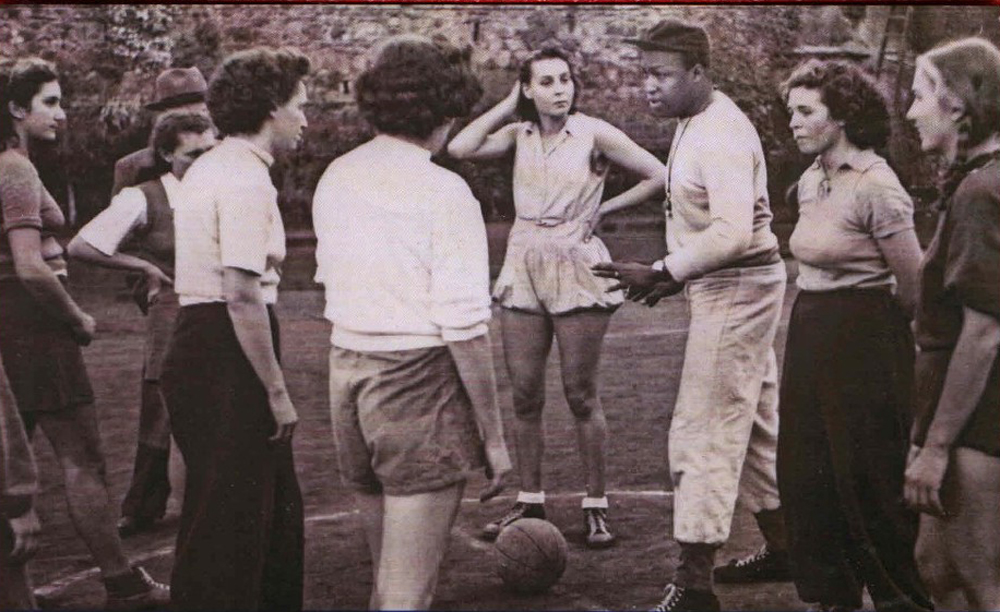 For years, Italy has been an essential stopover for American basketball players on the rise. Hall of Fame coach Lou Carnesecca once said Italy had the third-best league on earth, after the NBA and NCAA. Bill Bradley played there; former New York Knicks coach Mike D'Antoni was a player and a coach in Italy for almost twenty years. Kobe Bryant actually grew up there, when his father left the NBA to play for a team in Rieti, Italy. He still speaks good Italian, and the interviews are on YouTube to prove it.
Of all American sports to thrive in Italy, basketball makes the most sense. Basketball is like three-dimensional soccer; it has the nimbleness and balletic qualities that neither baseball nor football really afford. But if there's a pivot point, a single African American present at the birth of Italian basketball, that man would have to be Elliott Van Zandt.
His name can be found in the New York Times only once, in an obituary published on October 26, 1959. It reads, in its entirety:
Elliot C. Van Zandt, who was physical trainer of the Milan Football Club, champions of Italy, died yesterday aboard a transatlantic airliner flying him from Europe to the United States for medical treatment for a kidney ailment. He was forty-four years old. The plane landed yesterday morning at New York International Airport, Idlewild, Queens. 

 

Mr. Van Zandt, who was a basketball star at Tuskegee Institute in Alabama, served as an Army captain in Italy in World War II. He remained in Italy after the war to train Italian athletes in football, basketball, rugby, and track. He was also physical trainer of the Turkish national basketball team in 1951-52.

 

His mother, Mrs. Una Van Zandt of Chicago, survives.
Sandro Gamba, a basketball coach elected to both the Italian and American halls of fame, has long said that Elliott Van Zandt "taught the Italians how to move." Postwar Italy was recovering from its regimen of heel-clicking and straight-arm salutes. The freedom and limber grace of basketball was something imported from overseas. One of the foundational principles of Italian Fascism was autarky, which said that only Italian products were acceptable. Imports certainly should not be American, let alone African American, in origin. During the Ventennio—as Italians refer to the two-plus decades of Fascism—records by Louis Armstrong were labeled as recorded by "Luigi Fortebraccio, Italian cornettist."
There's an article about Van Zandt weeks after his death by Ollie Stewart, who was remembered by fellow journalist from the war as "the only American Negro correspondent then accredited to the European theater." After the war he stayed in Paris. In the November 10, 1959 issue of the Afro-American, he wrote: "Not long ago, a few of us expatriates were sitting around talking about the guys who got discharged and decided to settle down in some European country after the war." Stewart explained who Van Zandt was, and sang the praises of a man who "for more than a decade has been Mr. Basketball…all over Europe."
He recalls seeing Van Zandt lead his Italian national team into a London restaurant during the 1948 Olympics:
Here was this American—coach of the Italian Olympic basketball team! He came with his Italian team as though he owned the joint. I was sitting with a group of American reporters, and when word got around as to who he was, you never saw such table-hopping excitement. "It just shows what a man with ambition—and guts—can do," one reporter said. "He wouldn't be likely to be sent here in the same capacity by his own country."  
Unstated is the question of whether Van Zandt would have even been seated in a similar restaurant back home.
The most eloquent commemoration of Van Zandt's life came a year and a half later in Ebony magazine. The cover shows President John F. Kennedy, his press secretary Pierre Salinger, and associate press secretary Andrew Hatcher, a black man. In the upper right-hand corner is a teaser: "To Eliot With Love" (the spellings of Van Zandt's first name vary wildly). The subtitle is "Italian woman makes pilgrimage to honor memory of coach."          
The article was written by Lerone Bennett, Jr., a fifty-year staffer at Ebony just beginning his long career, and it describes the trip made by Alba Pisani, Van Zandt's Milanese fiancée, to his mother's home on Chicago's South Side. "Eliot Van Zandt was going to his death," the article begins. It describes how the forty-four-year-old lay on a stretcher in a plane about to transport him to Chicago for a kidney transplant, a relatively new procedure at the time. "'Yes,' she said, crying. 'Yes. Come back, because if you do not come back, I come to you.'"
Bennett describes how Van Zandt "died that night, as the plane cut through the cloud-flecked sky above the Atlantic Ocean." That part he conjured up, but Alba Pisani's visit to Chicago's South Side is all eyewitness testimony. "They had not met before, these two women, but there are many kinds of bonds and nothing perhaps binds tighter than a shared loss. Mrs. Van Zandt showed Miss Pisani pictures of Eliot as a boy and Miss Pisani showed Mrs. Van Zandt pictures of Eliot as a man." Pisani told Bennett that Van Zandt was "more Italian than American." That he loved opera, "pizza pies," and the vitality of the people.
The article is dramatic and emotional, and it paints in bold strokes the primary pieties: outpourings of love, fullness of feelings, flimsiness of barriers. It's clear that a woman from Milan felt perfectly comfortable in a home at the corner of 47th and Prairie Avenue in Chicago, a few miles from where Michelle Obama grew up. Italians saw black Americans as Americans, and this was the home of the woman that had almost became her mother-in-law.
Pisani described going one night with a friend to see the Modern Jazz Quartet play in Milan. Van Zandt was backstage when Pisani's friend went in search of an autograph. He invited the two women out for an after-concert dinner. Although Milan has always been a sophisticated city, this was still pretty fast for the early 1960s. "It is not the normal thing to do, but I do not know why—I think because it was fate—I answered yes," she told Bennett. "Then it is a wonderful evening with him and other friends. He told me many things of my character, my thoughts. He was psychological."
It is clear that Van Zandt's appeal to the Milanese was in fact psychological, and no doubt the Italians' appeal to him was just as psychological. Van Zandt was born in Hot Springs, Arkansas, to a woman who, widowed, made her way in the world as a fashion designer. In 1941, we have this description from the Afro-American of a post-football-game fashion show at Tuskegee, featuring "a group of campus co-eds in a promenade of hints for 1942." Mrs. Van Zandt "presented her offerings…backdropped by soft melodies of the Royal Swingsters, a Tuskegee orchestra." Of special interest: "A four-way ensemble of baby blue and black, which, with minor alterations and shifts, became in turn suitable for sportswear, formalwear, party dress and everyday attire." With a fashion-conscious mother, it comes as little surprise that Van Zandt would take to opera and the vitality of the Italian people. But what did the Italians see in him?
The Italian philosopher Benedetto Croce once said Fascism was the expression of "a murky state of mind, a mix of a lust for pleasure, a spirit of adventure and conquest, a frenzy for power, a restlessness and at the same time a disaffection and an indifference, all typical of those who live in an uncentered way, those who have lost that center for a person that is an ethical and religious conscience." Italy, after twenty-five years in the grip of fascism, must have looked familiar to a black man from the American south. What Van Zandt brought to Italy must have looked like the kind of leadership and teaching that had been so sorely lacking in the vast carelessness of Mussolini. 
Is it so hard then to envision a fable of freedom in the story of a black graduate of Tuskegee Institute teaching a nation "how to move"? In Italy, Van Zandt found a culture that appreciated all the things his mother had always loved, a culture that saw him as an officer and gentleman, one that dubbed him il professore. The Italians found a teacher who could show them the poetry of the tiro in sospensione—the jump shot, a new move even in America—a way of moving with grace and liberty after decades, for them both, of the goose step and the jackboot.